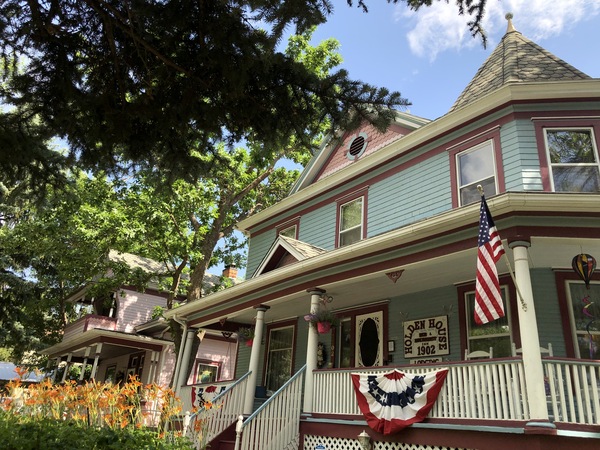 We've missed you!
It's time for a Summer or Fall getaway
---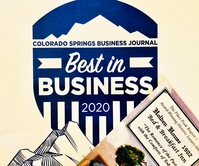 HOLDEN HOUSE REMAINS CONSISTENT IN LOCAL "BEST" AWARDS
---
Our Romance specials keep our guests coming back time and time again. Check out our latest packages to make your stay even better!
This year, Holden House celebrated our Anniversary and now we're heading into our 35th year in business as Colorado Springs' longest established and award-winning historic inn. To help us celebrate, this month we're offering a special gift to you when you stay two or more nights during July! Mention Code "35ANNJULY" and you'll receive a free Sparkle Package which includes one morning's breakfast en suite, sparkling cider on arrival and two long-stem embossed signature Holden House wine glasses to take home as our personal Inn-Anniversary gift to you. Reserve now online or call an innkeeper at 719-471-3980 and mention Code "35ANNJULY". This offer is only valid for stays in July 2020 when you #BookDirect on our official website at HoldenHouse.com.
---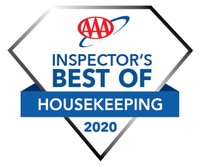 As a AAA Diamond "Inspected" property, we continue to receive excellent housekeeping ratings, including our award for "Housekeeping Excellence".
Here at
Holden House 1902 Bed & Breakfast Inn
, our innkeeping staff has over 150+ years of combined experience in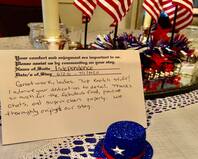 the hospitality field. Our inn first opened its doors in 1986 and is still under the same ownership today of Sallie & Welling Clark, ensuring staying power and meticulous attention to detail. Here are just some of the ways in which we are continuing our commitment to provide a clean and safe stay, especially during the current public health situation. Read more...
"... Top knotch stuff! I admire your dedication to detail. Thanks so much for the fabulous food, positive chats and super-clean property. We thoroughly enjo
yed our stay."

R.G. - Nebraska, Independence Suite Guest, June/July 2020.
---
OUR SUITES ARE VERY "ACCOMMODATING"
Meet the Independence Suite in the Rose Victorian

While we know that Independence Day signifies the birth of America, here at Holden House, our Independence Suite is named for the historic mining town of Independence (near Aspen) in which the Holden's owned mining interests and its namesake mine in the historic gold mining district of Cripple Creek.

In the spring of 1891,
W. S. Stratton
persuaded
Leslie Popejoy
to grubstake him in the Cripple Creek District in return for half the profits. Stratton staked two claims on the south slope of Battle Mountain on July 4, 1891. The two claims - the Independence and the Washington, were both named in honor of the holiday. Cripple Creek is an approximately 45 min. drive from Holden House, offering historic museums, a narrow gauge train, scenic drive options (especially beautiful in the summer and fall) and limited stakes gaming.
Our Independence Suite also signifies the independence of those who require special accommodations, including ADA (Americans with Disabilities Act) access. We are one of only a few local B&Bs that provide disabled access for our guests with a ramp to the parking area and an ADA accessible bedroom and bath. We are honored to be able to accommodate the needs of our guests.
INN THE KITCHEN - While our bottomless cookie jar has taken a break, you'll find a personal cookie plate in your suite that will be gladly refilled upon request.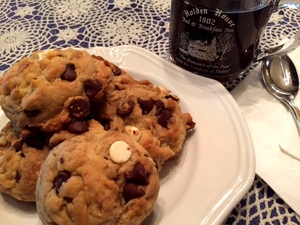 Chocolate Chunk/White Chocolate Chip Cookies
Ingredients: 3/4 cup brown sugar
3/4 cup I Can't Believe It's Not Butter or Salted Butter
1/2 package of 12 oz. Chocolate Chunks
1/2 package of 10 oz. Hershey's Vanilla Chips
Directions: Preheat oven to 375-400 degrees. Soften brown sugar and butter in microwave for 1 minute on high. Add eggs, and vanilla. Mix well. Add flour and baking soda to sugar/egg mixture. When well mixed, add chocolate chunks, vanilla chips and walnuts. Place by well rounded teaspoonfuls on ungreased insulated cookie sheet. Bake for 10-12 minutes or until slightly brown on top. Makes approximately 2 dozen.
for Summer...

and Fall...

Read our Holden House Blog

for inn updates,

recipes and more!
1102 West Pikes Peak Avenue
Colorado Springs, Colorado 80904