PRESS ALERT
Picket in support of Lammie the 39 year old elephant at Joburg Zoo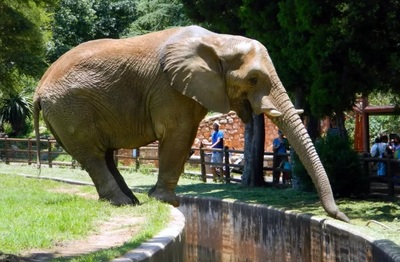 Staff of the human rights and Palestine solidarity organization, BDS South Africa, including our chairperson, Professor Farid Esack (who also serves on the board of the enviromental justice organization GroundWork), will participate in a lawful picket at the Johannesburg Zoo (Jan Smuts entrance) tomorrow Thursday 20 September 2018 at lunchtime (12h00). The picket will be in support of Lammie, the elephant who has been imprisoned for over 30 years at the zoo. Animal conservationists, experts, residents of Johannesburg as well as other ordinary South Africans are calling for her release (
click here
for an article published yesterday in the Star Newspaper).
Lammie has been imprisoned at the Jo'burg Zoo for 39 years.
A male elephant, her "companion", Kinkel, "died" recently due to "unconfirmed causes."
This is not the first tragedy that captive-born Lammie (or the other animals at the Johannesburg Zoo) have endured - both her parents, Jumbo and Dolly, who were captured from the wild in the 1970s, died at the zoo within a year of each other. Lammie's brother, also born at the zoo, died shortly after being sold to a French zoo.
As sentient beings reliant on family bonds, elephants in captivity display behavioral abnormalities, suffer from diseases, disabilities and have notably shorter life spans. Due to high infant mortality rates, no or minimal conservation value has been ascribed to captive elephant breeding programs.
Animal welfare and elephant experts are calling for the lone elephant to be released into a wild reserve where she can roam free and bond with a herd . The EMS Foundation has offered to find a suitable sanctuary for Lammie and to cover all the costs of her relocation. The National Council of Societies for the Prevention of Cruelty to Animals (NSPCA) says it is opposed to keeping elephants in captivity citing their 2015 report which stated that nearly all captive elephants suffer welfare deficiencies (
click here for more info
).
While this picket is not a BDS South Africa event, we support our staff, members and supporters participating (as they have in the past) in various causes including, but not limited to, engagement in gender justice, labour rights, student activism, racial justice, freedom of expression, animal conservation or environmental justice struggles.
ISSUED BY KWARA KEKANA ON BEHALF OF BDS SOUTH AFRICA
BOYCOTT, DIVESTMENT AND SANCTIONS AGAINST ISRAEL IN SOUTH AFRICA (BDS SOUTH AFRICA)
5th Floor | Mishumo House | 77 De Korte Street | Braamfontein | Johannesburg
PO Box 2318 | Houghton | 2041 | Johannesburg
T: +27 (0) 11 403 2097 | M: +27 (0) 74 054 3826 | F: +27 (0) 86 650 4836
BDS South Africa is a registered Non-Profit Organization. NPO NUMBER: 084 306 NPO
BDS South Africa is a registered Public Benefit Organisation with Section 18A status. PBO NUMBER: 930 037 446