September 2023 
Newsletter
SHOP HOURS
Monday: CLOSED
Tuesday: 11 - 5
Wednesday: 11 - 5
Thursday: 11 - 5
Friday: 11 - 5
Saturday: 10 - 4
Sunday: 12 - 4

 

 

It's Fall, y'all!!! Okay, we know summer still has a few weeks to go, but we don't care. We are all in full-on fall knitting mode, gotta get those sweaters and cardigans ready for the cool nights that are quickly approaching. We have a very full class calendar for the coming months, it's a great time to settle in and learn something new, maybe finish that project hiding in the back of your closet. 

 

For those who missed it, Natalie from the Knitty Natty YouTube Channel featured ReBelle as the first of the 50 Yarn Shops in 50 States tour she is doing across the US. Robyn sat down and talked about all things ReBelle. You can watch the feature and interview here- 

https://youtu.be/ti82tNG5i5U?si=B-CGx9FvA4hf5Ekm
ReBelle 17th Anniversary Sale
and New ReBelle Swag
It's that time again, time for another anniversary celebration!! Join us Saturday, September 9, we will be doing all the same shenanigans- 10% off your entire purchase for wishing us a happy birthday, a special sale only yarn dyed for you by us, some exclusive, locally-made thematic goodies, and a good dose of general silliness.
This year's sale-only yarn is 125g of a fingering weight superwash merino, nylon, and stellina (that's sparkles, y'all!) blend. We will have 80 skeins in tons of colorways all handdyed by us. These skeins will be $15 each and will probably go fast so there is a limit of 1 per crafter (and yes, the discount will apply to these!!)
Thank you for 17 incredible years!!
As if that wasn't enough, we have a brand new bag design by the lovely folks at
Cricket Press
!! Bags will be $10 the day of the sale (normally $15) 
For those of you who can't make it or who live far away, you can order them on our site
Grab yours now!! 

In addition to the bags, we will be doing a t-shirt preorder with our new design. T-shirt pre-orders give you the option of 3 styles, 5 colors, and a wide range of sizes (XS-4X.) After the preorder, we will order a limited number of additional shirts in a single color and style to sell in the shop, but when they're gone, they're gone.
Short sleeve shirts are $20 and long sleeve shirts are $25. We also have physical color samples in the shop in a variety of sizes if you want to come by and try one on.
Place your order now!!
For September's shop KAL, we will be doing another designer focused project this time using the designs of Joji Locatelli. There are tons of designs to choose from including projects from past knit alongs like the Odyssey Shawl and there are tons of new options that we haven't tried. This KAL will be happening at the same time as Joji's Fall KAL so we strongly suggest you jump over to her site and register for that as well. She will be offering prizes, challenges, and additional chatter on a special Ravelry board. You can register for the official KAL here.
All ReBelle knit alongs are free and open to the public. You are welcome to attend as many or as few of the KAL sessions as you like. 
Join us on Zoom every Thursday from 12-2pm
Meeting ID: 853 7291 2815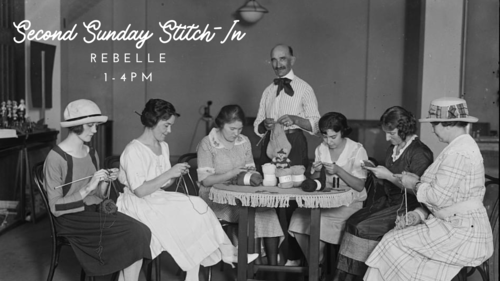 Our Second Sunday Stitch-Ins are back!! From 1-4pm on the second Sunday of every month we will host an open stitch-in. Whether you knit, crochet, spin, or mostly get tangled up in yarn, all are welcome. As always, the ReBelle Second Sunday Stitch-Ins are free and open to the public. We hope to see you soon!!
Featured Upcoming Classes
Monthly Project Help Sessions

 

Whether you are stuck in the middle of a pattern and want some guidance, need some finishing help, or just need a bit of motivation, join Susan for her Project Help Sessions and get those outstanding projects done. No matter which fiber art you enjoy- knitting, crochet, weaving, felting, Susan can get you and your project back on track.

 

Sessions will take place on the first Wednesday of most months

 and  each group session is $20 for two hours and space is limited so register early.

 

1 class, $20

Wednesday, September 6, 6:30-8:30pm

Wednesday, October 4, 6:30-8:30pm

Wednesday, November 1, 6:30-8:30pm

 

 
 

 

This class will be a workshop -- you pick the pattern and yarn you want (with our help if you need it) and bring it to class. While we knit, we'll learn from each other's patterns by discussing techniques found in your individual patterns. This is an abbreviated workshop with 4 sessions instead of the traditional 5.




Wednesdays, September 13 & 27, October 11 & 25

 

 
 

The Holt Mitts pattern by Susan Moskva is a fantastic project for using up some of your scraps- you only need 15 yards of your accent color.  This slip stitch color pattern is easy to learn and the mitts are such a great accessory to keep or gift.  This is a great first double pointed needle or flexi-flip project.

 

3 classes, $40

Saturdays, September 16, 23, & 30, 1-3pm

 
 

 

The French Cancan by Mademoiselle C is an elegant and versatile shawl.  This is a great first cable and/or lace pattern. Pattern is written for dk weight, but can be recreated with any weight yarn, you just need the same yardage for the garter stitch portion that you need for the edging.  Susan will assist you with adapting the pattern to the yarn you select or you can use the Dos Tierras that Susan used for her model.

 

2 classes, $30

Wednesdays, September 20 & October 18,

6:30-8:30pm

 

 

 
 

The Antler Toque by Tin Can Knits was one of the most popular holiday gift knits we saw in the shop last December. The pattern is well written in sizes for everyone and best of all, it is a great introduction to cables. Join Susan as she takes you through this project step-by-step and learn why no one can make just one of these hats.

 

Thursdays, Spetember 21 $ 28, 6:30-8:30pm

 

 
 

Crochet Bramble Basket

 

Create your newest organizational tool, perfect for organizing any part of your home, in this fun class suitable for beginners. 




The Bramble Basket by ChiWei Ranck is a simple project that works up quickly, using only chain stitches, single crochet stitches, and simple hand sewing to create its final shape. 

 

1 class, $20

Saturday, September 23, 10am-12pm

 

 
 

Finally a toe-up sock pattern!! The Bear Paw Socks by Andrea Mowry are a heavier weight version of her popular Everyday Sock pattern. These socks are dk weight knit from the toe up using either dpns or flexiflips making them a fun and quick knit. Susan will walk you through the ins and outs of sock construction and magic figure 8 cast on that makes these work.

 

Mondays, September 25, October 2 & 9