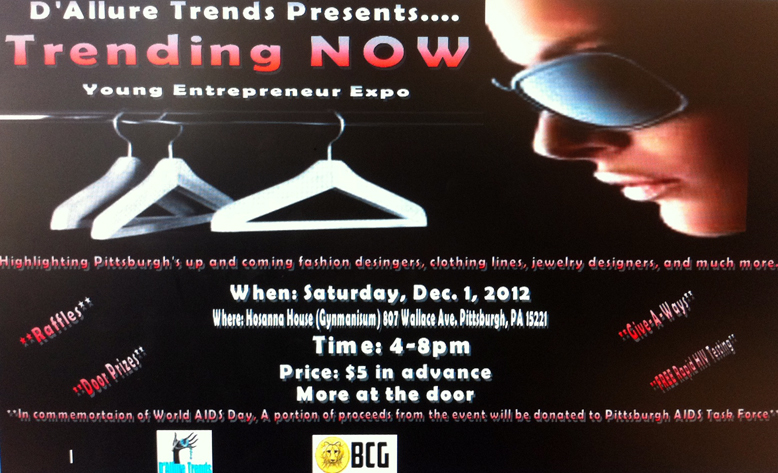 The purpose of this event is to create a seasonal expo that will highlight small businesses in Pittsburgh. The focus of this event is to encourage small business networking. Every participating vendor will acquire new business contacts and a larger customer base by participating in this event. Customers will benefit from access to many new lines of exclusive products, services and information.
This event will be a chance for Pittsburgh up and coming small business owners to not only showcase their talent to the general public, but also, network on a uplifting and positive level. In commemoration of world aids day, which is December 1, a portion of proceeds from this event will be donated to Pittsburgh AIDS task force. There will be raffles, give a ways, door prizes, and music. Come out and help us highlight the under recognized and upcoming talent of Pittsburgh, PA.
RAFFLES
DOOR PRIZES
GIVE-A-WAYS
FREE RAPID HIV TESTING
When: Saturday, December 1, 2012 from 4-8pm
Where: Hosanna House (gymnasium) 807 Wallace Avenue. Pittsburgh, Pa 15221

TICKET INFORMATION
Cost: $5 tickets in advance, more at the door.

Vendor Fee: $50
In commemoration of World AIDS Day, A portion of proceeds from the event will be donated to Pittsburgh AIDS Task Force.