PRESS STATEMENT
South African chefs join call to boycott Israel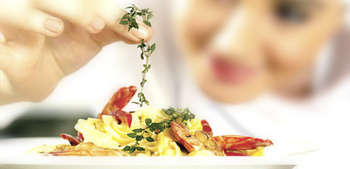 Celebrated and renowned South African chefs, Chris Erasmus of Foilage in Franschoek (and former head chef at Pierneef à La Motte, a 2013 Top 10 restaurant) and Ozzy Osman of "Ozzy's Kitchen" in Sandton (and former MasterChef finalist) have joined prominent international chefs and restauranteurs in calling on their colleagues, through an open letter, to withdraw from the upcoming Israeli Round Tables culinary festival. The cooking festival, taking place between the 29th of October 2017 and 17th of November 2017, is sponsored by the Israeli government. The festival is also in partnership with Dan Hotels, which has an Israeli hotel built in an illegal settlement on stolen Palestinian land.
Following the calls to boycott the Israeli cooking festival, one of the 14 chefs, Chef JP McMahon of Ireland and owner of the Michelin-starred Galway restaurant Aniar, has withdrawn his participation (
click here
).
The open letter signed by the Chefs reads:
We ask our fellow chefs to join the growing number of respected artists and other cultural figures who have distanced themselves from similar events aimed at masking Israel's oppression of Palestinians. We appeal to your conscience and urge you to not add any garnish to Israeli apartheid, and to refrain from participating in the [Israeli] Round Tables culinary festival until Israel respects its international law obligations and Palestinian human rights. Instead, let's stand in solidarity with those struggling for food justice and for dignity and freedom for all."
Click here to read the full letter by the international chefs to their counterparts.
-------------------- * --------------------
The chefs that are slated to participate in the upcoming Israeli festival belong to well known restaurants that are easily contactable. We are calling on you for your support in three very simple actions (takes no more than 5-minutes):
A. Make a protest reservation
During the 1980s, in the boycott of apartheid South Africa, activists in the international community would fill their trollies with groceries, ring up the items at the check-out tills but then cancel their purchase in protest against that store's links to Israel. In the digital age (and in the restaurant context) we can take similar actions:
2. Then, either call the restaurant a few hours before or go to the restaurant at the time the reservation is to take place to cancel your booking in protest.
3. Explain that you found out that the chef of the resturant is being flown to Tel Aviv by the Israeli government in violation of the international BDS boycott to participate in Round Tables, therefore you changed your mind about eating there. You may add further information, for example, that you find it unethical to normalize Israel's control of food to Palestinians.
B. Write a review on Trip Advisor and Google Maps
Initiatives like the Slow Food Movement and Farm-To-Table show that customers nowadays care for more than just food. They want to know where their food comes from, whether it is sustainable and whether the restaurant is ethical. Let's leave honest and original reviews on TripAdvisor and Google Maps for the restaurants (of the Chefs that are participating in the Israeli RoundTables festival). If the chef cancels, you can change your review so this is not permanent!
Click here to find a list of the participating restaurants/chefs.
C. Appeal to the chefs via social media
ISSUED BY KWARA KEKANA ON BEHALF OF BDS SOUTH AFRICA
BOYCOTT, DIVESTMENT AND SANCTIONS AGAINST ISRAEL in SOUTH AFRICA (BDS SOUTH AFRICA)
5th Floor | Mishumo House | 77 De Korte Street | Braamfontein | Johannesburg
PO Box 2318 | Houghton | 2041 | Johannesburg
T: +27 (0) 11 403 2097 | M: +27 (0) 74 054 3826 | F: +27 (0) 86 650 4836
BDS South Africa is a registered Non-Profit Organization. NPO NUMBER: 084 306 NPO
BDS South Africa is a registered Public Benefit Organisation with Section 18A status. PBO NUMBER: 930 037 446