DAN NEWSLETTER | SEPTEMBER 2016
In this newsletter I encourage you to contribute to our dialogue via submissions for the next issue of Dialogue Australasia Journal and an online resources list for teaching about Science & Religion.  
- PD Workshops, 'Exploring the Bible through Inquiry' with Shaun Healy (Oct/Nov)
- Articles & Podcasts of interest 
I look forward to hearing from you,  Belinda Hill, DAN EO
CONTRIBUTE TO OUR DIALOGUE...
 

1. Resources for teaching about Science & Religion:




The 36th Issue (Nov 2016) of Dialogue Australasia Journal will be themed around the dialogue between Science & Religion.  A list of accompanying resources will be posted on the DAN website.  It would be great to receive 

details of your favourite books/articles/films/websites

that you've used with your students so these can feature on our resources list.  






 

2. Submissions for 'Provocative Pieces'

 

Readers of the May 2016 Issue of Dialogue might recall the introduction of a new segment, 'Provocative Pieces' - where we invited you to share a short piece from your reading as a source of stimulation for colleagues.  

You can read more about this below - and look forward in advance to hearing from you!



Please email the DAN EO with submissions for 'Provocative Pieces' and also ideas for the
Science & Religion Resources List by Friday 7 October.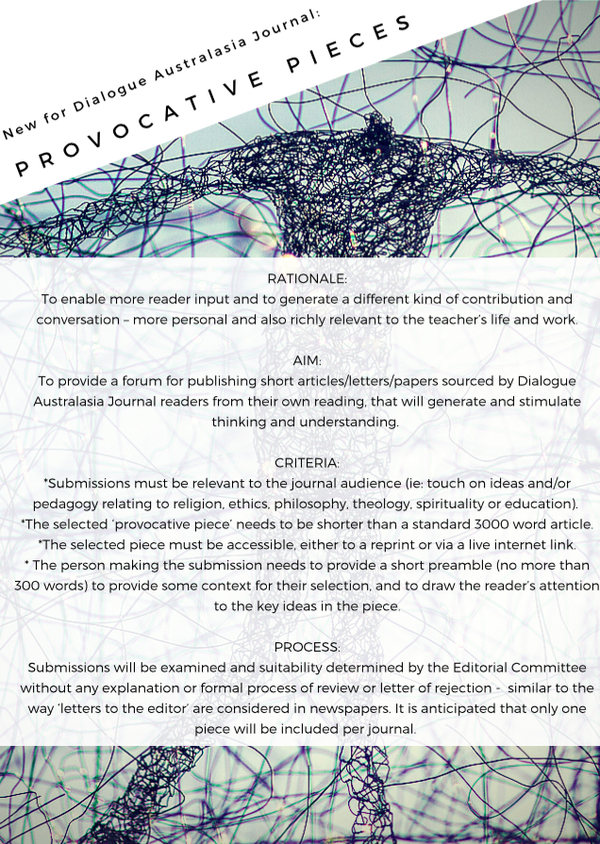 NEW book from Ros Bradley: 60 Voices Share their Wisdom (2016)




You may recall Ros' 2 earlier interfaith prayer compilations: Mosaic and A World of Prayer (both wonderful sources of inspiration for school assemblies and classes containing prayers, reflections and quotations from Australia and around the world).




In this just released compilation A Matter of Life and Death, Ros brings together contributors from different backgrounds including a Holocaust survivor and a death row inmate to explore perspectives on death.  Each contributor offers commentary on a written or visual work that best expresses death to them.




 
 

NEW book from Krista Tippet: Becoming Wise

(2016) 




I wanted to share with you what I'm reading at the moment - and will be giving to many people for Christmas this year...

 

'I'm a person who listens for a living. I listen for wisdom, and beauty, and for voices not shouting to be heard. This book chronicles some of what I ve learned in what has become a conversation across time and generations, across disciplines and denominations.'




Peabody Award-winning broadcaster and National Humanities Medalist Krista Tippett has interviewed the most extraordinary voices examining the great questions of meaning for our time. The heart of her work on her NPR program and podcast, On Being, has been to shine a light on people whose insights kindle in us a sense of wonder and courage. Scientists in a variety of fields; theologians from an array of faiths; poets, activists, and many others have all opened themselves up to Tippett's compassionate yet searching conversation.




In Becoming Wise, Tippett distills the insights she has gleaned from this luminous conversation in its many dimensions into a coherent narrative journey, over time and from mind to mind. (

$AUD 30.99)

 
 

NEW film from EthicsOnline: Ethical Theory II  ($145 incl p&p)




Another fantastic addition to the EthicsOnline series which now numbers 8 films, Ethical Theory II offers three films

 (18-25 mins) 

on the comparative theories of Virtue Ethics, Natural Moral Law and Utilitarianism.  

 

If you've never looked at a clip from these films and/or the accompanying teacher's notes, scripts and classroom activities, why not preview them now here.

 

 
 

Pathways for Diversity Education: Inter-Belief School Presentations

 

Pathways is an innovative inter-belief coalition in Victoria created for educational purposes.  Its main endeavour is Path-Wise: a 70-90 minute presentation for senior high school students featuring 3 young adults with a range of worldviews and freethought traditions.  Each presenter talks briefly about the beliefs of their family of origin and about the journey towards their own worldview.  Students are then invited to ask questions of the speakers.  Schools may nominate their preferred combination of three voices to reflect a range of faiths and philosophies.

 

 
REWind....Articles & Podcasts 
 

 

 

The White Man in that Iconic Olympics Photo

 

Our Olympic athletes are home, and with the celebrations, the usual recriminations and hard conversations.  

 

For a different and uplifting perspective, you may be inspired to share with your students the little known story of Australian sprinter and silver medalist, Peter Norman - the white man in this iconic photo from the 1968 Summer Olympics in Mexico City.




As Riccardo Gazzaniga reflects in a wonderful article published in On Being last week, Norman's quiet, iconic public stand for human rights on the podium that day alongside John Carlos and Tommie Smith reveals a heartening, surprising story of alliance and brotherhood. 

 
As a result of Norman's actions, and his refusal to retrospectively condemn his co-athletes on the podium, the greatest Australian sprinter in history and holder of the 200 meter record was ostracized back in change-resisting, whitewashed Australia and by the Australian Olympic Committee.  He was not allowed to participate in the 1972 Munich Olympics, nor was he invited to the 2000 Olympics in Sydney.
Norman died in 2006. Only in 2012 did the Australian Parliament approve a motion to formally apologise to him and rewrite him into history.  
'Peter paid the price with his choice...He consciously chose to be a sacrifical lamb in the name of human rights.  There's no one more than him that Australia should honour, recognise and appreciate,' fellow athlete Carlos said.
You might also be interested in previewing Salute, the documentary film Norman's nephew made about him. Salute is also available for viewing on SBS On Demand.
 

 

 

Edge of the Sacred Conference Reflections

 

In late July in Alice Springs, over 100 people gathered from across Australia at the Edge of the Sacred conference to deepen their connection to the land as part of an authentic Australian spirituality.  Miriam-Rose Ungunmerr taught about how to 'listen to the land' while David Tacey & Sarah Bachelard reflected on reconciliation and reimagining Australia as our 'spiritual home.'

 
 

 

 

 

An Interfaith Panel discussion with

Buddhist Nun the venerable Robina Courtin, Muslim academic Dr Susan Carland of Monash University, Dr Bill Leadbetter of St Georges Cathedral in Perth, Fr Aloysius Mowe Director of the Jesuit Refugee Service and Rabbi Jacqui Ninio of Emmanuel Synagogue in Sydney was held at Newington College on Wed 20 July.

 

You can listen to the discussion

here

(aired on Sunday Nights with John Cleary).
Contact the DAN Executive Officer
T|  08 9367 8903
A|  34 Douglas Ave  SOUTH PERTH WA 6151