Having trouble reading this newsletter? Visit https://www.ymlp.com/pubarchive.php?sira
---
Car Park Vandals at Work Again



What you see below is the wanton damaged caused to a vehicle parked at Church Point Car Park, in the last 10 days.
 

The determined efforts gone to by the thugs who damage this car have rendered it a complete rightoff. All of you know what the consequences of that are to an owner and the inconvenience, and costs that it causes. It is understood that at least two other vehicles, possibly more have been either damaged and or had parts stolen during this same period.

What happened to these cars could have happened to anyones car, and it may well be someones car in the future. How many cars have been damaged and vandelised in this carpark in the last few years and at what cost to this community?  This car park is a playground for these sorts of people, especially as they can quickly see there is little or no consequences to their actions.

The police service is not setup to deal with long term monitoring of places like the car park. Apparently we do not have enough crime in the area to warrant additional policing anyway!  Council do not take any responsibility for security in the car parks, yet time and time again we see and hear of cars trashed at the Point. How much worse does it need to get before anything is done to stop this unacceptable behaviour and what is to be done if we want it stopped?  It appears that if we want our assets to be secure then we as a community have to be prepared to organise security ourselves and be prepared to cover the costs ourselves.

One idea is to have the car park patrolled. Would car owners consider paying for a qualified patrolman to patrol the car park from 11pm to 6am each night, 365 days of the year?  Not random patrols, but someone at the car park all the time between the hours of 11pm and 6am every night. This would cost 250 car owners each approximately $32 a month ($390 each per year) to have such a  service at Church Point Car Park.  Would vehicle owners consider this, or is this too much pay? What are you prepare to pay?

Do you have any thoughts or ideas about this?  We would really like to know how the community feels about this issue and would appreciate all your comments.

Please send comments to editor@scotlandilsand.org.au



---
Scotland Island Cafe



The Scotland Island Cafe will be open for coffee and cake every week from next Sunday. Please join us in Catherine Park by the Kindy from 10am to midday from Sunday 11 April. Save yourself 20 cents off your coffee if you bring your own cup!

If you'd like to make a cake to share with the island please call Maddy on 0421 742 049.



Ten Dollar Kindy Tables



Got something to sell?  Getting rid of some books?  Just made a batch of delicious jam? Want to offer reflexology or a massage?
To raise much needed funds for the kindy, we are offering you the chance to hire a table and sell your wares or skills to coffee shop customers every Sunday.  No booking needed.  Just turn up by about 9.30am to set up your stall / table.
You keep your profits, we keep the ten dollars.
Any questions please call Barbara on 0400 377 056



---
Local Wins Prize at Rural Landscape Fine Arts Show



Congratulations go to PHILLIPPA THOMAS another of our Island artists, for her Red ribbon in the Contemporary Landscape Section at the Royal Easter Show.



---

Author Talks at Mona Vale Library
The Inconvenient Child
By Sharyn Killens & Lindsay Lewis
Click image to load flyer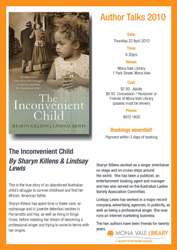 This is the true story of an abandoned Australian child's struggle to survive childhood and find her African American father.

Sharyn Killens has spent time in foster care, an orphanage and in juvenile detention centres in Parramatta and Hay, as well as living in Kings Cross, before realising her dream of becoming a professional singer and trying to come to terms with her origins.
 
She is currently visiting Fellow at the Australian Defence Force Academy and has taught in secondary  schools, TAFE and at UNSW. 




Date:Thursday 22 April 2010




Time:6.30pm




Venue:Mona Vale Library




1 Park Street, Mona Vale




Cost:$7.50 Adults




$5.50 Concession / Pensioner or Friends of Mona Vale Library




(passes must be shown)




Phone: 9970 1600




Bookings essential!




Payment within 3 days of booking




---
Library News 2010 - March to May
Click image to load flyer
Forthcoming Events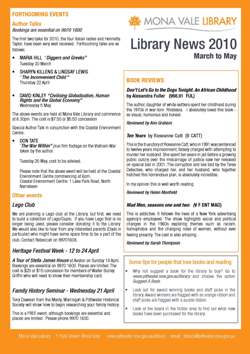 -

Author Talks


Bookings are essential on 9970 1600

The first two talks for 2010, the four Italian ladies and Henrietta Taylor, have been very well received. Forthcoming talks are as follows:

MARIA HILL "Diggers and Greeks"  - Tuesday 30 March
SHARYN KILLENS & LINDSAY LEWIS "The Inconvenient Child " - Thursday 22 April
DAVID KINLEY "Civilising Globalisation, Human Rights and the Global Economy" -  Wednesday 5 May
The above events are held at Mona Vale Library and commence at 6.30pm. The cost is $7.50 or $5.50 concession



Special Author Talk in conjunction with the Coastal Environment Centre:



DON TATE 'The War Within" plus film footage on the Vietnam War taken by the author. -  Tuesday 25 May, cost to be advised.
Please note that the above event will be held at the Coastal Environment Centre commencing at 6pm.
Coastal Environment Centre: 1 Lake Park Road, North



---
The Local Guide - Community Information


 Click HERE to load
---