---
---

Council Communication
---


Register Today!
Council Boundary Review – Public Inquiry Sessions
Pittwater Council will provide buses to the public inquiry sessions for offshore residents.

To put your name down to travel on the bus and which days you wish to attend, email: cassgye@spin.net.au

Bus for Mona Vale arrives 5pm for departure 5.15pm ;
Buses for Manly and Dee Why arrive at 4.30pm departure 4.45pm to allow for additional travel time

Register today to speak or attend the public inquiry sessions (all 3 if possible):

Monday 21 March, 6-10pm at Mona Vale Golf Club

Tuesday 22 March, 6-10pm at Manly Golf Club

Wednesday 23 March, 6-10pm at Dee Why RSL

It's most important Pittwater Residents attend

one or all meetings
Lodge a submission - by 5pm Friday 8 April

Full information on the Council Boundary Review can be viewed on Council's website: http://www.pittwater.nsw.gov.au/council/local_government_reform/updates



---
CREATIVE IMAGE MAKING
One Day Art Workshop
with Nettie Lodge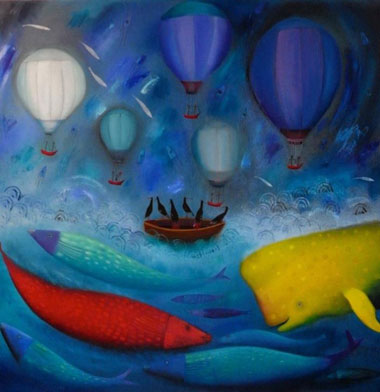 Exercising creativity unleashes our spirit and enables us to explore the wonderful world of the unknown.


It allows us to recognise and embrace our imagination. It helps clarify our ideas, improve our art practice and suspend judgement. It has the innate ability to transport us to an extremely happy place.

This workshop is designed to introduce the participants to a variety of art mediums to explore creatively and experimentally, including watercolour, acrylic paint, mono printing and collage. Each participant will have the opportunity to explore, discover and experiment with all the demonstrated mediums.

In the first half of the workshop, Nettie will guide the participants through a series of fun, creative, visual exercises, designed to unlock your hidden, artistic talent and explore the mediums. In the second half of the workshop Nettie will work with each participant on a one to one basis to create a piece of visual art based on the creative exercises and the demonstrated mediums.

This workshop is beneficial for everyone, from beginners to advanced, and also those with no previous art experience.

All materials and delicious lunch included
Spaces are limited
Prerequisites:

Curiosity, a sense of humour and a love of learning



Location:

"Studio 16", Scotland Island
(near Carols Wharf, directions provided on booking)



Date:

Saturday, 9 April 2016, 10.00am – 4.00pm



Cost:

$130 per person



To book:

Contact Nettie: nettiel@iprimus.com.au or on 0410 078 754



---
Evening Nia dance fitness classes coming to Scotland Island


Please take this very short survey
https://www.surveymonkey.com/r/3S8JKHV

Nia was created as an alternative to the "no pain, no gain" attitude to fitness. Offering holistic conditioning and a connection to pleasure, Nia routines blend basic choreography with creative free-form dance to uplifting world music.

Classes are suitable for every BODY and beginners are welcome.

Mandy Loveday is an accredited Nia Green Belt Teacher
Email mindfulmovementpractice@gmail.com
Mobile 0411 645 389



---
For Sale
Beautiful hand made tee pee originally made in Sweden $70

I extended it to make it roomier for my two girls to play in.
Comes with padded "floor" so makes hard floors or decking soft to play in.
Dimensions - base 110x110cm height 205cm
Suitable for toddler to five year olds.
Fantastic Wooden fire station and accessories as made by PLAN toys $50


Call Nadine 0402752465 for more details.



---
---
---
A complete set of past electronic newsletters since May 2000 can be found and read at https://ymlp.com/archive_gesgjgm.php or by clicking here or by visiting the Mona Vale Library.

The Island website is at www.scotlandisland.org.au


---
To Contribute
If you would like to contribute to this newsletter it's easy!. Send an e-mail to the editor (editor@scotlandisland.org.au) or by clicking here. Type your contribution (100 words or so would be fine) and assuming it is of general interest to the community, does not include matter of a political nature and is not offensive, it will appear next month.
Subscription Information
To get on and off this newsletter,

click here

or got to:

http://www.scotlandisland.org.au/signup .


To change your address, click the 'modify' link at the bottom of this newsletter or send an email to the

editor@scotlandisland.org.au


---
Follow the PON
---
The Online Local Contacts Guide
Click HERE to load
---
The views expressed in this newsletter are not necessarily the views of the Scotland Island Residents Association (SIRA), or the Western Pittwater Community Association (WPCA)
---