B&B fireplaces offer warm hospitality in colorful Colorado...
There's no better way to experience a romantic getaway then to cozy up to the fire's glow in beautiful B&B surroundings. As Winter season retreats, Springtime in the Rockies may vary from sunny warm days to cool Colorado evenings. Our "inspected and approved" Bed & Breakfast Innkeepers of Colorado member inns offer some of the most inviting fireplaces to warm up your stay...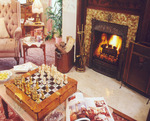 Holden House 1902 Bed & Breakfast Inn, Colorado Springs, Colorado.
Romantic and beautifully restored Victorian suites with modern amenities. The front parlor is graced with overstuffed wing-back chairs and an antique oak tiled fireplace.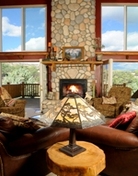 Mountain Goat Lodge, Salida, Colorado.
This casual, rustic retreat offers a mountain lifestyle in a recently constructed, traditional, western lodge on 19 acres with awesome views of snow capped mountains from each room. The river rock fireplace is an inviting place to relax in casual comfort.

Bross Hotel B&B Paonia, Colorado. Opened

in 1906, the inn is a graceful frontier hotel noted for its hospitality. The ten guest rooms, all with private baths, are appointed with period antiques
. The inn's ornate heating grates add to the historic charm.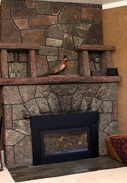 The Avenue Hotel B&B, Manitou Springs, Colorado.

Enjoy a blend of antique charm and mo

dern elegance; a sitting room and a reading parlor are warmed with fireplaces and are framed with windows overlooking Manitou Avenue and the historic library park.
COLORADO CULINARY CREATIVITY
Ingredients:
1 stick unsalted butter

½ cup white sugar
1 large egg
½ teaspoon pure vanilla extract
1-¼ cups all-purpose flour
¼ teaspoon salt
½ teaspoon ground ginger
1 tablespoon grated lemon zest
3 tablespoons crystallized ginger, minced

Icing:

¾ cup white chocolate chips
1 tablespoon vegetable oil
red sugar sprinkles
Directions: Blend butter and sugar in bowl of electric mixer, and then beat on high until fluffy (about 5 minutes). Meanwhile, whisk together egg and vanilla in a small bowl. In a separate bowl, stir flour, salt, ground ginger, lemon zest and crystallized ginger until blended. Add egg mixture to butter and sugar and mix on low speed until incorporated. Add flour mixture, gently combining until a smooth dough forms. Place dough onto a piece of plastic wrap and shape into a disc. Wrap up and put dough into freezer and chill until solid (about 30 minutes). Preheat oven to 375o. Remove dough from freezer and roll into 1/8- inch thickness on floured surface. Using a 1-1/2-inch or 2-inch heart-shaped cookie cutter, cut out cookies, gently rolling left over dough until all is used. Place on cookie sheets lined with parchment paper about 1-inch apart. Bake until golden brown, about 8-10 minutes. Remove to wire rack. Melt ¾ cup white chocolate chips with oil in microwaveable bowl for 1-2 minutes. Stir until smooth. Take each cookie and dip into white chocolate, then place on wire rack. Immediately sprinkle red sugar over the white chocolate. Allow to cool on rack. Makes approximately 36 - 2" cookies
Check out the latest specials and packages from Colorado B&Bs and see what's "Inn-style" for your upcoming bed and breakfast stay!