3D air barrier with Liquid Rubber

Who, what, where?

Every month we give you an update on the projects that have been completed by our applicators with Liquid Rubber®. Some are large (in terms of volume), others are smaller, but this way you get an impression of the many possibilities with Liquid Rubber. If you have any questions about these projects, please contact us.
Project:
Sealing Schiphol tunnel
Description:

In 2010 Liquid Rubber was consulted to seal the dilatations in the concrete deck of the Schiphol tunnel. Schiphol was very pleased with the result because it is still waterproofed. This is why Liquid Rubber could seal all the dilatations again during a renovation of an other part of the tunnel.
The deck was stripped up to the concrete where the dilatations where exposed. The dilatations had a width of 5cm and where 50cm deep.
First the dilatations and the conrete where well cleaned. HBS200 was applied in the full dilatation. Afterwards HBS200 was applied with geotextile to bridge the dilatation. A second layer of HBS200 was applied on top of the geotextile to seal the entire dilatation.
Liquid Rubber ensures an extreme flexible sealant in this project. Beacause the airplanes taxi over this bridge, the pressure is enormous. Liquid Rubber ensures a durable flexibility and can easily cover the pressure.
A beautiful project where we, Liquid Rubber Europe, are very proud of.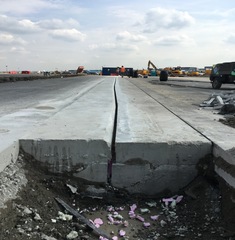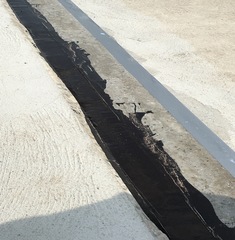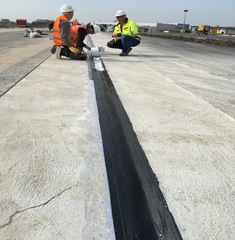 Photos: Liquid Rubber Europe (LRE Coatings BV)
------------------------------------------------------------------------------------------------------------------------------------------------
Project:
Air barrier with Liquid Rubber HBS200

At a newbuild housing project "Eco Park" Liquid Rubber was chosen to seal all the connections around the window frames. These full zero energy houses need of course a durable air barrier seal that Liquid Rubber realizes. The fact that Liquid Rubber is 100% environmentally friendly, is a big plus in this project.
Liquid Rubber HBS200 is spray applied on the connection window frame to prefab concrete. Liquid Rubber dries out into a very flexible and air tight membrane.
A very quick and effective way of sealing. We are happy that Liquid Rubber can be of an added value on this "green" project.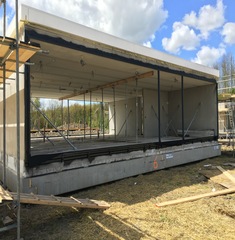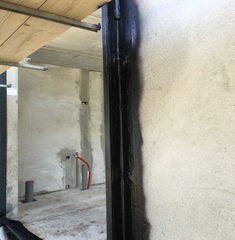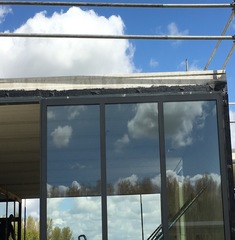 Photos: Liquid Rubber Europe (LRE Coatings BV)
------------------------------------------------------------------------------------------------------------------------------------------------
Project:
Private roof renovation with Liquid Rubber HBS200
The Liquid Rubber webshop is a very big success since it got online. We always love it to get feedback of the customers and see where they have used the Liquid Rubber for. This customer sent us a very nice photo report of the job done with Liquid Rubber
A old leaking barn roof needed to be renovated. On the barn roof was a combination of EPDM, bitumen and some repair roof pieces. The customer removed all weak pieces and placed wooden panels on top of it.
Liquid Rubber HBS200 was applied in a thickness of 2mm directly on the wooden panels. All connections and outlets where extra coverd with geotextile. As you can see on the photos, a durable waterproofed new roof.
The customer was very happy and stated:
"What an easy way of sealing. I had thought this is going to be a hell of job because the roof was made with so many different roofing products over the years. To burn a bitumen on the wooden panels was not an option and to glue a EPDM on it seemed way to risky. Liquid Rubber is really a very easy going product. You don't have to add a second component or use any extra glue to get a good adhesion. I just used a block brush and got it covered in just a couple of hours. The roof is fully waterproofed now. Before all this I didn't expected it to be so easy!"
We are very happy that this customer is so positive about Liquid Rubber. This roof will be waterproofed for decades.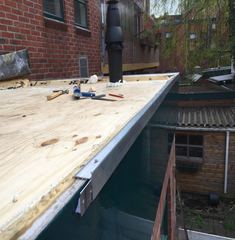 Photos: Liquid Rubber Europe (LRE Coatings BV)
Air barrier building is a hot item all over Europe. Easy said; to seal all the joints to prevent unwanted airflow in the construction. In this way the energy loss is minimalized.
Liquid Rubber HBS200 is very much used as an air barrier sealant. It is easy and very effective. The product adheres on light wet surfaces, adheres to all surfaces and is very easy applied by means of brush or spray system. Because of the high flexibility of 900%, Liquid Rubber is very durable.
The product can be used to seal the connection between window frame to wall, foundation to wall, outlets, joints of prefab elements and many more.
This easy way of sealing is displayed in the video below. In this video you can see how easy Liquid Rubber can be applied. The application can also be done with a brush.
If you have any questions, please contact us at +31297-587866 or send an email to info@liquidrubbereurope.com
Photo: Liquid Rubber Europe

Click the following buttons to follow Liquid Rubber Europe.
Liquid Rubber Europe, Groot Mijdrechtstraat 15, 3641 RV  Mijdrecht, The Netherlands

www.liquidrubbereurope.com