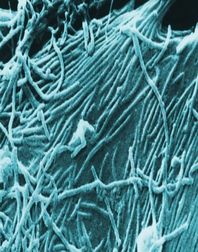 (L-R:Vladamir Putin- Head Honcho of Russia.. Ebola-Electron Microscope--- All of US in the Crosshairs of the C.D.C, Gates/Soros/Obama
IAHF List: When I used to live in Hollywood, FL, I used to go to this amazing health club (see video) called the Russian and Turkish Baths, which is right on A1A (Collins Ave) in N.Miami Beach.
I loved this place! It has a Russian Radiant Room with a stone mass that radiates the most intense sauana heat I've ever experienced, and a cold plunge right outside the door so you can luxuriate in ice water after getting your core temp really high! See this video of Russians in an ice swimming club in Moscow- I wish I could go to this place sometime because I used to do ice swimming in Virginia after coming out of the sauna we had along a lake shore there and it is very relaxing and invigorating!!
Its pretty damned obvious that Obama is a genocidal killer who is fixin' right now to do us all in, so although I never thought I'd be appealing to the Head Honcho of Russia, asking for his help to stop this monster, now I figure we have NO CHOICE!!
I grew up in a US Navy family. My dad was a cold warrior who used to fight the Russians, but he always felt the deepest respect for them, and often he'd communicate via Morse Code with some high ranking Russian military guy on his ham radio down in the basement after getting home from work at Bell Labs where he was very much part of this horrible Military Industrial Complex which is now threatening to kill us all via weaponized scurvy and the CIA psyop that is clearly pushing it.
My dad communicated with the Russians because he hated being involved with the development of weapons of mass destruction, and deep down, he wanted peace. He was relieved when he was stripped of "Q Clearance" following a mental breakdown that resulted in his ending up in a mental hospital, as he was able to finish the last 10 years of his career as an electrical engineer doing ordinary engineering, stuff that only HELPED people, no more Defense Contracting.

Please stock up on Sulfur in the event that I might not be able to keep getting it for one reason or another as we come under martial law. I have plenty on hand now, but might not in the coming months because my supply lines could be cut, so if you all put in big orders now, I can keep getting resupplied with large quantities, that that will help us all!
I will throw in a free bottle of Magnascent iodine with any order of 10 lbs, and 2 Free bottles with any order of 20 lbs or more. The iodine will help protect your thyroid gland from radiation, and will help the 90% of Americans who suffer from metabolic syndrome to enjoy better health! No more inflammation, allergies, arthritis, and much improved energy due to the synergistic combo of sulfur + iodine optimizing ATP production in your Mitochondria, the powerhouse of the cell! If you feel run down and lethargic, you CAN change that!!

I am sure the chemtrails will be intensifying, and they might even add ebola to what they're spraying on us via aircraft.

You will need a ton of vitamin C, but also organic sulfur, a nebulizer, ionic silver, and plenty of herbs for detoxification,

,, more specifics on this below the

open letter to Putin

which I need everyone in America (

and around the world

) to get to the

Russian Embassy in Washington D.C

. by emailing it to them at

russianembassy@mindspring.com
I just spoke with a guy named Alex at the Russian Embassy explaining what the

Open Letter

is about, and he was

very friendly, very receptive!
We sure as hell can't appeal to Obama (

or his eugenics handlers: George Soros & Bill Gates

) for any assistance, so, just like Edward Snowden, we have nothing to lose by appealing to Putin!! If you want to either go to the Russian Embassy in DC in person with this message or call the Russian Embassy yourself to talk with Alex, or whoever answers, you can -
see details below!!
russianembassy@mindspring.com
I grew up playing the "Stars and Stripes Forever" on my trombone as a member of the Summit High School Marching band, and am the son of Captain Richard Hammell, USN, who was the world's foremost expert on the internal guidance systems of ICBMs and Shipboard Anti Missile systems as a Defense Contractor at Bell Telephone Laboratories during the cold war.
My dad was one of the reasons why you guys removed your missiles from Cuba during the Cuban Missile Crisis, and you would have liked him. He had nothing against the Russian people at all, and used to love communicating with your top level military guys on his ham radio from our basement in Summit, just to chat, he wasn't trying to spy, he just wanted to know you guys as people because deep down he hated war due to having served in the Pacific during WW2 where he was the leader of Argus Unit 1, which today would be considered a SEAL team.
President Putin, I am friends with the person who wrote this open letter. Please help us get it out to the masses via "Russia Today" and any other media outlets you possibly can!
John Christopher Hammell, President
556 Boundary Bay Rd.