PRESS STATEMENT
BDS leader to be awarded national order by South African President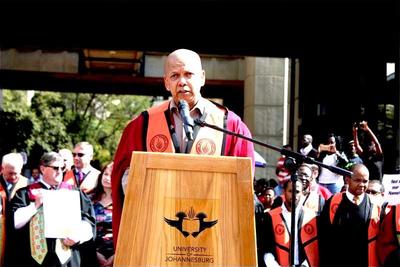 The human rights and Palestine solidarity organization, BDS South Africa, warmly welcomes the
announcement
that South African President Cyril Ramaphosa will bestow the Order of Luthuli (Silver) to the Chairperson of our Board, Professor Farid Esack, for "his brilliant contribution to academic research and to the fight against race, gender, class and religious oppression. His body of work continues to enlighten generations of fledgling and established academics."
The Chancellor of National Orders, Dr Cassius Lubisi,
said that the orders
"are the highest awards that our country bestows on our citizens and eminent foreign nationals who have made a meaningful and significant contribution to the struggle for democracy, human rights, nation-building, justice, and peace and conflict resolution."
Professor Esack dedicates this award to his late mother and to the brave Palestinians who, on a daily basis resist the theft and illegal occupation of their land with unspeakable courage. "Our generation who resisted and overcame Apartheid with the support of activists throughout the world" says Esack, "have no option but to live out our debt to the international working class and oppressed communities throughout the world, from Black Lives in the USA, to Kashmir, to the Dalits in India, to the people of Cuba, the Christians in Muslim majority countries, and the Palestinians living under the yoke of Israeli Apartheid. Our existing in this world is incidental; to live a fully human life is our choice – and we can only do by being in solidarity with those who live under conditions of oppression and humiliation. Our humanity is measured by our refusal to surrender and our willingness to be combatants in the world for greater justice and equality."
The award ceremony will be held on the 28th of April at the Sefako Makgatho Presidential Guest House in Pretoria. For interviews with Esack or for more information contact 0769798801
---------- * ----------
"The Order of Luthuli," that Esack will receive, is named after Chief Albert Luthuli - Nobel Peace Prize Winner (1960), former President of the ANC, a father of our nation, and a giant in our country's struggle for liberation. In 1960 Luthuli
wrote
about the boycott of Apartheid South Africa:
"We welcome most heartily the action of the overseas people in launching the boycott […]. Our hope really is this: that we can bring pressure to bear on South Africa and that through this pressure South Africa will change its way of dealing with non-Europeans […] We know as African people that we, as [an] oppressed people, will never gain our freedom without suffering. But to us it is a demonstration of the solidarity of the freedom-loving peoples throughout the world [...] We must pursue our policy of non-violence up to the limit [...] We, therefore, welcome your decision to boycott […,] as we are convinced that nothing but good can flow out of all efforts directed against defeating a policy which seeks to perpetuate Afrikaner domination and economic exploitation of the millions of African people". ('Boycott Us,' Spectator, 12 February 1960, 208.)
The Palestinian call for a boycott of Israel was launched in 2015 and is based on the successful isolation of Apartheid South Africa.
Click here for more info.
ISSUED BY KWARA KEKANA ON BEHALF OF BDS SOUTH AFRICA
BOYCOTT, DIVESTMENT AND SANCTIONS AGAINST ISRAEL IN SOUTH AFRICA (BDS SOUTH AFRICA)
5th Floor | Mishumo House | 77 De Korte Street | Braamfontein | Johannesburg
PO Box 2318 | Houghton | 2041 | Johannesburg
T: +27 (0) 11 403 2097 | +27 (0) 74 054 3826 | F: +27 (0) 86 650 4836
BDS South Africa is a registered Non-Profit Organization. NPO NUMBER: 084 306 NPO
BDS South Africa is a registered Public Benefit Organisation with Section 18A status. PBO NUMBER: 930 037 446