Through a partnership with 3Helix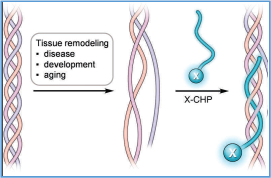 we have been able to add the unique Collagen Hybridizing Peptide (CHP) to our portfolio. This peptide is a novel peptide that specifically binds unfolded collagen chains in order to visualize degraded or damaged collagen molecules.
By sharing the structure and sequence motif of natural collagen, CHP has a strong affinity to hybridize with denatured collagen strands. CHP binds in  a similar fashion  to how a DNA fragment anneals to its complimentary DNA strand during PCR.
CHP is a powerful histopathology tool which enables straightforward detection of tissue damage caused by a large variety of diseases, as well as tissue remodeling during development and aging. It can be used on frozen, fresh, or formalin-fixed paraffin embedded tissue samples.
CHPs from 3Helix are available with 3 different labels in quantities of 60µg and 300µg:
5-FAM (Catalog # FLU60, FLU300)  
Sulfo-Cyanine3 (Catalog # RED60, RED300)
Biotin (Catalog # BIO60, BIO300)
For more examples of CHP's applications, please visit https://www.iqproducts.nl/chp/.
* Available in Europe