To ensure that my newsletters arrive safely, please add my email address to your address book.
April 2021 

IN THIS ISSUE:
3 Tried-n-True Tips to make You a More Effective Trainer!
As a seasoned educator, instructor amd trainer, I have gathered suggestions for effective training sessions to ensure that those you train learn and then apply their new skill sets. First, let's examine our mindsets before we look at the skill sets.
Mindsets of effective trainers: Do you have these necessary mindsets?
believe that "the answer is in the room." (your task is not to tell them, but to respect your attendees' diverse academic backgrounds and experiential knowledge, then to guide and facilitate discussions)
know that nothing is left to chance, everything is planned
understand attendees have a variety of learning styles
        What do you train others to do or would like to teach/train others to do?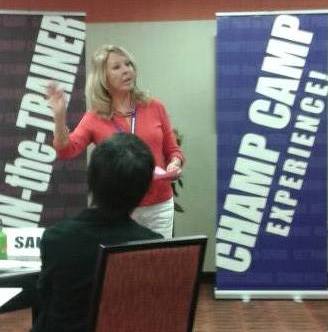 Quotations of the month:
"If you can't write your message in a sentence, you can't say it in an hour."  - Dianna Booher  
"
Confidence comes from discipline and training." -

 

Robert Kiyosaki
"Sameness is the enemy of the speaker."

 -

Patricia Fripp CSP
3 Tips that will make You a More Awesome Trainer!
1. Set up a Solid Structure
Be CLEAR in your intended outcome "
Focus on your core message: what you want your attendees to take away and act upon.  Give your conclusion first,

 so

they know right away what the most important take away message is and build the rest of the presentation on that main premise.  As S. Covey stated:"Start with the end in mind."
have a

 

BIG BANG

 

opening…a quotation, a statistic, a question or a short story that TAPS into their minds, relates to your topic and gets the audience mentally engaged

 and enthused to hear more.
make them a

 

PROMISE

 

with benefits they will receive if they take heed to what you say…will they be more confident, happier, have less frustration or stress, gain a promotion, have more workplace or personal opportunities,  profit more,  enjoy life more…? make it all about and for them, not YOU          
rather than say:

 Today I'm going to share with you (No one cares what YOU want to share with them!!!)  Instead say: Today, you will pick, you will receive, you will discover, you will hear….you…you…you! (the most  important word is speaking)

     

                                             
g

ive them a

 

ROADMAP, so they'll know where you are taking them i.e. ABC Guide to Greatness, or 3 keys to unlock the door to your speaking Potential or

 

4

 

Pointers for Powerful Presentations...
p

rovide practical techniques. i.e. not just "why" they need to do something but also "how" by discussing

 

your observations and recommendations based on your knowledge and experiences. 
a

void speaking using abstractions but use

 flesh and blood examples.(stories)
 Closing:
discuss and debrief...they are more likely to remember if they themselves say it so

 

towards  the  close you may opt to have  attendees shout out

 

1

word answers to questions you may call out, or have them share

 

1

 

new AHA item they learned
tie content together and discuss next steps
NEVER close with Q&A…if you have Q&A, have it before you close on your own positive, encouraging note
2.

 

Avoid Sameness

  

 

"Sameness is the enemy of the speaker. "

 

Patricia Fripp
                                           FYI Adult Retention within 48 hours:
                      lecture.. 10%; taking notes...50%; discussion on applying info...75%
in methodology

 

format has variety - avoid a total lecture format Use a balance of lecture, open discussion, small group and partner discussion, fun activities,  think, paitrand share, Q&A, writing  exercises by audience…
of visual aids

 

i.e. Power point slides, whiteboard, flip charts, audios, videos etc)
in  voice: in pitch (high/lows), projection (loud/soft), pace (fast, slow) tone (enthusiastic/serious)
The most important element of a speech or presentation is THE THINKING going on IN THE AUDIENCE'S MINDS. They need to be both mentally and emotionally engaged by listening to  their own inner voices as they reflect on their own situations about a specific topic.
the best questions to ask are the openended ones using the 5 W's. (Who, What Where, When, Why...and How) They could be rhetorical for them to ponder or ones that allow them to verbally answer.
To wrap up: With the privilege of training comes a responsibility to present your content that is focused on and structured around the bottom line while at the same time, sparking and maintaining their interest, emotionally and intellectually ulating, and
promising rewards or results for them.
WHICH PROMISES/RESULTS/REWARDS did you state they will receive if they pick up and apply these training tips?
Until next month when you'll receive more training tips! Wishing you terrific training!  

____________________________________________________________________
 

   

 

 

Kathryn MacKenzie, BA M.Ed DTM




Presentation Skills Instructor/Author

 

 Keynote Speaker/Coach





Was this newsletter passed on to you by a subscriber?

Want to MAGNIFY your speaking skills?




Then I invite you to visit my website: www.kathrynmackenzie.com and SUBSCRIBE to my FREE monthly 'Keys to Your Speaking Success' newsletter.




Email: kathryn@kathrynmackenzie.com | Phone:

416.489.6603




 

© 2021  All rights reserved