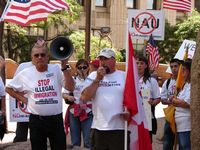 .......John Hammell Holding Canadian Flag at Anti NAU Rally in Seattle WA Addressing the Crowd
REGARDING THE NWO POPULATION CONTROL/SOCIETAL CONTROL AGENDA....

WE MUST AND _CAN_ KILL OBAMA"CARE" TODAY (SATURDAY) IN THE USA SENATE THEIR PHONES ARE OPEN TODAY- SEE THE NUMBER TO CALL & TALKING POINTS BELOW!!! (FAX INFO TOO!!) (WE CAN KILL IT IF YOU HELP! IT ONLY PASSED THE HOUSE BY 3 VOTES!! YOU DON'T WANT TO BE

MICROCHIPPED

, &

EXTERMINATED

DO YOU???
HARD EVIDENCE FROM BILL LANGUAGE BELOW.... PLEASE

MAKE THE CALLS

!!!!)
IAHF List: Today, Saturday, November 21, 2009 Senator Harry Reid (D-NV and fellow corrupt Senators have announced that they will go to the Senate Floor for a cloture vote at 8 PM on whether or not to proceed regarding "Obamacare".
Reid will go to the floor for cloture on a motion to go on to a House pased Tax bill, to begin the Senate so called "debate" on Obamacare.
This vote will require 60 votes, and we have a chance to KILL OBAMACARE, TODAY, AS IN RIGHT _NOW, because SEVERAL DEMOCRATS say they WON'T VOTE FOR IT!!!
Remember cloture is a three day process - file on day one, day two is an intervening day and the vote occurs on day three. Reid is using a House-passed tax bill as a "shell" allowing him to offer up the language he released tonight as a substitute amendment if he gets cloture on the motion to proceed.
HARD EVIDENCE "OBAMACARE" WILL MICROCHIP US
IF NOT KILLED!!! VERY EASY TO MAKE YOUR CALLS TODAY!
The Obama Health care bill under Class II (Paragraph 1, Section B) specifically includes ''(ii) a class II device that is implantable." Then on page 1004 it describes what the term "data" means in paragraph 1, section B:

14 ''(B) In this paragraph, the term 'data' refers to in15
formation respecting a device described in paragraph (1),
16 including claims data, patient survey data, standardized
17 analytic files that allow for the pooling and analysis of
18 data from disparate data environments, electronic health
19 records, and any other data deemed appropriate by the
20 Secretary"

What exactly is a class II device that is implantable? Lets see...

Approved by the FDA, a class II implantable device is a "implantable radiofrequency
transponder system for patient identification and health information." The purpose of a class II device is to collect data in medical patients such as "claims data, patient survey data, standardized analytic files that allow for the pooling and analysis of data from disparate data environments, electronic health records, and any other data deemed appropriate by the Secretary."

This sort of device would be implanted in the majority of people who opt to become covered by the public health care option. With the reform of the private insurance companies, who charge outrageous rates, many people will switch their coverage to a more affordable insurance plan. This means the number of people who choose the public option will increase. This also means the number of people chipped will be plentiful as well.
The adults who choose to have a chip implanted are the lucky (yes, lucky) ones in this case. Children who are "born in the United States who at the time of birth is not otherwise covered under acceptable coverage" will be qualified and placed into the CHIP or Children's Health Insurance Program (what a convenient name).
With a name like CHIP it would seem consistent to have the chip implanted into a child. Children conceived by parents who are already covered under the public option will more than likely be implanted with a chip by the consent of the parent. Eventually everyone will be implanted with a chip. And with the price and coverage of the public option being so competitive with the private companies, the private company may not survive.
OBAMACARE ONLY PASSED THE HOUSE BY 3 VOTES----
WE CAN KILL IT TODAY IN THE SENATE IF YOU CALL!!
ACTION: Call your two U.S. Senators. Please urge them to vote against "cloture" on the "motion to proceed" to HR 3590.

You can call your Senators toll-free at 1-877-762-8762. The phones are ringing off the hook right now on Capitol Hill. More likely than not, you will have to try several times because the circuits have been overloaded.

But don't be discouraged... keep calling!

Also, ask your wife, your relatives, your neighbors, your church -- everyone, short of your dog -- to do the same. This is crunch time!

NOTE: The alternate, non toll-free, number is 202-224-3121.


----- TALKING POINTS ----- (IN addition to any of the ones below at the very end that you might want to cite):

1) Support the filibuster of HR 3590 by voting NO on cloture.

2) Socialized health care is too expensive. I would rather spend my money the way I want to spend it!

3) Increasing my taxes during a recession is insane.

4) This bill will threaten to register me as a gun owner, because the mandates in this bill will force my medical information into the database that was created by the stimulus bill.
5) This bill provides coverage for illegal aliens- that would break our back and destroy our country.
6) Vote NO on this bill!

(If you want still MORE REASONS to oppose this bill, see the very END of this mssg, below my fervent plea for assistance...)

IF you appreciate this timely heads up alert that could keep you from being microchipped and keep America from being DESTROYED and forced into the planned NAU Dictatorship which is how FDA intends to usher CODEX DICTATES in on us (see http://www.nocodexgenocide.com/page/page/3113337.htm
Please send your most GENEROUS DONATION to IAHF via paypal at http://www.iahf.com/index1.html or via check or M.O. to IAHF 556 Boundary Bay Rd., Point Roberts WA, 98281 USA.... help me keep the lights on here, the phone turned on, and the County property tax collectors off my ass because if I close my doors.... where ELSE you gonna get the TRUTH??I'm danglin' by a THREAD here folks.... Please HELP!
OK- YOU _KNOW_ THIS NOW ABOUT THE BILL MICROCHIPING US BUT DO I HEAR YOU SAY YOU DOUBT YOUR EVIL SENATOR REALIZES THIS IS IN THE BILL & YOU'D FEEL MORE COMFY IF I GAVE YOU _OTHER_ REASONS TO OPPOSE THIS 20 POUND, 2000 PAGE PILE OF DOG WASTE WHICH NONE OF THESE GENOCIDAL KILLERS HAVE READ MUCH LESS DEBATED PROPERLY???
OK- HERES SOME _OTHER_ SUCCINCT REASONS:
Reid's Senate version of ObamaCare calls for:
MORE TALKING POINTS AGAINST THIS BILL
Hiding the $1.8 Trillion price tag by not accounting for actual costs.
Major reductions in Medicare befits to seniors.
Major Tax Increases on every American to pay for it all.
Reid called for increasing the Medicare payroll tax.
"Obamacare" rations healthcare, allowing the government to make decisions that should be PRIVATE between YOU and YOUR DOCTOR. This would create the nightmare Canadians have in the US where you must stand in line, for intreminable periods, only to be often DENIED the treatment you NEED, which you'd be FORCED to pay for under penalty of FINES if you don't buy the government "insurance" policy they want to FORCE you to pay for!
"Obamacare" will NOT pay for alternative medicine, AMA and Big Pharma are totally in bed with Obamacare because it helps them solidify their MONOPOLY by driving most alternative practitioners out of business. When you're being FORCED to PAY for Obamacare, that leaves most people without ANY money to buy vitamins with, to see an alternative practitioner with- this will drive health food stores and alternative practitioners out of business in DROVES. Thats why AARP (American Association of Retired People) backs OBamacare (they're the world's biggest online pharmacy- they make millions selling prescription drugs). Huge numbers of AARP members are QUITTING the organization over this issue!
Obamacare will impose new TAXES during a RECESSION and will BREAK OUR FINANCIAL BACKS as a NATION. That is INTENDED, as America has been slated for TOTAL DESTRUCTION so the elite who control Obama can usher in their hoped for NAU Dictatorship modelled after the EU, where they are now very rapidly doing AWAY with the Nations that comprise it. The word "tax" is used in the bill language 27 times...
Obamacare contains language that threatens your second amendment rights- see the information at Gun Owners of America on that: http://gunowners.org/a111009.htm

The CBO estimates that H.R. 3962, the health bill that the House passed, would

cost $1.2 TRILLION over 10 years

, including the cost to states for mandated Medicaid expansion ($34 billion), the "Doc Fix" ($245 billion), and authorized discretionary spending for grants, public programs, changes and funding for a variety of agencies that would be responsible for implementing H.R. 3962.
The bill protects trial lawyers. The bill gives money (authorized at "such sums") to states that enact "certificate of merit" (a document signed by a medical professional that says there is a probability that the standard of care was violated) and / or a certificate of "early offer" (an early, confidential apology) laws, as long as the states don't limit attorneys' fees or impose caps on damages.
The current version will give billions of dollars of taxpayer healthcare benefits to

ILLEGAL ALIENS

in America. It would allow illegal aliens to use the new healthcare "exchange" and would not require verification to keep illegal aliens out of the other parts of the proposed federal healthcare system. Members of the Congressional Hispanic Caucus fought back against reports that leaders would add Senate language to block illegal immigrants from participating in the insurance exchange.
It will create a nationwide federal government program, the "public option," which will pay for abortion on demand -- with federal funds, of course, because that is what federal agencies spend.
PLEASE SNOWBALL THIS ALERT!!! ANYONE CAN BE ON THE IAHF LIST- SIGN UP AT http://www.iahf.com the life you save by urging your friends to sign on to this double opt in email distribution list could by YOUR OWN!!!