July 2012                           www.visionaryliving.com
In this issue:
Angels,
UFOs, Shadow People, Ouija, vampires, meditation and more!...

Angels and Flight 93

...
In the Arts! ... Book News:

Ouija Gone Wild

is in Print!

...
How Ufology Can Improve... Shadow People Interview... Readers Respond on

The Passing of Pets... Alchemical Tarot Intensive Weekend...
Discover Your Past Lives Weekend...
Mailbag Q&A on Real

 

Vampires…
 

July Media  & Events...

Feature Article: Paranormal and Spiritual Benefits of Meditation

... Special Events in 2012... E-books by Rosemary... New and Recent Books in Print at Visionaryliving.com
_________________________

ANGELS AND FLIGHT 93... GHOSTS IN THE FIELD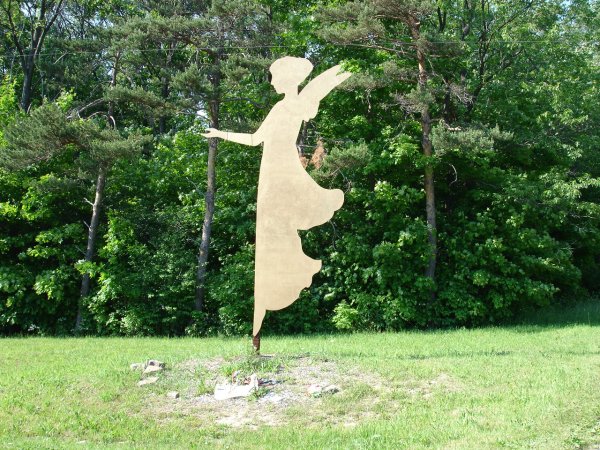 Did legions of angels encircle the crash site of United Flight 93 near Shanksville, Pennsylvania during the terrorist attacks of September 11, 2001?  A former police officer for the FBI who was among the first responders to the scene of the horrific crash says she had a vision of angels as she surveyed the site hours after the plane plunged into the earth at hundreds of miles an hour, killing all on board. (Photo: angel at entrance to Flight 93 memorial site.)

Lillie Leonardi writes about her experience in her new book In the Shadow of a Badge: A Spiritual Memoir, in which she describes seeing shimmery lights that she realized were angels.  Leonardi was stunned by the crash impact, which obliterated the airplane and the people on board.  The former police officer served as a liaison between law enforcement and the families of the crew and passengers who lost their lives.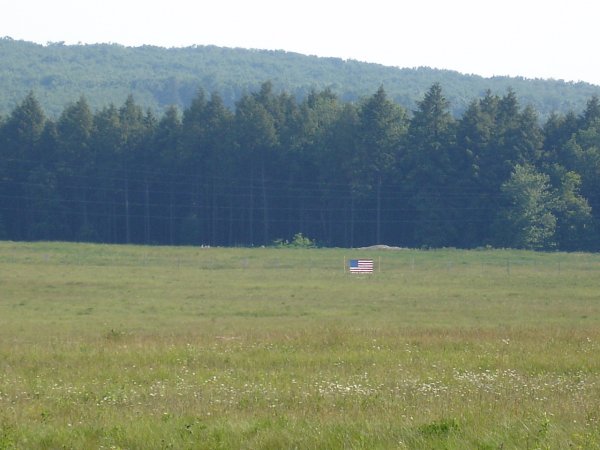 Flight 93 was among four commercial airplanes taken over by terrorists.  Two planes crashed into the World Trade Center in New York City and one into the Pentagon in Washington, D.C.  Flight 93 was intended to crash into the White House, but a revolt of the passengers thwarted the planned attack and the plane crashed in a farm field in Pennsylvania instead.  A plan to take over a fifth plane was aborted.  (Photo: Field where Flight 93 crashed.)

Flight 93 slammed into the ground at full throttle.  One of the shocks for Leonardi was how little was left -- the people onboard were just vaporized.  She did not tell others on the post-crash scene about her angel vision, and kept quiet about it now.  She has suffered post-traumatic stress disorder.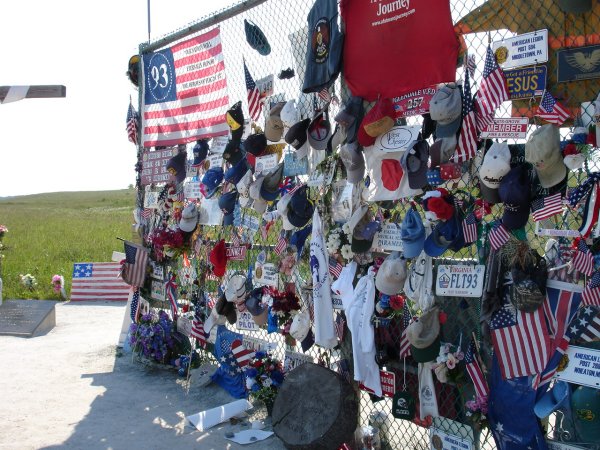 George Noory

asked me to comment on her experience on Coast to Coast AM on July 4.  Leonardi believes the angels were guarding the crash site.  I agreed that it might have been the case, but also -- and more likely -- they were on the scene to help the souls of the victims cross over to the afterlife.  When tragic, sudden and violent death occurs, souls can be in shock and disorientation.  Angels assist in their transition.  Whatever their purpose, their presence is always comforting, and a sign of divine help in the face of unspeakable tragedy.  (Photo:  Memorials left by visitors at crash site.)

Shock and trauma can elicit spontaneous visionary experiences, which may explain Leonardi's angelic vision. 
Other first responders may have experienced the angels as well, but in different ways.  Some may have sensed a heightened presence in the area without knowing what it was. 

Today the Flight 93 site is still an emotionally charged and powerful place.  I have visited it several times, most recently last fall.  All but immediate family members of the victims must view the site from a distance.  There is a moving memorial to the victims.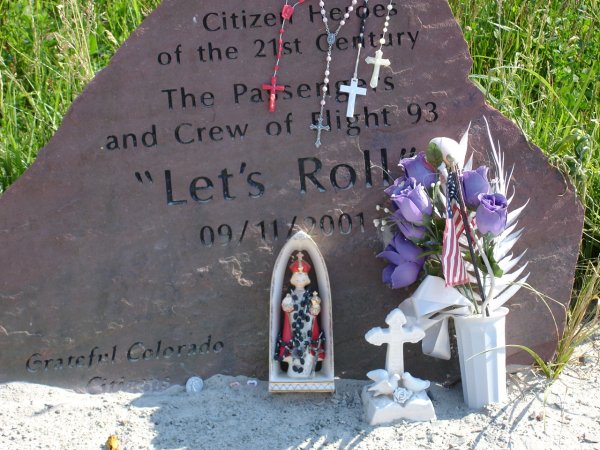 Not surprisingly -- but something officials and surviving families do not wish to discuss -- are the lingering haunting phenomena that I have heard reported since the crash happened: misty shapes that move over the landscape, especially at night, that may be phantom residues left behind.  In the immediate aftermath of the crash, residents of nearby homes (the area is sparsely populated) reported poltergeist activity, which may have been an outlet of energy from the crash.

For the news story about Leonardi, click here.
_________________
IN THE ARTS!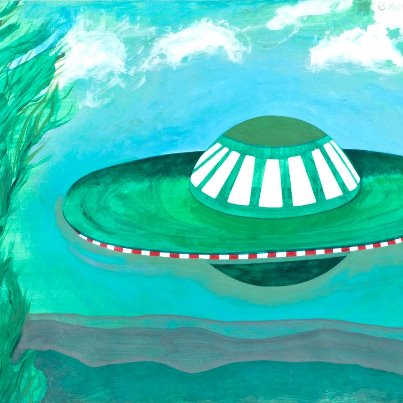 I was thrilled to add a second original painting by Paul Greco to my art collection: "UFO Over Field."  I fell in love with it the first time I saw it!  Last month Joe and I caught up with Paul and his companion

Francine Vale

at the reception for Paul's exhibit, "Recent and Unseen Work," at the Upstream Gallery in Dobbs Ferry, New York.  Paul and Francine, a channeler and healer, direct the monthly UFO Roundtable in Yonkers, where I have presented on a couple of occasions.
Artist

Dennis Rano

, known for his caricatures of ufologists and paranormal researchers, surprised me with a new look, done in gorgeous color.  I liked it so much that I made it my cover image on Facebook.  Dennis has done two other drawings of me, one with an ET slant and one
with ghosts.  The new one is featured on his website, click here.
BOOK NEWS: OUIJA GONE WILD IS IN PRINT!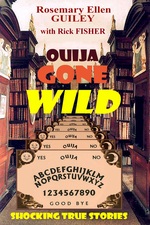 My long-awaited definitive book on the Ouija board, Ouija Gone Wild, which I have co-authored with

Rick Fisher,

is now available at my website shop.  This is the most comprehensive book written to date on the alluring talking board.  The book features dozens of riveting stories, the history of the board, the influence of films on popular opinions, and much more!
Special attention is given to the frightening

Zozo

(a dark entity who makes the board its playground), the appearances of Shadow People, and other talking-board-gone-wacky experiences involving murder, mayhem, financial affairs, marriage, divorce, and bizarre behavior.

Hair-raising experiences aside, both Rick and I believe the board is a neutral device, just like any tool used to contact the spirit world.  Some experiences are benign and even helpful, and others are amusing.  We include
advice for using the board.
We also feature a chapter on the role the Ouija has played in literature, fiction, poetry, and music.  We discuss channelers such as

Jane Roberts

, who channeled Seth.  Jane began with a Ouija board and then advanced to physical mediumship.  My artist and film director-producer friend
Raúl
daSilva

, who designed the cover of the Ouija book, was acquainted with Jane and her husband Robert.  Raul recently told me about his visitation from Jane at the time of her death:
"I lived some miles north of Jane and Rob when they were in Elmira, New York.  I was in touch with them and remained in touch with Rob after Jane passed in 1984.  That September, I was sitting in my apartment in Manhattan, reading, and suddenly there was what I would call an electrical charge in the room. I put the book down and knew that Jane's essence was there.  It puzzled me but I thanked her for visiting. A week later I learned that she had died that day so I wrote to Rob and told him that she had come by to say "good-bye," my wish being that I could have seen her (I did not, unfortunately).  I remained in touch with Rob until he passed a short while ago. Through the years, he had sent me copies of all the reprints of the major books as gifts."
Meanwhile, paranormal investigator

John Winterbauer

of Illinois was inspired by the book to try some Ouija experiments.  He purchased one of the glow-in-the-dark boards (the only Ouija currently on the retail market) and took his team to an investigation location he described as
"the scene of the two clearest, creepiest EVP captures I've ever been involved in and some wild activity of other sorts."  Would the Ouija yield similar activity?

The results John and his team got indicated that the board may create or enhance a field of energy conducive to phenomena:
"Well Ro, we tried 'er out last night. If the board wasn't lying we made contact with a man named Peter, 20 years old, who died in 1992 -- and then he started spouting gibberish.  The interesting thing was the corresponding meter hits. KII activity was rampant on two different meters while a Malmeter was fluctuating wildly. It was a good first effort and confirmed what I suspected, the board is generating some sort of field energy. Very interesting."
John also reports that the audio evidence features "unexplained laughter."  The audio/visual evidence was still under review at press time for the newsletter.

What They're Saying About Ouija Gone Wild...

From author and film producer

Victoria Gross

:
"You and Rick did a great job on the book. I love the history, and the stories are very interesting. Could not put the book down! Just finished the chapter on Zozo--wow--that was scary!"
From

Darren Evans

, the first person to document and publicize Zozo experiences, who is featured in the book:
"As someone who has researched Ouija phenomena for years, I was anxiously waiting for the new book by Rosemary Ellen Guiley. I was not disappointed. Some of the true stories are told here for the very first time! I really enjoyed Guiley's unbiased approach, and she carefully dispels rumors and myths surrounding this controversial subject matter. I have read many Ouija volumes, but this one takes a hard modern look at this polarizing issue. I recommend it for both casual readers as well as the hardened paranormal enthusiast! A spooky MUST HAVE for anyone who has wondered "Is it just a game?"
___________________________

Jack Brewer

, who publishes

The UFO Trail

blog, recently asked UFO researchers, experiencers, scientists and bloggers for their thoughts on the most constructive directions for ufology.  Respondents weighed in with a variety of diverse viewpoints that should give anyone researching in this field quite a bit to think about.
Here's my contribution, including Jack's intro:
Rosemary Ellen Guiley has written extensively on Fortean phenomena. She is among those who feel it would be constructive to further examine the possibility that different genres of the paranormal may be divided more by perception than actuality:
"UFO and ET experiences are not self-contained, but are part of a vast web of interrelated phenomena penetrating other areas, such as the paranormal and crypto-creatures. Ufology would benefit from a deeper examination of the cross-connections and patterns involving hauntings, shadow people, Djinn, Bigfoot, fairies, angels, and mysterious creatures. Also, more consideration should be given to the interdimensional aspects of UFO and ET experiences: we may be dealing more with shape-shifting ultraterrestrials from parallel dimensions connected to earth, rather than with beings from distant worlds."
Click here to read the full article, "Open Mic Night," at The UFO Trail.

_________________________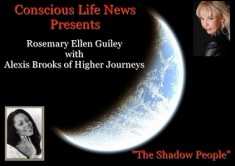 After years of researching the mysterious Shadow People, who are frightening bedroom visitors and invaders, I have concluded that they are a form taken by Djinn.  They also play a role in many ET abduction cases, visiting abductees before and after abduction experiences.  Recently I shared my latest opinions and findings with

Alexis Brooks,

who writes the Higher Journeys blog.  We also explored a Shadow Person case researched by Alexis.  The audio interview is posted on Conscious Life News.
_______________________
READERS RESPOND... ON THE PASSING OF PETS
The June newsletter's article about the passing of pets and post-death evidence of them struck an emotional chord with many readers, who wrote in about their own experiences. 

Lisa Krick

of Indiana said:
I love your newsletters ... I ALWAYS learn something from them ... and this month's was particularly close to my heart with the "passing of pets" article. I've had visitations from both my dogs who have passed. People think I'm crazy when I tell them that. The most recent was about a month after my sweet Shelby passed. We had adopted a new 13-year-old German shepherd ... she'd been here for two days. We (me, her, the boy dog and the cat)
were all sitting
in the living room and nobody else was home. No one was walking around. We all heard "click, click, click, click" -- four doggie footsteps in the dining room. Every one of us looked up toward the dining room without even thinking. I'm pretty sure that was Shelby letting mama know that she was okay and that she was checking out the new dog. It was very comforting.
Our departed pets do visit us!
_________________________
ALCHEMICAL TAROT INTENSIVE WEEKEND!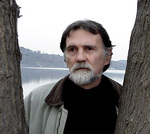 August 3-5, 2012: For the first time ever,

Robert Michael Place

and I are joining together to teach an intensive weekend seminar on The Alchemical Tarot, the deck and book set we co-created in the mid-1990s.  Bob's brilliant, visionary artwork and knowledge of alchemy produced an outstanding, powerful deck that has remained a favorite among Tarot enthusiasts since its debut.  Bob and I have each taught the Tarot for years, and it's exciting to work as a team again.
In this workshop, you will learn the deep symbolism of the Tarot cards, use the Tarot to understand your dreams, practice techniques to sharpen your intuition, and improve your reading skills.
A central part of the weekend will be working with Bob's

Soul Centers

, an advanced Tarot reading for the enhancement of well being, health and prosperity.
In addition, both Bob and I will be available throughout the weekend for informal questions and discussions, and for private readings.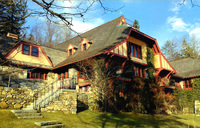 The setting for this intensive is the spectacular, historic Hillside Mansion in Norfolk, CT, located on 43 forested acres with stunning vistas, a swimming pool, and hiking trails.  We are bringing in a chef to cater our meals (non-vegetarian and vegetarian food will be offered). 
The event includes instruction, double or single accommodations, and meals.   Cost is $600 per person for the workshop, two nights accommodations, and meals from Friday dinner through Sunday lunch.  A commuter fee of $450 per person includes the workshop and meals.
All instruction will be based on The Alchemical Tarot.  Decks and books will be available for purchase.   Bring notebooks and comfortable clothing.
5 pm Arrival and orientation
6:30 Dinner

8 – 9:30 Dreams and the Tarot with Rosemary
A workshop on using the Tarot in dream interpretation with information for you to sleep on. (A followup session will take place each morning)
Breakfast

9 --10:00 am Guided Meditation and discussion with Bob
This meditation is designed to help you experience the inner soul centers and is a foundation for the Soul Center Reading workshop in the afternoon.
10 --11 am Dreamwork followup with Rosemary
11 – Noon Take a break and enjoy the surroundings
Noon  Lunch
1 – 4 pm Workshop on the Seven Soul Center Reading with Bob
This workshop is based on Bob's most advanced Tarot reading in which the cards are used to illustrate the condition of the querent's soul centers and to make improvements in the flow of energy in each center. When this is accomplished, improvements in health, prosperity, and well-being follow. We will explore the history of the Western system of soul centers and learn the technique for using the Tarot to work with them.
4 -- 6 pm Free time to learn, read cards, or just enjoy yourself
6 pm Dinner
7:30 – 9 pm Advanced Reading Techniques with Bob and Rosemary
9:30 Guided Meditation with Rosemary
9 am Guided Meditation with Bob
10 – 11 am Dreamwork follow up with Rosemary
11 – 11:30 Break
11:30 - 1 pm Comparative Tarot with Bob
Bob will show examples of important historic decks, such as the Waite Smith Tarot, a facsimile of the original Tarot of Marseilles, his facsimile of the the oldest Italian woodcut Tarot, and others to illustrate the evolution of the Tarot's symbolism.
1 – 2 pm Lunch
For details, to see more photos of the mansion, and to register, click here.
_________________________
DISCOVER YOUR PAST LIVES WEEKEND WORKSHOP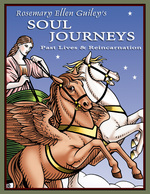 November 9-11, 2012:

  Join me for a Discover Your Past Lives workshop weekend in partnership with

Tonya Madia

, certified yoga instructor and Reiki master, in Parkersburg, West Virginia at the elegant, beautiful Blennerhassett Hotel!  Our program will include several group regressions for discovering significant past-life information, integrating your discoveries into the present, dreamwork, optional yoga, and optional bodywork services, private readings, and more.  Click here for details and registration.

______________________________
MAILBAG Q&A: REAL VAMPIRES

[

I get emails every week asking this question -- an indication of the popularity of fantasy vampires in film and on television.]
Q:  Do vampires really exist?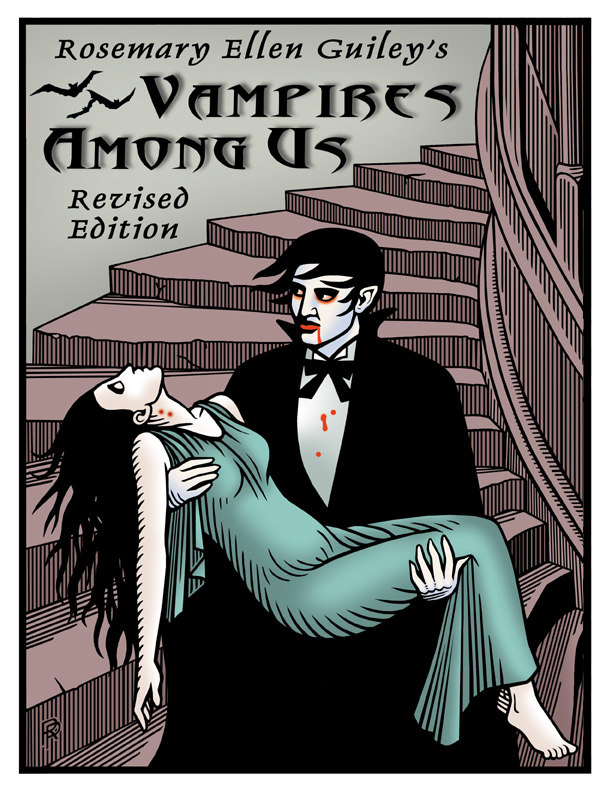 A: 

Yes, vampires do exist -- but not like the characters from fiction and film, especially the glamorous, supernaturally empowered vampires portrayed in Twilight, The Hunger Games, and even True Blood.   The basis for our present-day vampire lore comes from Eastern European and Mediterranean beliefs in the restless returning dead: under certain conditions, a soul does not cross to the afterlife but remains attached to the corpse in the grave.  It escapes the grave and pesters the living, primarily by taking the life force in some way, but also by causing nightmares, poltergeist disturbances, and sexual assaults.  Vampires take blood, beauty, luck, fortune, and life itself.   Such disturbed souls either run out of steam at some point, or must be dispatched -- usually by mutilating or destroying the corpse -- so that their disturbances cease.  Our ancestors were revolted by vampires and fearful of them.  There was nothing pretty about them.

In addition to human vampires, there are non-human vampiric spirits that also syphon the life force in various ways.  They are predatory and horrific.
The current spate of glamorous vampires inspires young people to admire them, and I am often asked where vampires can be met, especially for romantic purposes.   You won't find a TV or movie-style vampire, but there are people who consider themselves vampires, and some of them vampirize others by taking energy, not blood.  The living vampire subculture is quite diverse, and overlaps with shape-shifters.  More about them is described in my book Vampires Among Us.

__________________________
July 15 – The Conspiracy Show with Richard Syrett,
Zoomer Radio AM 740 in Toronto
.
Special show on the Ouija.
July 28 -- Exploring Unexplained Phenomena, radio show with Scott Colborn, KZUM FM 89.3 in Lincoln, Nebraska.  My monthly report airs around 11:10 AM Eastern.
_________________________
PARANORMAL AND SPIRITUAL BENEFITS OF MEDITATION

By Rosemary Ellen Guiley
Paranormal investigators often ask me for recommendations on how to enhance their psychic ability and increase their protection against negative phenomena.  The activity I recommend the most, and which is essential to all spiritual and paranormal work, is meditation. 
Meditation improves grounding and centering, which reduce one's vulnerability.  It bolsters the aura.  It also improves psychic sensitivity, intuition, and dreamwork.  And, it improves one's resistance to stress.  In short, meditation is essential to gaining an understanding of the unseen realms, and to a deeper understanding of self.
Meditation does not require huge chunks of time or learning special postures.  It can be done for a few minutes in an easy chair, on a sofa, or on a work break.  It involves a stilling of the body and mind in order to connect with Divine Mind, the Higher Self, and Cosmic Consciousness.  When a regular practice is followed, ideally daily, it will aid whatever paranormal, psychic and spiritual activities you are pursuing, and will enhance your well-being and health.
Sitting Meditation
Sit in a comfortable place.  (You will remain more alert if you are seated.) Keep your spin as straight as possible.  Allow the body to relax by breathing deeply and slowly.
Close your eyes.  Visualize a stream of white and gold light entering your body through the top of your head.  This is the universal life force, the chi of the cosmos, your connection to all creation, to all wisdom, to all knowing.  Allow the light to permeate your body.  Send it down through your skin… your organs... your connective tissue... your muscle... your bones... your arteries and vessels... your nerves... your cells.  Allow the light to flow out through your feet, into the ground... into the planet.  You are now fully connected and grounded: open to the heavens above and planted in the earth below.
Quiet your thoughts as much as possible.  The mind is busy, and even when we are relaxed, a continual mental chatter flows through us.  The mind wants to wander.  As thoughts arise let them go, like balloons drifting away on a wind, or water running through a sieve.  The challenge is to not be distracted by thoughts and not get caught up in them.  As you release your thoughts, gently sink deeper and deeper into a tranquil state of consciousness.  Become a feather drifting downward through the air.  When you come to rest, find profound peace.
Be present to the peace and stillness.  Be filled with the white and gold light.  Nothing more. When thoughts arise, let them go, softly, gently.  Some days it takes longer to quiet the mind than others.  No matter.  You simply keep releasing.  Do not try to stop your thoughts from originating -- they are "mind waves,"as they are called in Zen, and they pass.
If thoughts become intrusive, recenter with the breath.  Count the breath on the exhale up to fifteen.  Start over again if necessary, and repeat as many times as necessary.  Above all, stay relaxed.  Some days are more productive for meditation than others.  Do the best you can.
Stay in your meditative state for ten to fifteen minutes.  If you are new to meditation, this may seem like a very long time.  The more you meditate, however, the longer you will be able to sit and the deeper you will be able to go.
Return from your meditation by taking three deep breaths.  Push the air out vigorously through the nose or mouth.  Push energy out through your feet and feel the solid connection to earth.  Feel firmly centered in your body.  Open your eyes.
The Great Seal Meditations
Buddhism teaches many ways to poise the mind in meditation.  Mahamudra ("Great Seal") meditation was practiced by the early Dalai Lamas of Tibet.  Through it, one comes into an understanding of the true nature of the mind.
Mahamudra meditation is taught in metaphors.  There are various mahamudra traditions; Buddha is credited with teaching the first.  The following six pointers are common to most of the mahamudra traditions. Try them as a way of stilling the mind:
1: The mind should be kept like the sun in a cloudless sky.  The mind is like clear light, which is knowingness.  Clouds represent wandering, distraction, torpor and so on.  When the clouds appear, let the sun disperse them gently so that they disappear.
2: The mind should be like an eagle soaring in the sky.  The eagle is graceful and powerful in the way in soars in flight with very little effort.  Let the mind soar in luminous awareness.
3: The mind should be kept as the image of the ocean, deep and tranquil.  Disturbances -- thoughts and phenomena -- appear like ripples and waves on the surface.  Let the mind become as the ocean when it appears as glass, smooth and calm.
4: The mind should be like a child in a temple.  A child has the ability to see an entire panorama and is open to the big view.  Do not let the mind get bogged down by small details.
5: The mind should be like a bird in flight leaving no footprint.  The phenomena of the sensesBheat and cold, pain, sound, rushes of energy and so on -- are like the footprints of the bird.  They must be left behind in the flight of the mind.  Be not attached to phenomena.  Allow them to arise and fall away.
6: The mind should be like a dandelion fluff in the autumn, picked up by the wind.  The mind should be kept light and buoyant.  If the mind becomes heavy because of fatigue or the discomfort of the body, move the body slightly to restore the lightness.
Rosemary's websites:
______________________________

THIRD ANNUAL MICHIGAN PARACON
I will present on Shadow People at this year's MIParacon, held at the Kewadin Resort and Casino in Sault Ste. Marie, Michigan, on August 10-11.  I'll also be on a panel with Jeff Belanger and others for a live taping of Jeff's hilarious Thirty Odd Minutes TV show.  Don't miss the fun!  I was a presenter last year and am looking forward to another great event!
TENTH ANNUAL MOTHMAN FESTIVAL
It gets bigger and better every year!  I absolutely love the Mothman Festival in Pt. Pleasant, West Virginia, which this year will take place September 15-16.  I have been a featured speaker since 2004.  My topic this year will be "Strange Creatures of West Virginia," based on my new book, Monsters of West Virginia.

Columbus Day weekend, October 12-14, I make my first appearance as a featured speaker at the fabulous Universal Light Expo in Columbus, Ohio.  My showcase presentation features the Djinn, Shadow People and ETs.  In addition, I will give a complimentary presentation on interdimensional portals.  Visit me and

Tonya Madia

at our booth in the vendor hall.  See you there!

NECROMANTEUM AT THE FESTIVAL OF THE DEAD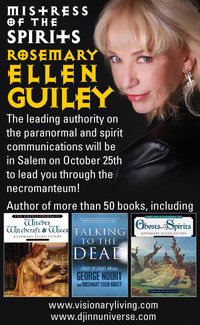 It's not too early to plan your Halloween adventures!  Come to Salem, Massachusetts, where the Festival of the Dead rocks all month long!  This year I join the headline events guiding an evening of spirit communication via black mirrors: "Portal to the Spirit World: Through the Necromanteum." 
Participants will learn about black mirror gazing for contacting the spirit world and then immerse themselves in their own private session.  Light refreshments conclude the journey.

Attendance is very limited for this special premiere event at OMEN on October 25.  Register early at Festival of the Dead.
SOUTH OF SALEM WITCHES' BALL 
I am delighted to be a special guest, courtesy of Karen Jetté Benson, at the 2012 South of Salem Witches' Ball in Wrentham, MA on Saturday, October 27.  This year's ball will be a formal white and black masquerade.  How exciting!  A portion of the proceeds will benefit Rolling Thunder, a veterans' advocacy group.  Click on the banner for information.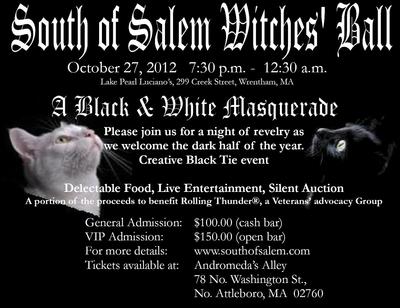 _____________________________

E-BOOKS BY ROSEMARY
I have several
titles from my own press available on Kindle. 

Click on the titles or covers for more information and to order.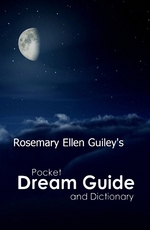 Rosemary Ellen Guiley's Pocket Dream Guide and Dictionary, everything you need for dream interpretation in one compact book!  The guide includes an overview of dreams, tips for interpreting dreams and improving dream recall, and a dictionary of more than 600 of the most common and useful symbols.

Rosemary Ellen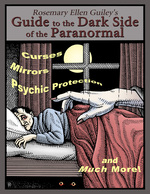 Guiley's Guide to the Dark Side of the Paranormal, a collection of twenty articles on curses, psychic protection, the evil eye, lethal ghosts, possessed possessions, the Djinn, Shadow People, the Ouija, dream invasion and more.  Read it and keep the light on at night!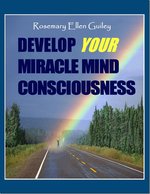 Develop Your Miracle Mind Consciousness, a helpful guide for staying on top of 2012, a dragon fire year.   Examines the states of consciousness conducive to miracles and practical tips for developing a daily "Miracle Mind Consciousness."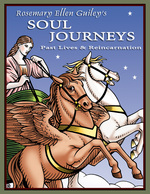 examines the evidence for reincarnation and the ways that a soul might return to physical form.  Famous cases investigated by scientists and experts are featured, as well as original cases from Rosemary's research.  Karma, relationships, soul mates, phobias and past-life healing are discussed.  Want to know who Jim Morrison of The Doors was in a past life?  Get the book!

_____________________________

NEW AND RECENT BOOKS IN PRINT AT VISIONARYLIVING.COM
To order autographed copies, click on the covers or here.
Ouija Gone Wild
(see above in newsletter) is in the shop!  $18.95 plus s/h.

Rosemary Ellen Guiley's Guide to the Dark Side of the Paranormal is now out in a paperback edition, fresh off the Visionary Living, Inc. press.  The book features 20 articles on dark side topics in the paranormal, occult and ufology, including Shadow People, the Djinn, curses, demons, Men in Black, dream invasion, sex with entities, vampire UFOs, and more.  $12.95 plus s/h.
This paperback is available only on my website bookshop and at my events.   It is also available in e-book format from Kindle at amazon.com.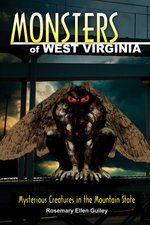 Monsters of West Virginia is out from Stackpole Books.  The Mountain State teems with strange creatures!  Read about Mothman, the Flatwoods Monster, the Grafton Monster, Bigfoot, thunderbirds, mystery cats, werewolves and other oddities.  In addition, I discuss possible explanations for mysterious creatures from the perspective of multi-dimensional realities.  Even if you don't live in or visit West Virginia, it is an excellent introduction to the realm of the crypto-creatures, and to explanations for how and why they appear.  They are everywhere!
"Strange Dimensions" is copyright Visionary Living, Inc., 2012.