SIRA

NEWS
Scotland Island Recreation Club

Proposal to set up a Scotland Island Recreation Club (SIRC)


SIRA is considering the formation of a Scotland Island Recreation Club (SIRC) and would appreciate any feedback/constructive ideas on this.

Initially this could be very small scale and comprise the management of a couple of table tennis sessions in the Community Hall. SIRA is willing to purchase a number of tables.

Sessions could be during the day and late afternoon to accommodate all ages.

If this proves successful we could look at expanding the activities. We would be looking for active volunteers to help. This is an opportunity to contribute to the health and wellbeing of the community, as well as to meet new people.

Please contact Anne Dennis, Secretary, with feedback and comments. Email: secretary@sira.org.au



---
Planning Our Sustainable Future
Our community is passionate about the Northern Beaches and we want any future development to be in keeping with our lifestyle, environment, local character and changing community needs.

We're taking our four current Local Environmental Plans (LEP's) and Development Control Plans (DCP's) and working with our community and other stakeholders to create one new planning framework.

This is our opportunity to create a roadmap for managing the way our area evolves, in a consistent, sustainable and coordinated way, over the next 20 years and beyond.

Our new LEP, and the Development Control Plan that supports it, must be consistent with the themes and regional directions set by the Greater Sydney Commission in the North District Plan, and it must also respond to what our community told us when we developed our Community Strategic Plan.

We're starting this process by creating a Local Strategic Planning Statement, called Towards 2040.

This new planning document will outline our future vision, set priorities, and include actions to achieve the priorities and planning principles; confirming our commitment to a sustainable future.

Good planning is all about looking ahead and ensuring we have the housing, infrastructure, services and environment to support our lives now, and for the future. Our aim is to do this while protecting and enriching the characteristics that make living here so special.

For further information and to become involved go to:Yoursay Northern Beaches Council



---
BUILDERS QUOTES WANTED
My place 'Geeps' at 49 Robertson Rd is being auctioned in early March.

The deck is in a state of disrepair and the agent has asked me to provide quotes from local builders who might be able to fix it. These will be provided to interested buyers.

I need a quote for a band aid 'just make it safe' fix, and a complete replacement.

Here's some photos..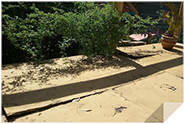 Anyone interested in quoting please call Sophie on 0432611976
or sophie_hay@hotmail.com



---
CLASSIC LOCAL PITTWATER BOAT
The Patsy, is reluctantly FOR SALE. PRICE DRASTICALLY REDUCED
The Patsy is a 26 foot stunningly restored timber motor vessel designed as the perfect Day Boat with comfortable seating, canopy and head. Painted a contemporary opal white and black, with matching cream cushions and covers, she cuts a striking and pretty figure.

Must sell as moving. Looking for a local owner to keep her on Pittwater where she worked for many years for the Council. Currently moored by Scotland Island, opposite Newport.

Enquiries to Peter Norton 0417489815.
 
Click here to download PDF
 


---
Carbon Fibre Rudder, Rudder-Box and Tiller for sale
Built for our yacht, Revolver by Noakes boatyard.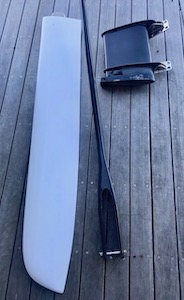 As the stern of our boat is so wide, we realised we needed to place another style of rudder UNDER the boat.
 
This configuration was used for a month when we launched at a cost of 10k to build. 
Knowing it wont fetch anything near that, I am open to an offer.

I would love to see it on a Woody Point contender that might be between 30 and 42 feet long.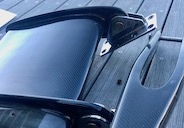 Blade is 2 meters and would be approx 1.5 below water line.


contact michael on 0403 188 770




---
Commuter Boat Wanted
Looking to buy a commuter boat.
Preferably polycraft or aluminium with full covers, ideally with newish outboard motor.

Please email me 
Sean.Rush@iinet.net.au
\


---
Etchells for Sale

Boat name Crush
Boat number AUS650    (1984)
Sails - Spinnaker, light/medium jib, heavy jib, main plus boat cover

Boat moored on the western side of Scotland island.
Price $2200

Call Glen 0405388527.








---
---
---
A complete set of past electronic newsletters since May 2000 can be found and read at https://ymlp.com/archive_gesgjgm.php  or by clicking here or by visiting the Mona Vale Library.

The Island website is at www.scotlandisland.org.au



---
To Contribute
If you would like to contribute to this newsletter it's easy!. Send an e-mail to the editor (editor@scotlandisland.org.au) or by clicking here. Type your contribution (100 words or so would be fine) and assuming it is of general interest to the community, does not include matter of a political nature and is not offensive, it will appear next month.
Subscription Information
To get on and off this newsletter,

click here

or got to:

http://www.scotlandisland.org.au/signup .


To change your address, click the 'modify' link at the bottom of this newsletter or send an email to the

editor@scotlandisland.org.au


---
Follow the PON
---
The Online Local Contacts Guide
Click HERE to load
---
T

he

Editor

and the publisher disclaim responsibility for any injury to persons or property resulting from any ideas, articles or products referred to in this publication. Further, t
he views expressed in this newsletter are not necessarily the views of the Scotland Island Residents Association (SIRA), or the Western Pittwater Community Association (WPCA)
---