---
Road Subsidence Alert - Florence Terrace



Subsidence has occurred on Florence Terrace, just past Eastern Wharf steps and poses potential danger to vehicular traffic and pedestrians.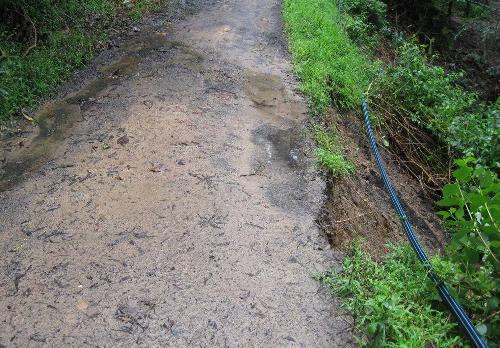 The SIRFB, Community Vehicle drivers, contractors and residents who access their homes via this section of road have been advised. A resident has put a couple of milk crates and a white hessian bag on the roadway.

Council has been advised and a request made for them to investigate the extent of the subsidence as soon as possible.



---



The Church Point Ferry Service is proud to announce that with your help we have removed 40 tonnes of carbon dioxide from the atmosphere.





To celebrate we will be giving away 40 spotted gum saplings to the first 40 passengers on national Tree day, Sunday the 31st of July. That is one tree for every tonne of carbon dioxide removed.



Living in Spotted Gum Forest
Scotland Island and the western foreshores of Pittwater are spotted gum forest, which is an endangered Ecological Community. In view of the small size of existing remnants, the Pittwater Spotted Gum Forest is likely to become extinct.

Value natives on your block and maintain a diverse community
Save your natural soil profile, it contains dormant seeds that can regenerate naturally
Let natural mulch reduce erosion and retain moisture
Encourage regeneration on your block - is there room for a Spotted Gum or two?
Identify, control and remove weeds
Plant local natives associated with Spotted Gum Forest
Limit the use of fertiliser - it encourages weeds.
For more information go to Pittwater Council Website.
With thanks to our partners Pangolin Associates.
---
Fundraiser for former Islander



Well known and much loved islander, Jenny Smith, is undergoing a serious operation and is looking at a very lengthy recovery process.

A fundraising night is organised at the advanced screening of the movie "The Help" at Warriewood on Wednesday 17th August, 7pm.

Tickets are $50 for recliner, for other $40.
Glass of champagne and Choc top included.

Further details Fiona Deegan - 0410 567 459


Mums for Mums Fundraiser
Advanced Screening
Glass of champagne on arrival
Choc Top for the Movie
Wednesday 17th August 7pm
Lucky door prizes
Raffle Drawn
Warriewood Cinema
4 Vuko Place, Warriewood
---
Gone Fishing Gallery Newsletter
---
Small row boat drifting somewhere!



In the night of Monday 18 July, my children's beloved small row boat called Bim Bim went adrift with high tide. The rolex and oars were left in the boat as well.

Has anybody seen it passing by?
Please call Anne on 9999 4002 if you have any information.
Thanks!



---
A BIG THANKS!



Lulubelle and family would like to thank Scotland Island's excellent 'First Response Team', especially Ian White and Wayne Gluyas, who looked after Lulubelle and helped to get her to hospital after an awful fall and unconsciousness last Monday.

Our Thank You also extends to the rest of the wonderful Paramedic Team and the lovely Water Police (sorry, can't remember all your names) who were all so helpful, kind and calm at this for us very stressful time.

Lulubelle is home and recovering well, and we are so very grateful for your help and support.
Camilla, Cliff, Lulubelle and Miles



---
Winter WOW




Women on Water



Women on Water now takes place 4 times a year with the changing of the seasons. We welcome any old or new community members to join us for our Winter WOW which will be held on

Tuesday Aug 9th at 12.30 at Jane's house, next door to Scotland Island Lodge.

So rug up in your warm woolies, bring a plate to share and a drink, and come and join us for a warm winter WOW.

Hope to see you there,
Nila


---
For Sale

1 Sony Trinitron TV, screen 53cm diagonal, 10 years old, and digital box, perfect working order - $120 or best offer

1 extra digital box (Bush) - $25

1 yellow trolley to attach to back of bike (needs new plastic tub), perfect for island or mainland - $50

Contact: Robyn, Scotland Island 99791096



---
The Online Local Contact Guide

Click HERE to load
The views expressed in this newsletter are not necessarily the views of the Scotland Island Residents Association (SIRA), or the Western Pittwater Community Association (WPCA)
---