---
PurelyAlpaca is having a special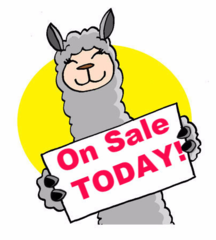 from Friday, November 8th - 18th.
The normally busy staff will be on the East Coast, taking a
break before the Crazy busy season, visiting family and
attending the VOABA Alpaca Show in Fredericksgurg, VA. 
While we're away, enjoy many closeout and new alpaca items on sale!
We will fill any order arriving before Friday, Nov 8th
Any orders after the 7th will be filled when we return,
in plenty of time for your gift giving.
Don't wait for things to sell out, get them now during this
special NOT HERE Sale event. 
Many closeout items NOW on sale