Contents

---
---

---
Clock Changes in Sydney, New South Wales, Australia
6 October 2019, 2:00 am
1 hour Forward

---
Commodore's Cocktail Party

November Saturday 9th from 6:30

---
Island Garage Sale Weekend
October 20th, 2019, from 9am (recommended)

---
Pittwater Offshore Wine Syndicate
Sunday October 13 from 3-5pm
Everyone is welcome

---
ISLAND DAZE - MUSIC ART COMMUNITY FESTIVAL
Celebrating 50 years

WOODSTOCK MUSIC & ART FAIR
---
---

---
The Co-Op Club Presents
October 2019 Bookings
Church Point Cafe -  Artists play between 3:30 - 6:30pm
Sun October 6:  Dog Trumpet

Be quick to book!  A very special event at the Co-Op with DOG TRUMPET.  Featuring brothers Reg Mombassa & Peter O'Doherty, both former members of iconic Australian Aria award winning and Hall of Fame band Mental As Anything. The Mentals having had over 20 top 40 hits in Australia.

Over the last twenty years Dog Trumpet have released five albums: Two Heads One Brain, Suitcase, Dog Trumpet, Antisocial Tendencies and River of Flowers. 2014 they continue their sonic alchemy of roots based, folk, pop, country and semi-abstract blues with their sixth and best release, a double album, Medicated Spirits, an album full of wit, surprise and warmth and driven by Reg's distinctive slide guitar and Peter's melodic acoustic guitar and mandolin.





Monday

October

7: Midlife Crisis (Long Weekend Monday)

The Co-Op Club is very pleased to welcome back DRAGON!  Inducted into Australian Hall Of Fame in 2008, Dragon requires no introduction!!  
Having toured Australasia, America and Europe in the 1970's and selling over a million records with songs that surely are, the soundtrack of our lives, you won't want to miss this very special ticketed event. Bring your friends and bring your family as singer Mark Williams, Pete Drummond on drums and Bruce Reid on guitar bring you their most famous hit's …like THIS TIME, STILL IN LOVE, SUNSHINE, GET THAT JIVE, APRIL SUN IN CUBA, ARE YOU OLD ENOUGH, RAIN, SPEAK NO EVIL and so many more





Sun October 13

: Dragon at the Co-Op Club, SOLD OUT
That's right, quirky crowd favorites The FUKERS will be back with their crazy bunch of Ukuleles to warm up your winter blues. Bring your friends, bring the kids, bring Grandma & Grandpa but most importantly bring your dancing shoes for yet another afternoon of great tunes and madness. Their last few shows here have packed the joint, so make sure to book a table early, you wouldn't want to miss out on the fun!!

Sun Ocotber 20: Acclaimed Lachy Hamilton 'Alchemy' Album Launch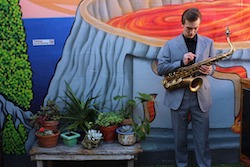 Lachy Hamilton is part of the new wave of talented jazz musicians to hit the Australian music scene. The Sydney-based saxophonist and composer recently launched his debut album Alchemy to critical acclaim receiving favourable reviews from Australia's key jazz critics (see below).

Hamilton has toured and performed with jazz luminaries such as James Morrison, Patti Austin, Sarah McKenzie and James Muller at venues around the world including Dizzy's Coca-Cola Club (New York), the Green Mill (Chicago), the 2017 Jazz Educators Network Conference (New Orleans), Telluride Jazz Festival (Colorado), Melbourne's Hamer Hall and the Sydney Opera House. He tours regularly in Australian capital cities to include Paris Cat in Melbourne; Foundry 616, The Basement (now Mary's Underground) and LazyBones in Sydney ; Brisbane's Dee Bop; and Canberra's Smith's Alternative. He will be touring New Zealand in early 2020.

Hamilton was a member of the Academy Jazz Orchestra recording the Aria-nominated album "James Morrison with his Academy Jazz Orchestra". He was a finalist in the James Morrison Scholarship in both 2014 and 2015. He was also selected as one of the 2015 Telluride Jazz All Stars performing in Telluride, Colorado with Denver University's Josh Quinlan and Bob Montgomery, and American jazz and rhythm and blues saxophonist Ernie Watts. Hamilton is the founder of various groups including "FLIP", "The Swing Merchants" and "Ekki and the Scatterbrains". He formed the Lachy Hamilton Quartet and Quintet ensembles, and has performed with the James Morrison Quintet.

He completed a Bachelor of Music (Honours) at the James Morrison Academy of Music in 2017. He studied under Jeff Clayton, Mat Jodrell, Graeme Lyall, Carl Mackey and James Morrison, and was the sole recipient of the 2016 Excellence in Performance Award.
He currently plays with Judy Bailey's Jazz Connection (lead alto), Kwame, as a sideman for various jazz groups, as well as his self-titled ensembles.

The Alchemist reviews:



The Australian, Eric Myers, 11 May 2019 says: "The Alchemist ... album brings together five brilliant young musicians who will be household names in Australian jazz tomorrow."





The Sydney Morning Herald, John Shand, 29 June 2019 says: "Saxophonist Lachy Hamilton joins a rich tradition of programmatic works of Australian jazz ... "[The Alchemist's] Urim and Thummin spawns a Hamilton tenor solo showing a striking ability to alchemise a liquid flow of ideas into a much more robust and compelling statement."





ABC Jazz, Home Cooked, Henry Rasmussen, 25 March 2019 says: "We kick off this week's Aussie jazz playlist with music from a young Sydney saxophonist and composer by the name of Lachy Hamilton. Hear highlights from his release 'Alchemy' - featuring a host of up-and-coming young talent from down under."





Jazz and Beyond, Barry O'Sullivan, March 2019 says: "This debut album ... [represents] a highly significant milestone for Hamilton, in what promises to be a stellar career for this talented saxophonist and composer. Alchemy is a tasteful and impressive debut that firmly positions him as a distinctive talent to watch."
Sun October 27th
: (NLB) Narelle Lewis Band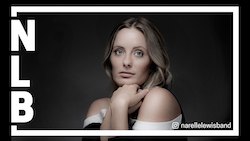 The Co-Op's sell out brand spanking new house band The NLB are back! Fronted by Narelle Lewis (former songstress with The Sly Dogz) this band puts Narelle in the spotlight with her soulful R&B gospel blues voice covering some of her favourite artist, from Bill Withers to Beth Hart. Narelle is backed by Jason Crouch on guitar and vocals, Jason Smith on bass guitar, Aiden Danser on the Nord/keys, and Chuck Bradley in the engine room.  No doubt tables will fill quickly, so grab yours & join us for a fabulous afternoon of great music!

---
Broken Bay Barges & Sydney Commercial Diving Services

---
J&M Home Property Care


---
Scotland Island Guitar Group


---
House for Rent - Lovett Bay
Beautiful house
Waterfront with deep water jetty
Upstairs - 2 bedroom - 2 marble bathrooms
Kitchen/lounge/dining plus study/office
Open fire
Sauna


Downstairs- fully self contained studio apartment
Lots of additional features and entertaining areas
Available 4th November
Please call Sophie on 0432611976
Or email sophie_hay@hotmail.com




---
---
The Local Guide
Community Information
Scotland Island Web Site -
www.scotlandisland.org.au
Scotland Island Residents Facebook Page -
click to go to Page
Scotland Island Rural Fire Brigade

- 9999 4404 - http://www.sirfb.org.au
West Pittwater Rural Fire Brigade


http://www.westpittwater.com.au/rural-fire-brigade/WPRFB-contacts - 9997-3795
Offshore Photo Gallery - offshore gallery
Scotland Island Residents Association (SIRA) Membership details - click here for details
West Pittwater Community Association (WPCA)

-
www.westpittwater.com.au
Scotland Island Emergency Non-potable Water
Agreement for Sale of Non-potable Water
SIRA Membership Application
Emergency Non-potable Water Guidelines
General Information, Map & Contacts
http://www.scotlandisland.org.au/community/emergency-water/
Scotland Island & Offshore Children's Services (SIOCS)
Long Day Care at The Island Kindy in Catherine Park
Days of operation: Monday, Tuesday, Wednesday & Thursday
Times: 8.00am - 6.00pm
Before & After School Care
8.00am until walked to school ferry - collected from school ferry until 6.00pm
Vacation Care, Casual Care and Playgroup on Fridays
Hire the Kindy for Birthday Parties
Please call

02 9979 7856

or email SIOCSdirector@gmail.com
Facebook: https://www.facebook.com/theislandkindy
Website: http://scotlandislandkindy.business.site/
Scotland Island Community Hall Bookings

:  Lucy Gregg M: 0424 233 674  or hall@sira.org.au
Pittwater Online News

-  http://www.pittwateronlinenews.com
Tick Fact Sheet
TUG Waitlist   (Tennis User Group) - Application Form
---
Transport
---
Real Estate
---
Services, Clubs & Accommodation
Justice of the Peace

- Bob Mitchell (Mackerel Beach) - 0419 745 628
Justice o

f the Peace

- Tony Hendel - 0419 242723
Justice of the Peace

- Andy Derijk - Elvina Bay 0418 613 890
 

Justice of the Peace  - 

Lexie Le Blang 0418399674 or 99992574
Justice of the Peace  - 

Graham Stenner - 0407216405
J

ustice of the Peace  - 

Carolyn Milani - 0409914699
Pittwater Community Arts Inc.

 - Enquiries Lorrie Morgan 9997 8079  lorriemay@bigpond.com
Peninsula Music Club

- enquiries Janice Tuynman - 99991937 - jt@swift dsl.com.au
Woody Point Yacht Club

-  http://www.wpyc.com.au   commodore@wpyc.com.au
Royal Prince Alfred Yacht Club

-

02 9997 1022

  http://www.rpayc.com.au/  
Royal Motor Yacht Club

- http://www.royalmotor.com.au/ 02 9997 5511
Scotland Island Lodge

- Bed & Breakfast - 02 9979 3301 or  http://www.scotlandislandlodge.com.au 
Pittwater Youth Hostel

 - (02) 9999 5748 (8-11 am and 5-8 pm)
http://www.yha.com.au/hostels/nsw/sydney-surrounds/pittwater/ 
Handy Service

- "No job too small"  - Call Alan 0447 775 541
Electrician Wayne

on Scotland Island 0418 229 277 - offshore community sparky - www.sparky.com.au
David Walsh

-

Graphic Design

-

Custom Made Sculpture

- 0404 239 212 - ital2@optusnet.com.au
Dog Wash & Grooming

- Call Jenni: 0450 444 100 or Email: jena50@hotmail.com
Free Pump Outs for Boats

- Council with RMS installed a pump out at Careel Bay wharf
Top water purification system installed for offshore homes:

  Call Juliette 0418349448
Solicitor - Rachel Carter - Carter O'Neill Legal - 0406 239 946
Island Based Domestic Cleaner

 - Kath - 0405097424 - kathando@yahoo.com
Building Design and Drafting Services

  - Samuela Madej – Murphy ph. 0450331573
email: samuelamadej@gmail.com
Architect / Drafting / 3D sketches / Council submissions services

- Sabrina Phillips, NSW Architect 0426223407  - sabrinaaphillips@gmail.com
Qualified Deep Tissue & Swedish Massage

- Mona 0490701213
Island Based Cleaner - Uses predominantly Organic & Natural Products

- Mona 0490701213
Broken Bay Barges & Sydney Commercial Diving Services

 - Brent Taylor - 0409 269 404 - taylordmarine@gmail.com

J&M Property Care

- Jamie - 0488665 685, Michelle - 0402 942 063 - Brochure - michellesala00@gmail.com

---
Island Classes (Fitness, Dance, Art etc)
Pilates, Meditation and Group Fitness

with Patrice -  0406 483 036 patrice.corrie@gmail.com
Art Classes

- drawing and painting in oils, acrylics and mixed media - Marion 0431 457 431
Dru Yoga

- Tuesday 9.00 to 10.30 Tuesday morning - Phone Katya on 0414 187 916
Outdoor Circuit Training Classes on Scotland Island

-

Lowri Dwyer

- 0450 201 650 - lowri_89@icloud.com - https://www.facebook.com/lowri.dwyer/
Dynamic Yoga

Saturdays from 8.30am - 10.00am.


Drop-In Easy Hatha Yoga

- Monday Evenings 7:00pm - 8:15pm

---
Groups
Green Group For Catherine Park

- Run by SIOCS - Emmie Collins on 0405 330 781
Parents & Kids Groups Playgroup

- Run by SIOCS - email Emma trysemz@tpg.com.au
Catherine Park Bush Care Group

, 2nd Sunday @ 9.30am, Sharon Kinnison @ 9997 6017
Island Thinking Group

-

Roy Baker, 9999 6891, roybaker99@yahoo.com
---
Government Organisations
---
Airlines, Buses and Railways
---
Weather
Pittwater Weather
Scotland Island Tides, Moon phases, Sunrise & Sunset
Local Weather Forecast
Radar weather for Sydney (128k circle)

---
Emergency Contact Numbers   
ALL EMERGENCIES (Police - Fire - Ambulance)
000
Police Assistance Line & Information
13 1444 or 9281 0000
Broken Bay Water Police
9910 7899 or 0412 162 093
Marine Rescue Broken Bay - Weekend
(02) 9999 3554 - (02) 8411 1121
Marine Rescue Broken Bay - VHF Radio channel
VHF Radio Channel: VHF 16
27MHz Radio Channel: 86 or 88
Scotland Island Rural Fire Service 
9999 4404
Elvina Bay Rural Fire Service
9997 3795
Lovett Bay Rural Fire Service
9979 1612
Mackerl Beach Rural Fire Service
9974 1162
Rural Fire Service Headquarters Terrey Hills
9450 3000
NSW Fire Service General Information 9265 2999
9265 2999
Rural Fire Service General information
9450 3000
State Emergency Service, Warringah/Pittwater SES
13 25 00 9486 3399
National Parks & Wildlife Service: 000, general information
9457 9322
Dept of Community Services: general information
9977 6011
Sydney Water
132 090
Energy Australia
131 388, (ah) 131 909

---
---
A complete set of past electronic newsletters since May 2000 can be found and read at https://ymlp.com/archive_gesgjgm.php  or by clicking here or by visiting the Mona Vale Library.


The Island website is at www.scotlandisland.org.au




---
To Contribute
If you would like to contribute to this newsletter it's easy!. Send an e-mail to the editor (editor@scotlandisland.org.au) or by clicking here. Type your contribution (100 words or so would be fine) and assuming it is of general interest to the community, does not include matter of a political nature and is not offensive, it will appear next month.
Subscription Information
To get on and off this newsletter,

click here

or got to:

http://www.scotlandisland.org.au/signup .


To change your address, click the 'modify' link at the bottom of this newsletter or send an email to the

editor@scotlandisland.org.au


---
Follow the PON
---
The Online Local Contacts Guide
Click HERE to load
---
---