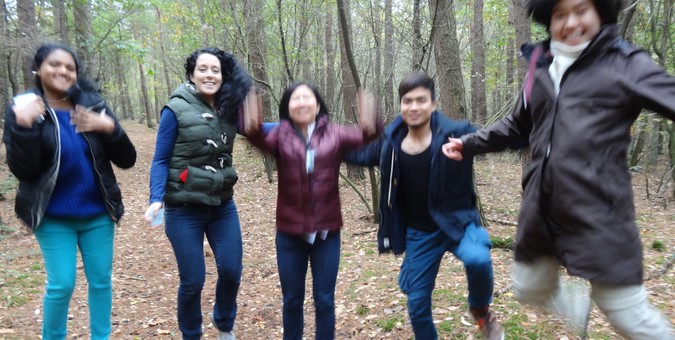 Dear ,


Happy February!
Want more tools to practise your Dutch? Check out this newsletter for more information on the next Walk&Talk Series, Total Immersion, discount on Vocabulary Stickers, Go Speaky (app), and the Download of the Month.
FREE Walk&Talks 9-12 Feb. (Mon-Thurs),
every morning from 9:30-? (Minimum one hour)
Join us for a walk in the woods and use your Dutch.
Feel free to join any or all four days. We will be walking in the woods between Bussum and Hilversum.
E-mail to register. Include the following information for you (and any friends you are bringing) in your e-mail: Name, Level of Dutch (beginner, intermediate etc.) Hobbies, mobile number.
Learn Dutch in 1 Week:
11-15 May (Mon-Fri) from 10:30 -16:30
Learn the basics of Dutch through seriously fun activities.
You will learn basic vocabulary, pronunciation, and grammar. Activities may include making appointments, grocery shopping, speaking with neighbors etc.
Get ready to gain confidence in your language skills.
Space is limited to 4 participants.
You can register here.
Tip:
Vocabularystickers sells removable stickers you can place around your house to improve Dutch vocabulary. There is no sound file for pronunciation so this is only for those who know how to pronounce Dutch.
Use the special Learn Dutch Fast code LDF20 to receive a 20% discount on your order.
App: Go Speaky (tested for you by Elisa Crassweller)
Go Speaky is a language app for the web.
You can use it to meet native speakers in a language that you want to learn or practice. Signing up is easy, especially if you use Facebook or Google to create your account.
Create a profile with your interests and what language(s) you want to practise as well as your native language.
When you find a buddy you can chat via text or video. I love the idea of Go Speaky, since it allows you to practise writing, listening, and speaking. Unfortunately, the buddy search system is very basic (you search language and proficiency only) and the online indicator is spotty. This can mean long delays in responses.
Go Speaky is a great idea in theory but I wouldn't recommend it as a primary practise tool.
Download of the Month
I created a shopping list template for you (in Dutch, of course) to help with your trips to the grocery store. You can download it here & print it double sided.
Have fun using your Dutch!
Sylvia Clements

P.S.: the latest schedule for the Dutch courses is always here
In the near future, Learn Dutch Fast will facilitate special NLP sessions for those less confident in speaking or scared to speak an other language.
More details in an upcoming newsletter. Stay tuned!