SHOP HOURS
Monday: CLOSED
Tuesday: 11 - 5
Wednesday: 11 - 5
Thursday: 11 - 5
Friday: 11 - 5
Saturday: 10 - 4
Sunday: 12 - 4

 

ReBelle will be closed  July 4-8 for vacation.

 

 

Summer is here along with vacation knitting/crochet. Here at ReBelle, we are year round knitters so the weather doesn't dictate our projects, but we understand that some of you want projects suited for the hotter weather. We decided to make a list of projects types that work best with popular summer activities.

 

Great projects for air travel

-

Hats

and

cowls

(anything using a circular needle or a single crochet hook)

 

 

 

Great projects for sitting in the AC and bingwatching your favorite TV series

-

Sweaters

,

tops

, and

blankets

 

**ProTip- If you happen to be working on your fall/winter projects during the summertime, sit the project on a flat surface like a table, lapdesk or TV tray while you work, anything that allows airflow between your body and your project. This will keep you cool and comfortable while working on those heavier items.**

 

Finally, a reminder that if you need suppies for the upcoming holiday week, you should stop by this weekend. We will be closed Monday, July 4- Friday July 8 for vacation. We will reopen the shop on Saturday, July 9.

 



Are y'all sick of hearing about new yarns and colorways from Emma's? We didn't think so. In addition to this month's Crazy Beautiful Colorway, we also brought in the yarn they picked to go with
Jennifer Shiels Toland's Wispy Haze
shawl. Each of the 10 color options comes in both their Super Silky and Marvelous Mohair and one hank of each base is needed for the shawl. In addition, these base/color combos are great for patterns like the
Rock It Tee
, the
Floatini shawl
, the 
Flamingle
 shawl/wrap/poncho, the
Elton cardigan
, and the
Lovenote sweater
.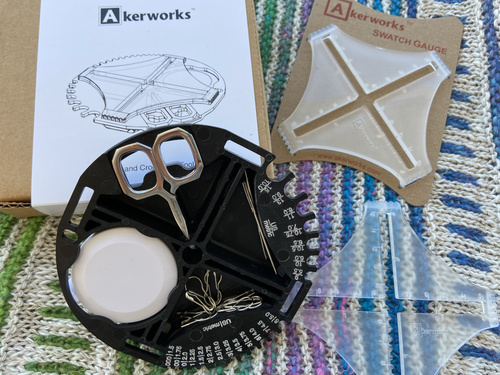 We just go a restock of the Akerworks Swatch Guage, one of our most popular tools. In addition to the stand alone guage, we added their gauge/multi-tool combo to our offerings. If you didn't catch them at the Kentucky Sheep and Fiber Fest, come in and check these things out. They have a needle/hook measuring tool, a tape measure, scissors, tapestry needles, stitch markers, and of course thier famous swatch gauge all in a magnetized base so that everything stays together when you are on the go. We know these are going to be your next favorite tool set!!
Did someone say Tosh? Oh wait, that was me. Anyway, we have some gorgeous new colors of Mad Tosh in both sock and Vintage along with some restocks. 
Purlsmith is back from her hiatus and we have some really great new things from her. We added some sea glass stitch markers in the sets, stand alones, and necklaces, perfect for beach season. We also have a bunch of new fresh water pearl sets. Everything is one-of-a-kind so we will let you come in and explore. We will also be hosting a trunk show of her work during the
Bluegrass Yarn and Fiber Crawl
from July 29- August 7, you won't want to miss that.
A restock of Katrinkles is here!! We have more sock rulers, adjustable sock blockers, darning looms, buttons, and your favorite stitch markers. Of course, we couldn't resist adding some new items like the stitch marker holders that clip onto your bag, fun metalic stitch markers, and these little tags that mark the back of your handmade sweaters (for those of us who struggle trying to distinguish the front from the back.)
Emma's Crazy Beautiful Color Club
Summer is here and so is the July colorway of Crazy Beautiful Color Club from Emma's Yarns and this just might be my favorite red, white, and blue colorway ever!! This one works well on its own or combined with solids like Trendy AF, Jackie O, Cherry Merlot, After Dark, or Denim.
It is our favorite time of year- Knitted Wit National Parks Club season!!! Every month from May-August, Knitted Wit will release 4 new colorways inspired by National Parks areas, such as National Recreation Areas, Heritage sites, etc.
As usual, there is a Passport to track your parks purchases from us and other local yarn shops as you travel through the summer. At the end of the summer, there will be a commemorative patch for those with four filled squares and an enamel pin for those with all sixteen. 
Check out their Socks and Hats on Vacay/Staycay summertime KAL with Shannon Squire, too: https://shannonsquire.com/socks-hats-on-vacay-2022/
Unfortunately, the I-75 Yarn Crawl has gone the way of the dodo, but lucky for us, the Kentucky Fiber Trail has decided to host the first annual
Bluegrass Yarn and Fiber Crawl
. The crawl will consist of shops and farms from Kentucky and Southern Ohio and last from July 29- August 7. There will be events and prizes throughout the crawl and passports should be available today. We are very excited about this more localized crawl and hope to see you there!!
For the month of July, we will be doing Christmas in July for our Thursday knit along theme. Whether you are starting holiday gifts or working on holiday décor, all projects are welcome.  Each person will pick their own pattern that falls in the category of Christmas in July and we will knit/crochet them together. 
All ReBelle knit alongs are free and open to the public. You are welcome to attend as many or as few of the KAL sessions as you like.
Join Us on Zoom, every Thursday from July 14-28, 12-2pm.
Meeting ID: 835 1126 6809
Passcode: 2022
Featured Upcoming Classes
Cords/Friendship Bracelets Three Ways

 

Spend a Saturday morning with Susan learning to make decorative cords for use as friendship bracelets, trim, cords for bags, or as a fun activity to do with the youngsters in your life. You will learn 3 different cording techniques- a simple plied cord, a five-strand Selentre braid (also known as a Danish walking braid,) and a seven-strand Kumihimo braid. You can learn these cording techniques on any weight of yarn or pearl cotton embroidery floss, just bring what you have in a variety of colors. We will also have some yarn and cords in a variety here for you to work with if you don't have scraps.




 

Saturday, July 16, 11am-1pm

1 session, $20

 



 

Whether you are stuck in the middle of a pattern and want some guidance, need some finishing help, or just need a bit of motivation, join Susan for her Project Help Sessions and get those outstanding projects done. No matter which fiber art you enjoy- knitting, crochet, weaving, felting, Susan can get you and your project back on track. Sessions will take place on the first Wednesday of every month and  each group session is $20 for two hours. Space is limited so register early.




Teacher: Susan Winkler

Wednesday, August 3. 6:30-8:30pm

Wednesday, September 7. 6:30-8:30pm

Wednesday, October 5. 6:30-8:30pm

$20/session

 

 



 
Rybka (Wee Fishie) Class

 

It's summertime, time for fun in the sun and some tropical ocean vibes. Can't get to the ocean? Susan's got you covered! Come spend an evening knitting some Wee Fishies and pretend you are splashing around. Rybka is a pattern by Kino Knits and it is probably one of the cutest ways to use up your scraps. Susan will teach you Judy's Magic Cast-on (a must if you plan to try toe-up socks,) and the ins and outs of fishie shaping. You can use any size yarn you choose, you will need about 1 oz and needles in a size that corresponds to the yarn. 




Wednesday, July 20. 6:30-8:30pm

1 class, $20

 
Crochet Spiral Dream Catcher

 

Come learn to crochet a spiral dream/sun catcher, a perfect summer accessory for your outdoor living area. These bright little catchers look great inside and out and they use a very unique construction style. They are so fun, you won't be able to make just one. 




For this class you will need basic crochet skills, 10 yds each of 6 different fingering weight yarns, 6 locking stitch markers and a 6" hoop.




Teacher: Susan Winkler

Saturday, July 23. 2-4pm

 



 
Sweater Workshop

 

This class will be a workshop -- you pick the pattern and yarn you want (with our help if you need it) and bring it to class.  While we knit, we'll learn from each other's patterns by discussing techniques found in your individual patterns. 

7/13, 7/27, 8/10, 8/24, & 9/7, 6:30-8:30pm

5 classes, $60

 
Repairing Mistakes as You Knit

 

In this class you will learn to fix common mistakes in your knitting as you go, without having to rip out several rows or start over. We will cover reading your knitting, counting rows, identifying common mistakes, techniques for frogging, and making repairs in finished pieces.




Teacher: Robyn Wade

Saturday, July 16, 1-4pm