Why not bookmark this AMPS Newsletter and read at your leisure!

AMPS Newsletter October 2015
This month - AMPS Award Ceremony, Emmy awards for AMPS members, AMPS forum, How Films Were Made & Shown, Abbey Road expansion, the value of today's music, articles for next AMPS Journal please, interview with the Everest sound team, interview with Chris Burdon, new member benefit from Páramo Clothing, retired members' lunch, new AMPS members, continuing AIR planning battle, CB Electronics launches TMC-1 S6…
Header image - Foley Studio at Halo Post Production
Beerd, 157-159 St Michaels Hill, Cotham, Bristol BS2 8DB, 7.00pm on the last Wednesday of each month is the place to meet up with other AMPS members and like-minded people! Apparently, great craft beers and amazing pizzas are available!
Yorkshire Social - still, coming soon!

An enterprising AMPS member has been in touch with regard to arranging a regular meet-up in the Leeds/Bradford/Sheffield area. Dates and venue coming soon.
London Social
Make sure that you attend the AMPS Social at the De Lane Lea bar in Dean Street on the first Tuesday of every month - be social with your AMPS members! The first Tuesday in every month - 6.30pm.
… not in Bristol, Yorkshire or London?
Want a regular Social near you? It's easy to arrange one - contact us to find out how. Email
admin@amps.net
A Fine Day Out at the AMPS Award Ceremony!
An event to celebrate the inaugural AMPS Best Sound in a Television Drama award was held at the Dolby preview theatre in Soho on the 20th of September. In attendance were the Sherlock sound team, Doug Sinclair, Paul McFadden, Howard Bargroff and John Mooney to receive their trophies from AMPS chair Paul Davies.
In addition, a video of the presentation in LA by AMPS honoury member Mark Ulano to the Whiplash sound team of Ben Wilkins, Craig Mann and Thomas Curley of the second AMPS film sound award was shown. After the presentation of the awards, a Q&A was conducted with the Sherlock team which those in attendance found insightful and highly enjoyable.
Also, in recognition of his career and his outstanding service to AMPS, Sandy MacRae was awarded the 'Exceptional Contribution Award 2014'. Pictured below with Paul Davies and Lara Lovejoy.
This was followed by drinks and a buffet in the foyer. Many thanks to all those AMPS members who ensured the event was such a success; especially Laura Lovejoy, Brian Simmons, Graham Hartstone and AMPS Administrator Shelly Jones.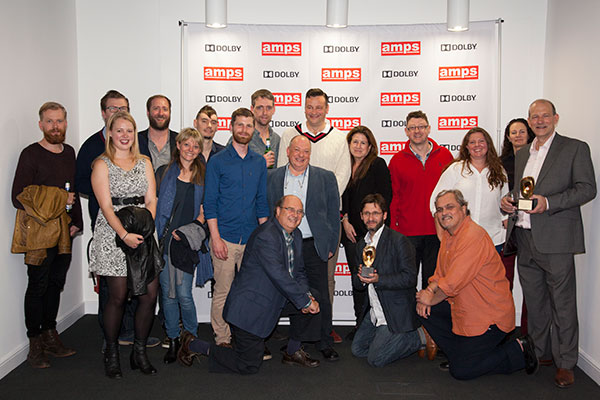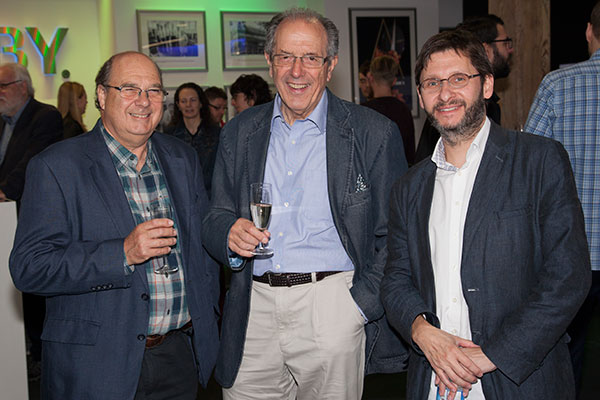 AMPS Members Win Emmy for Outstanding Sound Mixing

From left - Ronan Hill, Richard Dyer, Onnalee Blank, and Mathew Waters backstage at the
2015 Creative Arts Emmy Awards.
Huge congratulations go to AMPS members Ronan Hill and Richard Dyer who recently won an Emmy for 'Outstanding Sound Mixing for a Comedy or Drama Series (one hour)' for their work on Game of Thrones season 5 Hardhome.
AMPS Forum…? Yes, already there on the website!


Look, we're all guilty of this. We get a new toy or a new piece of software and the last thing we do is instantly delve into it's deepest, darkest possibilities. Something to do with instant gratification…
There's very recently been some talk on Connect that an email-based member 'communication system' could be improved upon, especially when you wish to search for historic information.
Well, we already have the answer in place. There is an exisiting Forum resource on the new AMPS website. Just login to the membership area with your membership details and the Forum option appears in the sub-menu. You will initially have to register with a username and password before you post and reply to threads, but if you tick 'Remember Me', you shouldn't have to login into the Forum again.
It's an option to Connect. We're not asking you to change, but we'd like to encourage more people to use it and see if it works out.
Out of the recent conversations on
Connect
we've had two people offer to
help administer the forum, but a few more to help share the load would
be very helpful. If you are interested in helping out, please contact
admin@amps.net
and Shelly will put you in touch with the web group.
How Films Were Made And Shown
 

A new book has become available that looks at the developments of motion picture film technology from a British perspective from 1895 to 2015.

 

Written by David Cleveland and Brian Pritchard, the chapters cover the very first cameras and projectors and how they worked; the development of equipment for both professional and amateur film making, colour and sound; Kodak and other manufacturer's motion picture film stocks; how film was developed and printed at the laboratory; and cinema, non-theatric and home film making and projection.

 

Weighing in at 453 pages with over 700 ilustrations, it's a gift at £45 including UK postage! Maybe it's a Christmas gift?

 
Abbey Road multi-million-pound expansion gets green light
Work to expand and upgrade Abbey Road Studios has commenced following the recent granting of planning permission, head of brand and marketing for the studios David Allen has confirmed. The construction and renewal project will ensure that the famous north-west London facility "remains competitive" while propagating "the next legacy of great artists and great works".
What Value, Today's Music?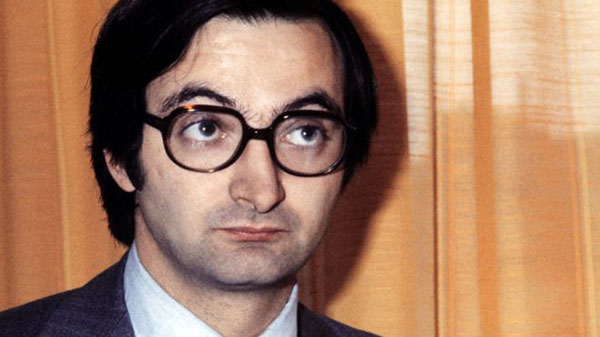 Musicians aren't likely to get rich from selling records today, unlike their 20th Century predecessors - and one man saw it all coming a long time ago.
Back in 1976, the music business looked indestructible. ABBA, the Beach Boys and Rod Stewart were selling mountains of records and things were only going to get better. Sales grew almost unchecked until 1999 - the most profitable year in the industry's history.

But at the turn of the century the arrival of the internet and the MP3 file saw revenues collapse, a seismic shift that no-one had seen coming.
In 1976, a French polymath called Jacques Attali wrote a book that predicted this crisis with astonishing accuracy. It was called Noise: The Political Economy of Music and he called the coming turmoil the "crisis of proliferation".

He predicted that soon we would all have so much recorded music it would cease to have any value. Sounds pretty accurate to me - can you remember the last time you spent £10 on a new album?
Call to Action - Content for Next Issue of The Journal

 

 

As the saying goes, "Everyone has a book inside them…" Well now's your chance to prove the point! And I don't even want a book, I only need 500 words… plus photographs. Of course, if you want to write more, then please do.

 

Been working on an interesting project recently? Encounter some highs, some lows? Put it into words, get it off your chest, share it with your AMPS members.

 

I would be very happy to read your thoughts, so please email to me, Tony Andrews at

newsletter@amps.net

 
AMPS member Ian Tapp and the Sound24 team discuss sound design on latest blockbuster Everest
This month's Audio Media International magazine interviews Ian Tapp (AMPS), Glenn Freemantle and Niv Adira on their challenges with Everest.
One of their main challenges was "piecing together a sound mix that would meet two very different objectives: provide enough aural razzle-dazzle to make the audience believe they really are taking a tour of one of the most dangerous environments on Earth - suffering the full force of nature's wrath - while also ensuring that the bond between the characters - clearly important when telling a harrowing true story - is not lost."

Audio Media also talk to AMPS member Chris Burdon and mixing The Man From U.N.C.L.E.
Turning on the style for the new Guy Ritchie flick The Man From U.N.C.L.E., Chris Burdon has developed into one of the most in-demand re-recording mixers in the movie business. Adam Savage caught up with him after a preview Dolby Atmos screening of the film in Soho, London...
New AMPS Member Benefit from Páramo Clothing
Páramo Directional Clothing have recently confirmed an instant 10% discount when producing an AMPS Membership Card instore.
* Páramo constructs its clothing using Nikwax directional textiles to offer maximum comfort during outdoor activities.
* Páramo's goal is to produce clothing that keeps you comfortable in the harshest conditions, and allows you to reach the wildest places safely.
* Páramo aims for functional excellence whilst having minimum impact upon the environment.
* Páramo combines ingenious, rigorously field-tested designs with innovative textile systems which are specified and tested by Nikwax.
* Páramo is a specialist in the use of directionality. Its clothing directs condensation, sweat and rain to where you need it to be, which is usually away from you.
Retired AMPS Members' Lunch

Ian Munro reports, "The first retired AMPS members lunch meeting was held at the Fox and Pheasant in Gerralds Cross on Wednesday 10th September. We recruited one new member and received an application for a rejoining member and think that we can consider it a success, I would like to take this opportunity to thank Brian Simmons Sandy MacRae and Shelly Jones for their help and assistance it setting up this initial Retired members lunch meeting which hopefully will become a regular event in the retired AMPS members calendar."
New AMPS Member 1 - Len Usselman

My name is Len Usselman and I am a Sound Mixer/Recordist working on Independent films and shorts alongside some other interesting gigs. I am also happy working as a boom operator and sound assisting. I studied Music Culture Production and Theory (so not from a traditional film school background) which is where I realised film sound was a route I had to take. Going out in the field and recording sounds for music concrete and experimental projects originally gave me the bug and many of the modules I studied were sound design based.
Over the last few years I have been location recording on various different and varied projects and always learning. I am happy to have been accepted for AMPS membership and as a new member look forward to learning more from the wealth of experience within the organisation. I look forward to meeting many of you in the near future.
New AMPS Member 2 - Lawrence Meads

 

Hello, I'm Lawrence Meads, I have worked in the industry since graduating from Ravensbourne University in 2011. I have worked at the Wimbledon tennis championships and a number of BBC world live debates during my career.

 

Earlier this year I was given the opportunity to work as a Sound Trainee on The Huntsman with Chris Munro and his team and I am keen to continue working in the film and TV industry. When not working I enjoy playing my guitar and watching live music. I also enjoy Football, Cricket and Rugby – I am a lifelong fan of Tottenham Hotspur and Harlequins.
Koko legal ruling could help AIR in planning battle

A landmark court victory by Camden nightclub Koko to prevent the pub next to it from being turned into flats could also be used to save a Hampstead recording studio, according to a Hampstead lawyer.
Solicitor Jessica Learmond-Criqui has been spearheading a battle to stop a couple who live next door to the world-famous AIR studios from building a luxury basement complex under their Rosslyn Hill home.

So far 8,661 people have signed a petition against the plans by Andrew and Elizabeth Jeffreys for a basement swimming pool, gym, sauna and cinema next to the studios – which were founded by Beatles producer George Martin.

Studio bosses and sound experts say the noise and vibrations from the excavation will force AIR to close for up to six months.
CB Electronics launches the new AVID S6 version of the TMC-1 monitor controller
CB Electronics recently launched the new TMC-1 S6, the AVID S6 version of the TMC-1 multichannel monitor controller - described by one customer as "the large console monitor controller, without the large console!" New also this year is the interface to the NTP DAD/Penta digital interfaces to enable a fully digital monitor system.

CB Electronics recently installed the TMC-1 Penta in Pinewood Theatre 6, a Dolby Atmos room at  Pinewood film studios. A second TMC-1 Penta has been installed by a Television Network sound engineer in Chicago.

There are a host of new features for the TMC-1 monitor controller which have been developed in response to requests from the wide user base of varied applications for the TMC-1. More details are available at Colin's blog -
Did you know that the Directory pages on the AMPS website are some of the most frequently visited?

 

Make sure that your profile is up to date - you never know where your next work enquiry will come from!

 

 
Can we help with your Professional Development?
We're keen to hear from you with ideas for seminars and training sessions which would contribute towards Continuing Professional Development.
We're very aware that keeping up with techniques and updates can be a full time job in itself, so if there's any way that AMPS can contribute towards maintaining and developing your industry knowledge and skills, please get in touch.
AMPS Address & Phone Number
27 Old Gloucester Street
London
WC1N 3AX
Tel: +44 (0)1753 669111
AMPS, 27 Old Gloucester Street, London, WC1N 3AX
www.amps.net / +44 (0)1753 669111