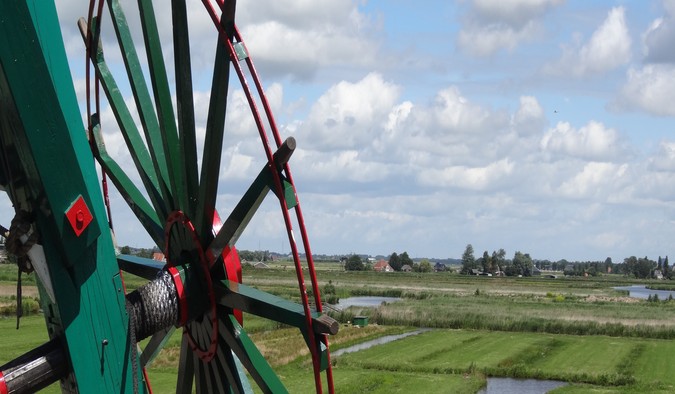 Dear ,


In this newsletter, I would like to tell you a bit more about the activities for the next couple of months. Native Dutch speakers are welcome as well for all the activities mentioned below.
Zaanse Schans
As you may know, there was a tour planned to Zaanse Schans in July. My tour guide Anh (From Dutch Adventures) was going to show us around, but unfortunately, she had to cancel. But no worries! Bart (yes, my Bart from bArtworks ;-) and I went there last weekend to find out the best places to go, with help of a long letter full of tips from Anh in our back packs. It is a beautiful place! So I'm ready to show everyone around AND help you with your Dutch!
We will go by train, have lunch, visit a windmill, see how clogs & cheese are made and much more. You will have lots of opportunities to use your Dutch and if you like you can capture photos of the windmills the Netherlands is famous for in this picturesque village.
Please notice that the date has been changed to July 4th!
Zaanse Schans, July 4th, 10:00 - ?(around 16:00), €99,95 all in (train, lunch, coffee, demonstrations, visit to wind mill, Dutch lesson) There is room for 3 more participants.
Horsing Around
Last month, I organized a workshop "Coaching with Horses" together with Linda & Asta from 2PK. It was a huge success, and we decided to do it again ;-)
It was very interesting to see how the two horses (Brian & Floris) were being used as teachers. They were very clear in whether or not to follow you, depending on your thoughts.
This training doesn't involve horseback riding. You will work with the horse from the ground.
Bussum, July 11th, 14:00-16:30, €30,-, 4 – 8 participants.
Dutch Dreams
Michaela will show us how to make a dream catcher in her beautiful old Dutch farmhouse.
Eemnes, August 27th, 10:30-16:00, €55,- including lunch, room for 2 more participants.
Dutch-German & Dutch-English Language Exchange: Game Afternoon
"We don't stop playing because we grow old; we grow old because we stop playing." (George Bernard Shaw)
In cooperation with my colleague Barbara (Dutch & German teacher) Have fun!
Bussum, September 12th, 15:00-17:00, 4 – 10 participants, €7,00 in p.p. including coffee/tea.
Dutch for Dentists
Total Immersion 2 for dentists. If you happen to have a foreign dentist, please tell him/her about this course ;-)
Bussum, September 15th, 10:30-16:30, €925,-, 2-4 participants.
Dutch–German Language Exchange: Walk & Talk
Celebrate autumn and join us (me and my colleague Barbara) for an 8 km walk packed with useful & fun speaking activities. Rain or shine. (If the weather is really bad, we can change this to inside activities).
You don't have to bring your own tandem-partner, but it will be cheaper if you come together ;-)
Bussum, September 23rd, 14:00-17:00, 4 – 12 participants, €7,50 including coffee/tea (€13,- for you plus your tandem partner)
Living with a Dutchie
Am I a blonde or what? I had planned this on a soccer night!!!! Many people wanted to come, but certainly not on the date I had planned… Therefore, Isebrand and I have chosen a new date: September 26th!
Join us for a drink, chat & (not too serious) multicultural training that night. Bring your Dutch partner, friend, neighbor or colleague!
Bussum, September 26th, 19:30-22:00, €17,50 per COUPLE including coffee, tea, cake & training.
To make up for my BIG mistake, Aimée (my secretary ;-) and I have made a new download for you with the Dutch soccer song you will hear everywhere during the games, so now you can sing along ;-)
I hope to see you at one of these activities! New requests are welcome!
For the "normal" lessons, you can look here for level 1 courses and here for more advanced courses.
My next newsletter will have distance learning tips, hammer the grammar with downloads and more.
P.S. you have a few days left to find someone to nominate you for a free immersion course. I have found Pamela, who was last month's winner! (I couldn't contact her at first due to Facebook settings. So please make sure you like the page and check the box that you want to receive updates, or send me a pb/mail with your contact details as well.)


Met vriendelijke groet,
Sylvia Clements