DAN E-NEWSLETTER | AUGUST 2014
Included in this e-newsletter:
Advance Notice: 2015 DAN Conference, 10-12 April, Somerville House, Brisbane
Resources from DAN PD June/July Workshops: REthinking Critical & Creative RE
Last chance to renew 2014 DAN Membership and Dialogue Australasia Journal Subscription
Unearthing DAN Resource Archives:  Primary School RaVE Focus
The Bishop of London on Christian Contemplation
Wake up the Word: Some Challenges Facing Faith Formators Today by Fr Chris Gleeson SJ

Opening of Islamic Museum of Australia, Thornbury, VIC

Flouishing in Faith: Positive Psychology, Theology & Education 

Conference, 29-30 September

AARE Conference: iConnect, iDiscover, I Am, 29 September -1 October

     

New MA in Religious and Values Education, Charles Sturt University
A DAN Member recently asked if we had an example Scope & Sequence for Prep-Yr 10 RE that was aligned with ACARA and addressed the General Capabilities?  
If you have recently revised your RE Scope & Sequence and would be amenable to sharing this with other DAN Members, your generosity would be greatly appreciated.  
Please do contact the DAN EO if this is something you could help out with.
SAVE THE DATE: 2015 DAN CONFERENCE
I am delighted to announce details of the 2015 DAN Conference: 
REcreate! Teaching RE through the Arts 
 to be held at the splendid new Function Centre at Somerville House, overlooking South Bank in Brisbane.
If you have any suggestions for Keynote or Workshop Presenters, or 
know of any luminaries in the 
Arts & RE that are booked to be in Australia over April 2015, 
the
DAN EO
would love to hear from you.
For those of you wanting to include the 2015 DAN Conference in your PD budgets, the cost of
Full Registration will be approximately $575 for the 2.5 day Conference. Boarding House accommodation in the excellent new facilities at Somerville House will be available to delegates, and there are Hotels to suit all budgets in South Bank, an easy walk from Somerville House.
 

RESOURCES FROM JUNE/JULY DAN PD WORKSHOP: 

REthinking Critical & Creative RE with Brian Poxon

 

Teachers who attended the June/July DAN PD workshops with Brian Poxon were nourished with 'a day of full of valuable resources, stimulating discussions and practical ideas to enrich classroom practice' (feedback from many who attended).  
An email with links to access all the materials (PPT, supporting notes and resources) shared during the workshops has been sent to participants.  
If you require a Certificate of Attendance for your PD records, please contact the
DAN EO
.
RESOURCES FOR ALL DAN MEMBERS
:  A summary of links to online resources
that Brian shared during the workshops can be accessed by DAN Members with current passwords.  Click here to download.
 

2014 DAN MEMBERSHIP & JOURNAL RENEWALS




If you have yet to renew your 2014 DAN Membership or Dialogue Australasia journal subscription, please do make contact with the DAN EO (I will happily email a copy of your invoice).  

 

Regrettably, if I have not heard from you by September, you will not receive a copy of the 32nd Issue (Nov 2014) of Dialogue Australasia journal.

 

Passwords to access online resources on the DAN website were reset on 1 June, and financial members advised of these details. 

If you have any difficulties accessing resources, please do contact the 

DAN EO

.



 

DAN Resource Archives for PRIMARY RaVE

 

You know your DAN Membership gives you access to resources on the DAN website, but do know what resources are buried deep in the archives?  Over 2014 the DAN EO will unearth some of these resources for you to (re)discover.  Please do

contact me

if there is any area of your RE curriculum that you are particularly keen for resources in....we may just have something online to assist!
If you have any difficulties accessing these resources (using your 2014 Password), please contact the DAN EO.
 

PRIMARY QUESTIONS - BEGIN TO WONDER 

 

I was delighted to discover that the two excellent resources from The Wonder Project:  Primary Questions (Yrs 3-6) and Questioning Origins (Yrs 7-9) are now accessible again (via UK suppliers).  




Primary Questions: Begin to Wonder offers 6 engaging cross-curricular lessons that encourage Primary students to wonder at the world they live in and ask questions about how and why it exists.
The DvD resource enables teachers to lead great, interactive lessons exploring issues around creation and evolution - even when they may feel this is not their area of expertise. The materials include video clips, PPTs and games, supported with comprehensive lesson plans and teacher notes.
* Our spiritual culture at the moment is so impoverished and primitive. People find it extraordinarily difficult to be serious about angels or discarnate energies.
* It's a very modern tragedy that religion has become ideas in the mind. That's why western religion is so feeble.
* But alas we do not have many places where one can go today to learn and practice contemplation – we are very needy.
* We don't seek illumination from the whole but from bits and pieces. This is one of the reasons why this civilization is in grave peril.
* The real trouble with the Church is not that it has retrograde social attitudes, or hasn't embraced the emancipation of women – it's that it's spiritual incredible. It's just as shallow as the rest of us.
 

WAKE UP THE WORLD :

Some Challenges facing Faith Formators Today




Fr Christopher Gleeson SJ, Provincial Delegate for Education and Mission Formation (and DAN Patron) gave a wonderful presentation to the Marist Faith Formators' Colloquium at Mittagong on 24 March 2014. When you are in need of a jolt of inspiration for the challenging and important work you do as RE teachers, make some time to digest Chris' full text, excerpts of which are printed below.
...The test of whether our education is one of depth, is whether we are able to produce people who can "decide from inside" - which is another way of saying...are able to produce people of discernment?
... I think one of our greatest challenges as faith formator
s is to be grace-namers for those in our care.  The great and often misunderstood Jesuit paleontologist, Pierre Teilhard de Chardin, had this beautiful prayer:
Lord, help me see the world
with the same beauty it had
when it tumbled from your
creative hand.
Help me see that nothing here below is profane.
On the contrary, everything is
sacred.
Read the full text of Fr Chris' presentation.
NEWLY OPENED:  ISLAMIC MUSEUM OF AUSTRALIA, THORNBURY, VIC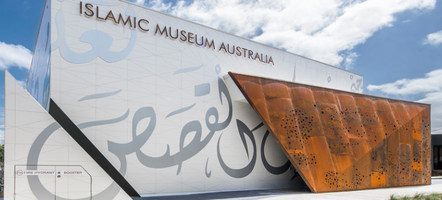 The first centre of its kind in Australia, the newly opened Islamic Museum of Australia aims to showcase the rich arts, history, culture and heritage of Muslims in Australia and abroad.  The Museum also has a mandate to promote new and established Islamic artists, both local and international.
The five permanent galleries include exhibitions about:
Islamic Art 

Islamic Architecture

Australian Muslim History

Islamic Faith

Islamic Contribution to Civilisation
In addition to educational tours for school groups, the IMA has commissioned an educational online resource of the Australian Muslim History and activities across the galleries to be implemented and provided to teachers across Australia.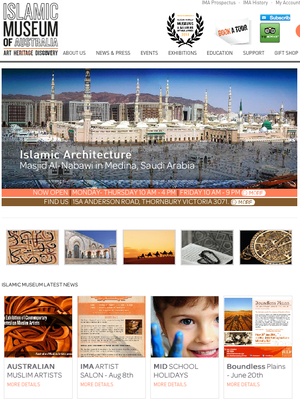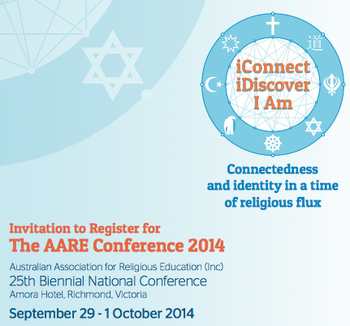 2014

 

MA in RAVE (Distance Education) - Charles Sturt University 




The new MA in Religious and Values Education through CSU offers an excellent, flexible, online study option for teachers looking to acquire and extend their knowledge in RaVE.  

 

The course begins with a study of recent national and international trends in RaVE, and then focuses on recent developments in major curriculum areas within the broad field of RaVE including 

teaching the Bible, philosophy of religion, religious ethics and world religions.
Students complete a semester of reflective professional practice before proceeding to advanced studies in either philosophical and ethical enquiry, or in media, popular culture and the arts. The capstone subject for the course is an individual research project in religious and values education.