---
Carpark Area Closed for Parking
2pm Wednesday 23 March to 5pm Thursday 24 March
---
Women on Water (WOW)




Wednesday 6th April, 2011



WOW is a discussion group and get-together for offshore women. It now meets quarterly. The next meeting of WOW is the autumn meeting.



WHEN: Wednesday 6th April, 2011. Commencing at 12.00 noon.




WHERE: Elvina Bay South at Caloola (the Purvis house)




TOPIC: How can we as offshore women better support one another?




BRING: A plate of food and a bottle to share.




GETTING THERE: If coming by boat the house is the 3rd jetty and the third house in on the south side. Of Elvina Bay.



If coming by ferry: Disembark at Elvina Bay South, walk up to the fire trail and turn left. Walk up fire trail until you see the pink house on the left. The ferry arrives at the bay around 5 minutes to the hour.

For further information call Nila on 9999 2445

ALL OFFSHORE WOMEN FROM THE ISLAND AND THE BAYS ARE WARMLY WECLOME



---
Calling Artists, Craftworkers & Volunteers




Watermarks is on again this year!




September 24th and 25th.



Mark it on your calendar…

Would you like to get involved?

Put some artworks in?
Host an open studio?
Sell some quality craftwork?
Help out as a volunteer?
Follow this link to our simple online form and tick the relevant boxes.
http://watermarks.wufoo.com/forms/watermarks-expression-of-interest/

This 'expression of interest' form must be completed by FRIDAY 25th March,
as we will be part of the Manly Arts Festival, and need to comply with their timetable.

If you would prefer to fill in a paper form, email Anne at info@artbyanne.com.au



---
Yet another side of the moon - request for
help



The Flaming Doghouse would like to thank everyone who came to see "The Dog Side of the Moon" and would like your help to further the life of the show.



Firstly, we are putting together a "Bootleg" DVD of the show - if you have any photos or video footage of the band and/or audience, we'd love to include them in the package. All clips used will be acknowledged in the credits and you'll get your own copy of the finished work for free!

Secondly, we have an opportunity to take the show overseas! (well, to the mainland) More details to follow as plans are confirmed, but it does mean that we will want to enhance the video presentation to include more local content. If you are itching to produce (or have already got) a vision-only short film that would illustrate, in an island way, one of the following themes:

On The Run (Fear of Flying and/or general stress caused by travel.)
Money ('nuff said)
Brain Damage (Insanity) - btw, I'd love to get some footage of our local, state or federal pollies standing on a lawn or other grassy areas
Please contact David Richards on 9999 0562 for more information.



---
West Pittwater Rural Volunteer Bushfire Brigade

PO Box 191, Church Point, NSW 2105
ABN 95 190 055 692



NOTIFICATION OF THE ANNUAL GENERAL MEETING TO BE HELD ON SUNDAY 20th MARCH 2011 AT 10.00am



Please be advised that the Annual General Meeting of the West Pittwater Rural Volunteer Bushfire Brigade Annual General Meeting (AGM) will be taking place on the date and time above.

All interested parties, including current and past members, are encouraged to attend. Please note that you will need to be a current financial member of the Brigade to vote. Subscriptions may be paid on the day. To bring your subscriptions up to date, please fill in and bring the attached Membership Form – Appendix B (or even better, pay beforehand).

One final note, please advise the Secretary, if you have any other points of business that you wish to bring up for discussion, at the AGM.
VENUE: Elvina Station, South Elvina Park, Elvina Bay



AGENDA:



Acceptance of Minutes from 27th March 2010 Annual General Meeting
President's Report
Captain's Report
Treasurer's Report
Secretary's Report
Training Officer's Report
Equipment Officer's Report
Environmental Officers Report
Fire Control Officer's Report
Including the election of officers
The following people are to be elected:

Senior Deputy Captain
Deputy Captain 1
Deputy Captain 2
Deputy Captain 3
Equipment Officer
First Aid Officer
Boat Officer
Training Officers
Environmental Officers
Treasurer
Secretary
GROUP CAPTAINS REPORT





ANY OTHER BUSINESS



Graham Earl,
Secretary / Training Officer,
West Pittwater Rural Fire Service
Mobile: 0419 448 477
http://www.westpittwater.rfsa.org.au/



---
Bush Regeneration and Envirofun Event
April 2 and 3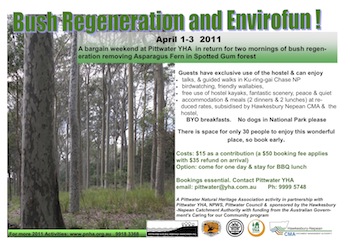 Open invitation to Scotland Island residents.



The third running of a bush regeneration event, based a the Pittwater YHA, is happening on the days of 2 and 3 April.

Scoltand Island residents are more than welcome to come and join those staying overnight at the Hostel and Western shore people in this 2 morning bush regeneration activity.

Stay on for the free lunchtime bbq and enjoy a social time at the hostel on the Saturday and/or Sunday.

Give us a call to say if you can come to help with catering numbers.
P 9999 5748

Hope to see here,
Michael and Sarah
Pittwater YHA



---
House for Sale




Private Sale



Elvina Bay

Rr\ambling cedar house, north-east facing, split level design with 2 bedrooms, sunny wrap around deck, rainforest aspect

Asking high $600's
All offers considered
Private Sale - call 9999 0108



---
Wanted




FRIDGE



Do you have a working fridge you'd like to donate to a worthy cause??
The

Scotland Island Fire Brigade

is in need of a second hand working fridge and would be willing to collect from your place on the Island.
If you can help, please contact Jenny 0411 405335 or jabawoc@bigpond.net.au

Thanks!



---
The Online Local Contact Guide

Click HERE to load
The views expressed in this newsletter are not necessarily the views of the Scotland Island Residents Association (SIRA), or the Western Pittwater Community Association (WPCA)
---