| | |
| --- | --- |
| BHAF Allotment Forum | 19th September 2018 at 7pm |

You are invited to the September Allotment Forum Meeting. This meeting is open to all plot holders, site reps and co workers. It is a useful forum to chat about all allotment issues and also to strengthen the allotment community across the city.
Let us know if you have anything you would like discussed or included on the agenda. Please email us at bhaf.contact@gmail.com
The Forum Meeting will be on

Wednesday 19th September 2018
at Patcham Community Centre (details below)
From 6.30pm for a 7pm start.
Vic Borrill of the Brighton and Hove Food Partnership will be giving a short talk on
'Imagining the future for food in the City and the role of allotments'

---
What started out as a heatwave and a drought ended rather wet. It certainly helped bulk out my potatoes! This year I tried a new variety. I tried the very blight resistant Setanta and I have been impressed. They have suffered no blight at all and have been productive and are very tasty. What more can you ask for? (And no... I'm not on a commission!) Try them yourself next year. Blight is a perennial problem on allotments, if you do have blighted haulms, please burn them in an incinerator. Leaving them on a compost heap will just let the blight spores spread for next year.


I didn't find the long hot drought period as much of a problem as I thought I would. I watered directly with a watering can and I mulched my beds which kept the moisture in the soil. The dry conditions seemed to keep slug and snail numbers down when the crops were most vulnerable. So I have actually had quite a good harvest. I've had some lovely beetroot and the poly tunnel was producing peppers and tomatoes more quickly than I could eat them! I also had success with aubergines! I grew these on grafted root stock which I bought from a garden centre, worth trying if you have a greenhouse or polytunnel.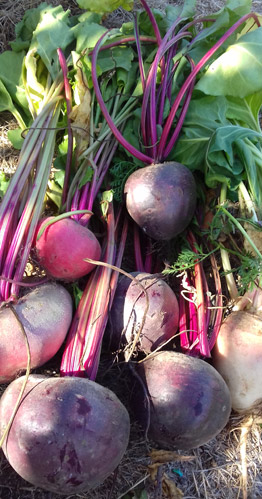 I have also experimented this year with a new crop; Huauzontle, aka 'aztec broccoli' It's been very easy to grow, hasn't suffered from pests and it's very productive! It tastes nice too. I have just been lightly steaming the flowering tips. Give it a try!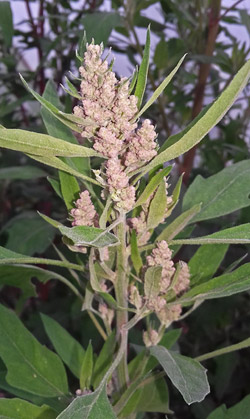 I treated myself to a lens extender for my camera so that I could take close up shots. I was very pleased to get this snap of this awesome looking beetle. I thought it looked very exotic. However when I got home I discovered it is a well known 'pest' called a 'Rosemary Beetle'. It hasn't done much noticeable harm to my Rosemary thankfully, so I'm pleased to leave it be, and appreciate its beautiful metallic hue.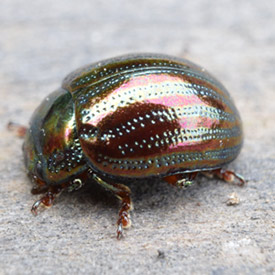 On the political front we are still seeing more and more allotments up and down the country under threat. The National Allotment Society is doing some good work in drawing peoples attention to these issues. The historic 'Cemetery Road' Allotments in Huddersfield are the latest to find themselves in the way of the bulldozers. You can follow their story here;
https://www.facebook.com/cemeteryroadallotments/
The NSALG have produced some information regarding listing your allotment as an Asset of Community Value, which may help protect them, and our very own Jane Hawkins of Craven Vale is featured on their page! Sadly we are seeing more and more horror stories of allotments being developed, we all need to become more aware of the threat and to prepare.
https://www.nsalg.org.uk/news-events-campaigns/community-rights-2/

In the last newsletter I talked about our idea to produce a mechanism by which plot holders who have more disposable income could voluntarily pay more in order to keep rental prices as low as possible for tenants who might struggle with a rent rise. We are still in talks with the Council, however the plan the Council suggested was, as far as the committee are concerned, too complicated a procedure for it to be successful.
We would like to see a very simple system, hopefully as simple as a check box on your bill and a space to enter in your voluntary payment. The Councils initial suggestion was a system by which people wishing to make a voluntary donation to the service have to phone the Council to make the payment. For smaller donations they suggested 'cash donation boxes' at sites. We feel that a voluntary payment system could work well if it was a seamless process in tandem with paying your regular bill.
We are worried that if it is introduced in a way that is not extremely simple that it would not work very well. We feel it would be best not to try it at all if it isn't done simply, as this would give the impression, perhaps to other Councils that voluntary payments are not a viable way to increase funding. We have more talks planned and we will keep you informed.
The benefits to mental health of allotments are still making headlines. It's becoming clear that many people are using allotments for these benefits, and we have been working with the Council to raise awareness of this and to make sure that we take this into consideration when dealing with tenants. I'm pleased to say that I have seen evidence that in Brighton and Hove, the allotment service is actively taking this on board. Allotments are places primarily for growing food, but they are also places for improving our physical and mental health.

Thanks, and hope to see some of you at the September allotment forum,

Mark Carroll

There is free parking at Patcham Community Centre and on surrounding streets.
For those travelling by bus, the 5 and 5A buses stop within 2 minutes walk of the centre (The Ladies Mile bus stop, just past Old London Road).
Timetable details for the 5 and 5a can be found here:
We look forward to seeing you.
Best Regards,
Mark Carroll
for
BHAF Committee.