---
Book Launch at Gone Fishing Gallery, Church Point
Saturday 17 September from 2pm- 5pm
Michele and Nathalie's Kitchen
"A journey
into the world of Couscous, Quiches and Paella"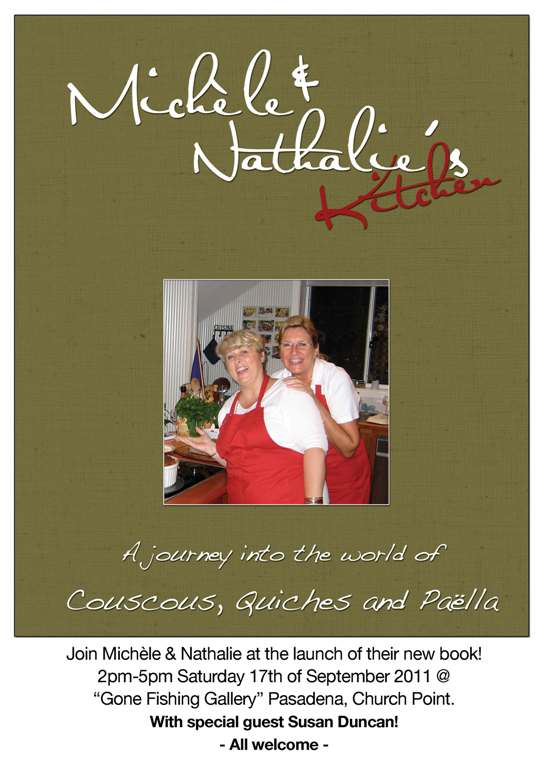 Click poster to download
---
Tennis Wharf Pontoon




Update



Installation of the new pontoon and demolition of the deteriorated section of the finger wharf will now commence on

4 September

.

We are now advised by the contractor it could be up to four days before the work is completed, during which time boat owners will need to make other arrangements for tie up.

Council now tells us that we will not be able to park you boat in the shallow near the sea wall because construction of the sea wall is not likely to be completed by then and there will be a boom across the bay.

Tie up at Commuter Wharf at Church Point
Make a temporary arrangement with a private jetty owner
Use the ferry for commuting
Any offers from private jetty owners for that short period would be greatly appreciated.

Tennis Users Group.
Inquiries: Gordon Floyd 9997 2035



---

Local Council Notices

Kids on the Coast
26 Sept. - 7 Oct. School Holidays

Every school holiday the CEC offers "Kids on the Coast" - an exciting program of fun and engaging activities for your kids and their friends.

The program combines a mix of outdoor adventure, discovery and learning, fun and games, art and craft. Kids are inspired and motivated by hands-on interactive activities with an emphasis on the plants and animals that make up our coastal environment.

Brochure available here - Sept/Oct school holiday activities

The program is suited for 5 to 12 year olds (unless stated otherwise) and taught by experienced community educators with environmental or teaching qualifications.

Bookings can be made by calling 1300 000 232 (CEC), by email to cec@pittwater.nsw.gov.au or on-line at www.pittwater.nsw.gov.au/ceckids

For any questions regarding activities, please feel free to call me or email me anytime!.

Bianca Smith
Senior Community Educator
Coastal Environment Centre

M 0406 561 384
T 1300 000 CEC
D +612 9970 1313

PO Box 522
Lake Park Rd
North Narrabeen NSW 2101
www.pittwater.nsw.gov.au/ce



---
25 years or more on Scotland Island, Get Together




Email address correct this time ...



Hi everyone, my name is Annette Freeland and I have lived on Scotland Island for the past 35 years, I am very keen to set up a get together of people who have lived on the Island and still live here for 25 years or more, the venue could be held at my house.

I would like to hear from all you guys who fit this criteria, my email address is annettefreeland@ozemail.com.au

I know who a lot of you are but don't know all your email addresses, I would really love to organize this reunion for summer when we have wonderful daylight saving, please email me with your details.

I have discussed this idea over the past few years with people like Bob and Beryl Blackwood, Sandy Walker, Jackie and Dave Simmons, Greg and Gwen Taylor, Bob Tippin and very recently Col Batt.

Look forward to hearing from you.
Cheers Annette and Tony Freeland



---
Pittwater Artists Open their Studio



24th and 25th September



The bi-annual Watermarks Open Studios event is on!



Catch a ferry to Scotland Island and the Western Foreshores of Pittwater on 24th and 25th of September to visit 50 unique artists and watch them in situ working across six studios and five art spaces.



See

celebrated painters, sculptors, printmakers, iconographers, ceramic and glass artists, jewelry –makers, writers and performing artists at work.



Listen

to artists' talks. Acclaimed Painter Juliet Holmes á Court will speak at the community hall about her work, while on Sunday, Pittwater author Susan Duncan, famous for her poignant memoir Salvation Creek will be reading from her brand new first novel The Briny Café (released by Random House in early September) and signing copies.



Enjoy

live musical performances, demonstrations and workshops and exhilarating walks around the island to visit artists' studios and art spaces.



Taste

tempting cakes, cappuccinos and savory delights from the stalls at Tennis Wharf.



Buy

an original piece of art.



Park and Ride

to avoid the hassle of parking at Church Point. $25 per adult and $15 per concession / child covers a return ferry ticket and bus from Pittwater High School plus all day parking.

See website www.watermarks.net.au for artist biographies or to buy a ticket online. Call Anne Palmer on 0410574531 for more media information and to arrange interviews and photos.


---
New art class on Scotland Island




Start date: 12th October 2011





Landscape painting and drawing with Anne Willman



Suitable for beginners as well as more experienced artists. Learn to observe, draw & paint from subjects within the landscape using watercolours, pen & ink washes, oil & dry pastels and charcoal.



When




Every Wednesday 10am 'til 2pm except during school holidays (bring a snack lunch)


Where




Meet at Tennis Wharf (if you are coming from the main land, catch the 9.35am ferry from Church Pt).


Location of class will vary & may involve a short walk.


Cost




$35 per session


Contact




Anne Willman


Tel: 9999 4002


mobile: 0431 149182


annewillman@bigpond.com





---
Follow the PON

---
The Online Local Contact Guide

Click HERE to load
The views expressed in this newsletter are not necessarily the views of the Scotland Island Residents Association (SIRA), or the Western Pittwater Community Association (WPCA)
---