13 June - Owen Taylor - designing the best bike or car first aid kit

11 July - Paul Beatie - Living with an EV
August - no Meeting
12 September - Peter Genet the Big Van Trip

SkillShare

Bike Ride-Outs on the 3rd Saturday of every even numbered month and the 3rd Sunday of every odd numbered Month. Email will be sent out to Bikers and added to the Forum.
Do you have a topic you would like discussed, or know of an interesting speaker?  Please contact Les Brown at
speakers@wiltshireroadar.co.uk
Congratulations to the following members who have passed their Advanced Tests recently:
Please welcome the following to the Group
:
Don't forget that we have a range of clothing available to purchase. We also offer a range of books, such as Roadcraft, Motorcycle Roadcraft and the Highway Code, and these are available at discounted prices.

For more information visit the Merchandise page of our web site 
We are always looking for more articles, ideas and news for the newsletter. Have you been somewhere interesting recently that would make a good story? If you attend any group events then take a camera and send us your pictures!

Please forward all contributions to newsletter@wiltshireroadar.co.uk
We're now on
Facebook
AND
Twitter!
I hope you have enjoyed May as much as I have – but it has been busy.  Collaboration with the Gloucester Group continues, we are about to meet with the Coventry Group to help them out as well.  Suffolk RoADAR are trying to build a network of RoADAR groups for mutual support and ensuring the correct messages get back to RoSPA so all this is keeping me out of mischief.  Regular updates here in the newsletter – I bet you are all on the edge of your seats.
A group of the bike members managed a week away in Cornwall.  A lovely place but much smaller than I imagined (once we had got there) and we visited many places to which I would like to return with more time to explore.  My wife and I even managed to find the grave of her Great Great Great Grandmother (and my wife is Scottish!).  British Superbikes has resumed and so Marshalling at Oulton Park took care of another weekend.  Add on to this some tutoring, tutor training, regular admin trips and some other visits have seen me ride over 2000 miles this month.  Great practice to keep my skills up to date.
I trust you are taking good advantage of the lighter evenings and why not come to our next monthly meeting on 13 June.  Owen Taylor worked for the NHS and wants to pick our brains for him to develop a first aid kit suitable for riders and bikers (recognising these can be different).  An unusual concept where the speaker wants knowledge from us. Please come along and provide your experience and knowledge; it will pay off in the end as we design the ideal first aid kit.
Bill Smith
I
t is with sadness I report the death after a short illness of Bill Smith a new Bike member.  Many of you will not have met Bill but those who did will definitley remember him and remember him fondly.  He was a larger-than-life character whose passion for advanced motorcycling was unequalled.  He was also a long-time member of Wilts and Bath Advanced Motorcyclists (WABAM) for whom he had held many committee positions including Vice Chairman and was also a National Observer.  He joined us last year and helped us with our tutor training before passing his test with a gold and becoming one of our tutors.  We will miss the kind old fella and I have passed on the best wishes of the whole Group to his wife and Daughter.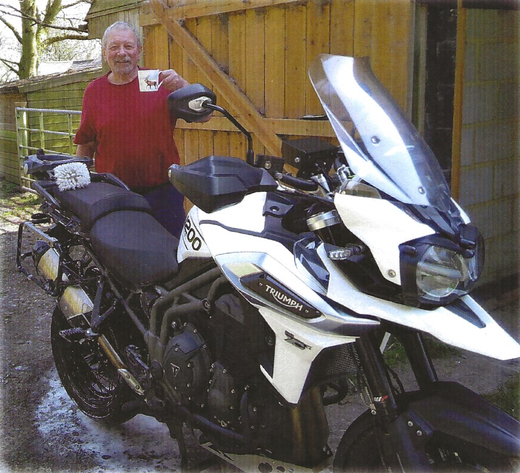 His funeral was held on 26 May attended by 40 bikes mainly from WABAM but also many others who had met Bill over the years.  An escort for the Hearse from the service to Marlborough Cemetery and then leading the family back to the wake.  A real tribute to Bill who would have loved the event.
May Meeting - Mid-Air Haptics

Barry Dennington, one of our members, gave a fascinating talk about the use of ultrasonics to develop hands free control (mid-air haptics) in the automotive industry.  He told the story of a start-up company called Ultraleap and how they had taken an idea developed in Bristol University in 2013 to a product which has attracted some £100M of investment to date.
Barry's career saw him become a design engineer after completing an apprenticeship in electronics.  He was dragged out of retirement (although we suspect he was not kicking and screaming too much) when asked to help this start up with business acumen, growth and routes to market.  He found a gang of young talented engineers who had their first business meeting  in a pub, moving to a coffee chop to work, then to an office to now employing 170 people.  The Company ethos is dynamic, supporting and not the sort of corporate atmosphere I suspect most of us have experienced.  Barry described it as exciting, supportive and facilitating innovation.
The technology basically takes a collection of ultrasound sensors (most of us have these in the bumpers of our cars to help with parking) and a hand tracking device to allow gestures to control functions in a vehicle.  It is clearly much more complicated than this, but it is beyond my understanding.  If you are interested in this technology, then follow this link to an academic paper.  The ultrasound device allows the operator to feel the soundwaves which give the sense of touch, the hand tracking then ensured the gestures are recognised and links to the vehicle's controls
The technology has been built into vehicles.  Ultraleap even bought their own BMW X3 centre console to prove the concept when BMW took a bit too long to provide one.  I can only assume the parts department at Dick Lovetts in Bristol were surprised by the request!  You can see more in this YouTube video.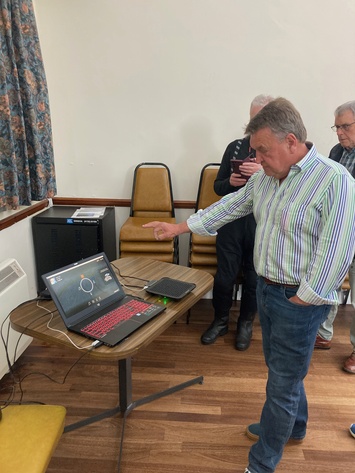 Barry demonstrating the technology
Barry had a demonstration set up for us so we could try out the early version of the system.  it was weird to "feel" the ultrasound but with a little practice it was possible to control the linked systems, Satnav, heating, lights and entertainment system.  Studies have shown the use of gesture controls stopped off road glances in 39% of drivers, for those who did glance there was a 25% reduction in glance time and the use comparted to touch screens provided 3 times more accuracy.
Thank you Barry for a fascinating glimpse into the future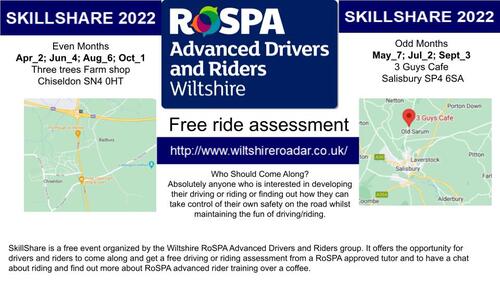 Regional Coordinator -Martin Powell

I
reported last month Andy Philips had been appointed as the Regional Coordinator for the South West Region.  I have since heard this is not the case and his rush to get in touch with us was a bout of enthusiasm.  He will, therefore, not be attending the June Meeting but I am pleased to say we have an exciting replacement lined up
Martin Powell remains our Regional coordinator so do get in touch with Martin if you feel the need
RoADAR HQ Job Advert - Fleet Examiners Car

RoSPA is currently recruiting Fleet Examiners and we would be most grateful if you could draw your members' attention to the advertisement and job description attached to this email in case any of them would be interested in this exciting opportunity. 
Please note that a candidate does not need to be a serving or retired police officer to apply for this role, neither do they need to be an ADI (Approved Driving Instructor).
Any queries should be addressed to our Head of Fleet operations, Isabelle Albutt, at  ialbutt@ROSPA.com  
Many thanks for your support,
Jacqui Adams
RoSPA Advanced Drivers & Riders Administrator (Part-time, Wednesday to Friday)
Have you been up to anything to do with Riding or Driving lately? If so, then please let us know as we would love to include it here; photos would be great too!
Tutor Training

The joint training event with Gloucester RoADAR was completed on 28 May.  Two of our Bike tutors attended the course run over 3 months with classroom and practical sessions which have prepared them exceptionally well for the advanced tutor test.  We wish them well and look forward to hearing about their results.  A more etailsed article will be in a future newsletter.
Thank  you to Mark Sealey and Stephen Wilkinson-Carr (the Gloucester Chair) for the effrot and time they appled to running this course.
Our collaboration with Gloucester is continuing with advanced car tutor training.  This is ongoing and is another way in which we have proved the concept of jint working between Groups.
The Big Trip - they are back safe and sound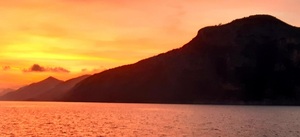 The Big Trip follows Peter and Sally Genet as they drive their VW T5 Campervan all the way from home down to sunny Athens - well that's the plan anyway. Keep up to date with their travels at this link: 
We look forward to a summary of the adventure in future newslwetters

After the crash at the first meeting, we had no time to sort out the way the car looked for the next round, as there were only two weeks between the two dates. I set off out to qualify and was running close to my PB times. I qualified second in class.
The race started well, and after a tussle with an MG ZR I started to pull away from the group, with only one of the Minis in front of me, the rest were behind me. Around half way into the race I started losing a little pace, I think my concentration dipped a bit, but I didn't start to worry about mechanical issues. 
Car 53, another Mini started to close in on me a bit. Just as I was preparing to have to defend my position, the right-side drive shaft exploded and I quickly pulled off the track and rolled to a stop behind the marshals' post at Bobbies Chicane.
We triaged the car afterwards, and it looks like the side impact of the crash at the first meeting nudged the engine to the right, which put a stress fracture in the bearing carrier for that driveshaft. It was probably lucky that it survived the first two races.
We have now replaced the driveshaft, and the bodywork repairs are underway. The car should look back to normal for the next round on June 11th. In addition to my car, we are entering a new driver, Adam Bird in car 265. It will be Adam's first two races.
We have a bit of work to do in the third car, #887 as there was an issue with the engine on a recent test. We are hoping to field all three of them at various points during the rest of the year.
We are also working on a plan for car number 4, which we might get ready before the end of the year, or ready to debut next year.
Alongside the racing, we have also completed customer Track Day at Castle Combe on May 20th. We fielded two cars (265 & 887) with seven guests sharing. This was the day when we identified the issue with 887, and we had to withdraw that car from the track day. Everyone still got plenty of seat time. A good time was had by all.
The next round is also a double header on June 11th. After this we have a bit of time to rest and prepare as the Combe season has no races in July. We are planning another track day at the end of the Month and there is a possibility of a race with another club in mid July - if there is enough interest from the guest drivers.
Please look at the dates above and if you can come along to support Gary please do and also take some fliers and business cards with you to hand out to the petrol heads - this is a great opportunity to recruit more car drivers.
Driven Ohm Racing, has a car available for a track day experience on 20 May at Castle Combe if anyone would like to join them.  It costs £250 per person and this includes the car, fuel and all the necessary trimmings. All you need is your full driving license and clothing which leaves no exposed skin (Gary has helmets if you do not have your own).  You will need to bring a pic-nic or sample the delights of Bar-H in the paddock for refreshments on the day.  
Follow  progress on Facebook @Driven.Ohm.Racing.
Please check the series website for the latest details:
Please let us know of any plans you may have; any road trips, any places to drive/ride to; maybe you have plans to unicycle the length of the UK - if you are planning this, please let us know as this would be great to read about!
On May 20th I participated in the Driven Ohm Track Day Experience hosted by Gary Franks.   Gary provides all you need to step into the cars and drive.  Both cars are race prepared Minis in which Gary competes in The Castle Combe Hot Hatch race series. (see the April Newsletter for more details on Driven Ohm Racing and the start of this series.)
Myself and other participants arrived to sign in and have the briefing from the Castle Combe team, after that we were all set to go.  The weather was far from ideal.  The track was already soaked and the rain continued to fall.  Despite this we all set off, in turn, for our driven laps with our instructors beside us.  The cars felt very safe, 5-points seat harnesses, roll cages etc to meet the stringent requirements of competitive race events.  Compare this with the majority of cars that show up for track days with nothing more than the standard road car set up.
Early laps were more about familiarisation with the track and the car but the learning was accelerated by the guidance of our instructors.  I rode with Gary and was amazed with his track knowledge, the guidance he provided and how he kept so calm while delivering information to get the best out of the car and conditions while I approached bends at around 90mph and prepared to brake.  Gary was also very patient when advising me to "feel the gate" with the gear stick and select third rather than 5th gear!!!  I had not driven a manual gear box for over 20 years!
After a sociable lunch with the group in the track cafe, the rain had passed and we set out for the afternoon drives with a sunny sky and dry track.  The fun continued and the speeds increased, every lap brought more learning experiences and the fun of driving at speed without worrying about oncoming traffic or "blue lights and sirens" appearing in the rear-view mirror.   Gary also provided a sheet of the track layout with sections for us to write down our experiences and rate our performance at each point on the track.  This was a great way to compare the theory with practical experience and to take our learning forward for the next experience.  (sign me up!)
All was perfect until about 4pm when the clouds opened up again with a deluge which resulted in most cars leaving for the day.  Just a few cars remained, including the Driven Ohm team.   Despite the weather and poor track conditions, Gary managed to get in some demonstration drives for passengers and was the last car running before the track day closed at 5pm.  I couldn't have asked for more commitment to make the day a success, Gary and the Driven Ohm support team did a fantastic job.
Gary is also the 'Observer' preparing me for my RoSPA driving test.  This track day added another dimension to car control and driving at speed, safely.  I now know how to control "Lift-Off Oversteer" if it occurs during my RoSPA Test :-).
Promotional activities
SkillShare - 2022 - see poster above!
We are starting SkillShare again this year and alternating between the North and South of the County.  Our next event is on4 June at Three Trees Farm Shop in Chiseldon. 

Wiltshire Police have the following dates for BikeSafe:

We will be supporting Wiltshire Police with BikeSafe both with tutors to make up the instructor numbers and to help promote the Group.  We do this in conjunction with WABAM so it is a great way to reinforce advanced riding and to gather new members.
Calne Bike Meet - 30 July 2022 -

HELP REQUIRED



We have a stand at this huge event on Sat 30 July.  Please make a note in your diary as we will need plenty of people to help us promote our Group on our stand ( Car and Bike members please!)
The Chair can no longer attend this event due to a family commitement.  I need someone to take on the coordination and management of the day
I

f you have any ideas for events, then please get in touch with the committee using the committee email address

:
Look forward to hearing and discussing your ideas.
A generic set of slides has been created for use if you are asked about Wiltshire RoADAR and have the opportunity to present. This could be at a local club, workplace etc. Please send a mail to committee@wiltshireroadar.co.uk  
and the slides will be sent over to you.
We also have flyers and business cards so ask for these via the same means.
The new highway code changes are in detail here. These introduce a hierarchy of responsibility for the safety of all road users.  Reading through them they seem to formalise what advanced drivers and riders should be doing already but please be aware of these changes – they come into force in Jan 2022 and many will not read them properly if at all!  Remember ALL other road users are dynamic hazards!
The following is doing the rounds on Social media but please do read the complete list of changes at the link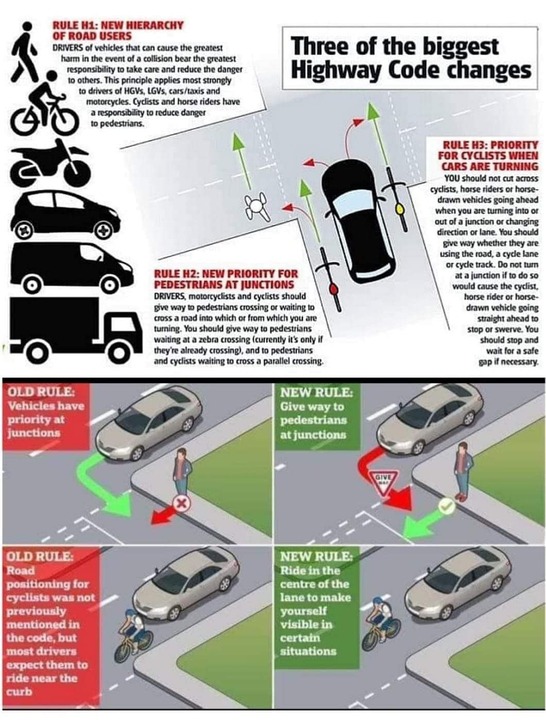 We continue to review these protocols at every Committee meeting and see no reason to change them at the moment for the next month.  Clearly with the changes in legislation some may feel these protocols are excessive; we continue to have your safety at the forefront of all we do - personal choice must lead the way. Wwe will no longer insist on a lateral flow test as these will no longer be free of charge.    The responsibility is on us all to do what we think is right for us and our loved ones.  The bottom line is if you do not feel safe doing something then do not do it!!

Wiltshire RoADAR COVID Secure Car Tutoring Protocol 
This is a voluntary activity and both parties (Tutor and Associate) must be content to be in the same car as each other (normally the Associate's car).  It is recognised each individual has their own circumstances and acceptance of level of risk.  There will be no judgement of individuals who do not wish to conduct car training.
Wiltshire RoADAR have a written risk assessment which is available on request.  The mitigation factors listed below are to minimise the risk of coronavirus infection for the Tutor and the Associate.  These are the absolute minimum required and if individuals wish to add their own factors the this is up to them.
Essential Mitigation Measures
No training if either party has displayed COVID 19 symptoms within 7 days or is self-isolating in line with Government guidance (including Test and Trace protocols).

Associate and tutor requested to have conducted a lateral flow test within 2 days of the training session.  A positive test should be treated as per Government guidelines and precludes training.

Face covering to be worn by both tutor and associate.  These must be in place prior to entering the vehicle.

Ensure hands are clean (washed for 20 seconds and/or alcohol gel as a minimum) prior to fitting face covering.

Tutor and associate must not touch their face when in the vehicle or prior to washing/sanitising hands/ or removing gloves if worn.

Vehicle ventilation system to be on and drawing air from outside the vehicle (NOT on recirculation). Ventilation enhanced by opening rear windows to allow air flow over tutor and associate to go out of the vehicle.

Avoid face to face activity and conduct discussions outside the vehicle where safe and legal to do so.
Recommended Additional Mitigation Measures
Tutor wears disposable gloves when in the vehicle.

Any equipment taken into the vehicle by the tutor to be sanitised post the session (alcohol wipes or a bleach solution)

Associate to ensure vehicle interior is cleaned with sanitiser prior to tutor entering the vehicle.
Wiltshire RoADAR COVID Secure Bike Tutoring Protocol

We must ensure the safety of both the Associate and the Tutor.  The following protocol is to be followed:
Both parties must be happy to partake in the tutoring session – there is no penalty for not wishing to partake provided communication is clear.

No tutoring if either the Associate or the Tutor have displayed symptoms within the last 7 days or are told to self- isolate by the

Government

Track and Trace protocol.

It is srequested both the Associate and the Tutor conduct a lateral Flow test no sooner than 2 days prior to the session.  A positive test should be treated as per Government guidelines and precludes training.

All must follow Government guidelines on self-isolation and shielding.

Appropriate Social distancing must be rigorously applied. 

Follow Government guidelines for hand cleansing and personal safety – hand sanitiser useful at all times.

Avoid busy locations for meeting, follow the latest Government guidelines for the use of cafes and/or take own refreshments. 

Associates to be encouraged to bring their own copy of Roadcraft and the Highway code for ease of reference during briefing and de-briefing sessions.

Tutor explanations and diagrams to be suitable for understanding from 2 metres.
Advice will be updated as and when it is received. But, please follow government guidelines.
Books!

  These are the latest version of Roadcraft (been out for a while now).  Please ensure you are using the latest version to keep up to date with your skills.
Motorcycle Roadcraft is the police handbook for rider training. It's used by all the emergency services and forms a key reference for riding instructors.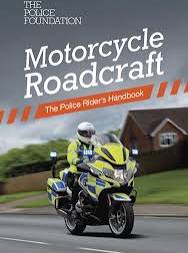 Updates for this new edition include a new overtaking chapter with separate sections on passing stationary vehicles, single stage overtakes, and multi-stage overtakes and new explanations of advanced concepts, such as limit points on left-hand bends. Guided by a working group of experienced instructors, Motorcycle Roadcraft is essential learning for police officers preparing for the demands of operational riding.

Roadcraft is the police handbook for driver training. It's used by all the emergency services and forms reference for driving instructors.
Updates for this new edition include a new overtaking chapter with separate sections on passing stationary vehicles, single stage overtakes, and multi-stage overtakes and new explanations of advanced concepts, such as limit points on left-hand bends.

Guided by a working group of experienced instructors, Roadcraft is essential learning for police officers preparing for the demands of operational driving.
Media coordinator - Help us to broaden our reach

To help promote the group we have a variety of online media platforms, FaceBook, YouTube, Instagram and Twitter. To help make the most out of the opportunities that these outlets provide, we could use some help from someone who has experience of using such tools. Drop me a line at secretary@wiltshireroadar.co.uk  if you would be interested in helping promote our group.
These are available from the Group Secretary if any member wishes to see them. If you are interested in reading the minutes, then please send a mail to the Group Secretary whom will promptly forward them onto you.
Forum
Please could all Members use the 
Forum
 on the Website which can be used for any purpose but particularly coordinating events, hints, tips and general conversation.  It is easy to register on the website so please do log on and chat away.
Test results 
Reminder to let the Membership Secretary and your tutor know when you have taken your Advanced Driving/Riding Test and result. This is so our database is kept up to date; there is no need or pressure at all to have the result published on the website or in this newsletter if you wish to keep your result confidential.  
Gloucester RoADAR Newsletter
If you are interested in the Gloucester Group newsletter
here
it is.