Walk! Tenerife South - free!
DWG began 30 years ago in the south of Tenerife, with the publication of our first walking route, 'Geranium Walk'. Read the story of that first route and how 'Tenerife South Walking Guide' was followed by guides for the island's west and north, which were combined, added to and regenerated several times, to become our current
Walk! Tenerife

.
More adventures have led to us having to be selective in deciding which routes to include in the latest Walk! Tenerife, resulting in our early 'family friendly' routes being dropped from our latest guide book. (Views over Playa Paraiso from one of the routes in our photo below).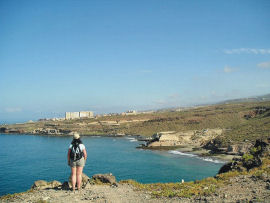 -0-
Walk! Costa del Sol (Axarquia) Update
Our thanks go to Howard and Penny who completed 11 of the 38 walks in December 2017 and reported back:
"We are sitting here in Nerja contemplating returning tomorrow to the cold and miserable UK having spent a fortnight with your recently published above book.

We found it to be up to your usual high standards having walked numbers 4,8,9,11,12,20,23,24,25,31,32. We particularly appreciated the pictures of the key waypoints which gave us confidence we were in the right place.
*Walk 32. Charles seems to have got from wp8 (58 mins) to wp9 (62 mins) in 4 minutes. Not sure what he was on but this led to much confusion.
Otherwise another excellent holiday thanks to your publication."
We've also put a corrected Walk 32 pdf file on our website which you can download and either carry on your device or print out.
Go to our Costa del Sol (Axarquia) page
and click on 'Download Sample Walk 32 as a pdf file".  

Go HERE to find the link.



Also worth noting that at the time of writing; access to the Higueron gorge from Frigiliana (Walks 2, 10, 11, 37) has apparently been cut by a landslide. Given the importance of this lane, it should reopen shortly.
-0-
Write a Review – Choose a Free Digital Map or PDF Book
Thank you!
The very best thing about being Discovery Walking Guides is when you tell us how our books and maps have improved, or made, your holiday adventures. You also keep us up to date with your observations that are invaluable for our updating to new editions. Lots of you post reviews on Amazon and other review sites, which we would like to encourage.
If you are prepared to take a couple of minutes posting a review then we would like to show our thanks by sending you a DWG digital product of your choice. This could be the pdf version of a Walk! book or the Custom Map digital edition of a Tour & Trail Map. You can post as many reviews as you like, as our offer applies to each review.
See our website for more details HERE.
For amazon.co.uk, you will need to be an Amazon customer in order to post a review; other web sites may have similar conditions for posting reviews. It would be good to see reviews appearing on sites such as Wordery, Blackwells, Stanfords etc.
We all like to see positive 4-5 star reviews of products; however if you have an issue with one of our books or maps, then please talk to us first.
-0-
Latest Walking News
Happy adventuring
David & Ros
-0-
See more about Discovery Walking Guides on:
&