Inn the News [more]
Inn the Kitchen [more]

Inn Specials [more]
Colorado Scenic Byway Feature [more]
Check out our past issues of Colorado Inn-Spirations!
Subscribe to our Monthly E-newsletter!
Order a FREE Colorado B&B State Guide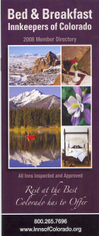 MEET AN AFFILIATE BBIC MEMBER
Hix offers extensive insurance coverage for all businesses including bed and breakfast inns. Their office can write insurance policies for those risks that require industry-specific coverage. The Agency realizes businesses need different types of insurance with friendly and professional staff will assist you in establishing insurance protection designed to protect your business.
For additional affiliate membership information,
click here
.
Join us on Sunday-Monday November 8-9 for the 2009 Annual BBIC Conference and Aspiring Innkeepers Day workshop. This year's theme is "Golden Opportunities for B&B Success" to be held in beautiful Golden, Colorado. Golden is known for the Colorado School of Mines and Coors Brewery in addition to a quaint community. Be sure to mark your calendars now. Are you a B&B hospitality vendor? We have opportunities for sponsorships now! Check back soon for details...


Volume 2 Issue 3 2009
Spring has sprung forward and we're ready with great innkeeping specials to keep your Easter basket filled with goodies. You won't have to hunt for these offers because our BBIC innkeepers are ready to help you with that "egg-stra" special vacation getaway action! Whether you prefer an historic Victorian, a cozy cottage, a stately castle or a modern mansion, our Bed & Breakfast Innkeepers of Colorado (BBIC) member inns are ready to serve.
Whether traveling for business or pleasure, a Colorado B&B is waiting for you.
This month, check out our special Scenic Byway feature in Northwest Colorado along the Grand Mesa and planning your stay in Cedaredge, Paonia and Crawford...
Our distinct Colorado B&Bs are ready to welcome you with a genuine smile, personalized service, clean and comfortable accommodations and a delicious homecooked breakfast. Savor special delights, prepared by loving innkeepers. This month, try Eastholme in the Rockies' Amish Breakfast Casserole. It's the perfect accompaniment to your breakfast brunch and so delicious that you'll want to travel to one of our Bed & Breakfast Innkeepers of Colorado member B&Bs just to personally sample our breakfasts inn-style!
Front Range Special Packages
(Boulder, Central City, Denver, Estes Park, Georgetown, Golden)
Central City, Colorado
Transformation Retreats!
Create your own personal journey with a Spa
Retreat; or choose from our Healing Life Workshop or into the Light Personal Journey and receive one extra night for free. The Hooper Homestead is an excellent environment for personal renewal and spiritual connection. Whatever your spiritual path, our cozy mountain getaway is the perfect place for relaxation, reflection, and renewal. A Blissful Spirit Retreat enables you to return home and live your life with deep inner peace and your confidence and clarity restored. Prices vary depending on Retreat. Visit our website for a full description of Retreats and pricing.
Dates: Through May 15th.
Hidden Treasure for 2 on One Night Only! Are you pressed for time? Do you need a rejuvenating Getaway? This Special is for You! Come and stay overnight and receive a 60 minute Swedish massage, enjoy a deluxe continental breakfast and soak in a private hot tub under the stars. Get away from the City, take a break from the job, enjoy some mountain tranquility and leave your cares behind. Recharge your senses and be here now. Ideal for a romantic escape, girlfriend getaway, birthday or anniversary celebration. Allow yourself to be pampered at the Spa! Call Now and Reserve today! Limited time offer and space available for this special.
Dates: Offer through April 30th
Cost: $299 (room taxes not included) Coeur D'Alene Suite $349/$599 (2 persons/4 persons).
Economic Stimulus Package - Save 10-25% - Book your stay within 10 days of receiving you tax refund check and receive the following discounts:
1 Night - 10%
2 Nights - 20%,
3-6 Nights - 25%
Please mention the Economic Stimulus package when making reservation. Offer is not valid with any other discounts, coupons or spa specials.
Dates: Through May 15th
Cost: Variable depending on Number of Nights
Retreats- One Night FREE - The Hooper Homestead is an excellent environment for personal renewal and spiritual connection. Whatever your spiritual path, our cozy mountain getaway is the perfect place for relaxation, reflection, and renewal. A Blissful Spirit Retreat enables you to return home and live your life feeling empowered with deep inner peace and clarity restored. Create your own personal journey with a Spa/Meditation/Yoga Retreat; or choose from our Healing Life Workshop, Into the Light Personal Journey or our newest Meditation for Manifestation & Optimum Health Retreat and receive one extra night for free. Offer applies to Two-Night Retreat Packages only.
Dates: Through May 28th
Cost: Starting from $275 + Accommodations

Denver, Colorado
Queen Anne Urban Bed & Breakfast
(Milan Doshi)
Email
2147 Tremont Place, Denver, CO 80205
Reservations: 1-800-432-4667 Local: 303-296-6666
Spring and Summer Specials at the new Greener Queen Anne-

In celebration of the greening of our Inn, we here at the Queen Anne would love for you to stay with us. We're giving out any of our rooms for $135 a night, and any of our suites at $150/night (usually $215). This rate includes a full breakfast made with local and organic foods, local appetizers and Colorado wine in the evening, free parking, wireless internet, and a close walk to the downtown Denver attractions.
Dates: April 1st - July
Cost: $135 for a Room ; $150 for a Suite

Estes Park, Colorado
Anniversary Inn (Karin and Roger Steers)

Email 1060 Marys Lake Road, Estes Park, CO 80517
Reservations:970-586-6200
Celebrate Mothers in May---The Anniversary Inn is pleased to announce that during April we will be giving each guest an Anniversary Inn cookbook free with a 2 night stay. In May we will be honoring Mothers by providing a series of gift certificates valued in excess of $50.00 with selected local merchants and a 20% reduction for in-room massages when you book 2 nights and stay in our "Cabin" or "Divide" rooms.
Dates: April and May
Cost: Special Gift Certificates (worth $50) for local merchants and 20% off in-room massages w/2 night stays in "Cabin" or "Divide" rooms.

Taharaa Mountain Lodge (Ken & Diane Harlan)

Email 3110 So. St. Vrain, Estes Park 80517
Reservations: 800-597-0098 Local: 970-577-0098
Pamper Package - Pamper yourselves with a special getaway. Enjoy relaxing quality time enhanced by relaxation or therapeutic massages. Package for 2 adults includes:
* 2 consecutive nights stay
* Gourmet breakfast daily
* Happy Hour daily
* 2 30-minute massages in our private Massage Room
* Chilled Champagne after your massages to sip in front of your fireplace in privacy
Package rates from $300 - $510 per couple, depending on room selection.

Dates: Through 14 May 2009
Cost: $300 - $510
Georgetown
Rose Street B&B
(Sally & Paul Nisler)
Email
200 Rose Street, Georgetown 80444
Reservations: 1-866-569-2221 Local: 303-569-2222
Loveland Ski Lift Tickets - Reserve either our Brass or Walnut Rooms for at least a two night stay and receive two free lift tickets to Loveland Ski facility during the 2009 season.
Dates:
During 2009 ski season while tickets last
Cost:
Brass & Walnut rates are $150.00 per night + tax
Golden, Colorado
Dove Inn Bed & Breakfast (Annette Lyttle)
Email 711 14th Street, Golden, CO 80401
Reservations: 888-278-2209 Local: 303-278-2209
"Stay" for Critters-Sit, stay, and lie down at the Dove Inn Bed & Breakfast in Golden on the nights of April 30, May 1, or May 2, and 25% of the price of your stay will be donated to Table Mountain Animal Shelter to help them care for homeless pets. While you're in Golden, enjoy Golden's First Friday on May 1, when shops stay open late and offer special activities and sales -- there are free horse-drawn carriage rides, too! See a performance of Move Over, Mrs. Markham at the Miners Alley Playhouse -- 25% discount on tickets if you're staying at the Dove Inn. Pamper yourself with a treatment at Urban Escape Day Spa. Have a wonderful dinner at Grappa Mediterranean Bistro or one of the other great restaurants within walking distance of the inn. This is a great opportunity for a romantic getaway for a good cause.
Dates: April 30, May 1, May 2
Cost: 25% Donation to Table Mountain Shelter
South Central Special Packages

(Colorado Springs, Breckenridge, Salida, South Fork, Alamosa)
Cascade, Colorado
Colorado Springs, Colorado
Holden House 1902 Bed & Breakfast Inn
(Sallie Clark)
Email

1102 West Pikes Peak Avenue, Colorado Springs, CO 80904
Reservations: 888-565-3980 Local: 719-471-3980
Spring Forward & Mid Week Treat -Reserve 3 nights and receive your 3rd night for 1/2 off or stay 4 nights and receive 4th night absolutely FREE! (valid any days of the week) Or, stay mid-week (Sun-Thu) 2 nights and get 2nd night 1/2 price or stay 3 nights and get the 3rd night FREE. We'll take a full deposit at reservation leaving the balance due of a perfect stay at check-in! (Some restrictions may apply and full amount of stay due when reservation is booked and non-refundable) Includes our delicious gourmet breakfast, all of our luxury business class amenities and afternoon wine social.
Dates: Through May 20, 2009
Cost: Any days of the week: Stay 3-nights with 3rd night 1/2 price or stay 4-nights with 4th night FREE or Stay Sun-Thu Mid-Week 2 nights get 2nd night 1/2 off or 3 nights and get 3rd night FREE!
The St. Mary's Inn
(Conchita Nolet)
Email
530 North Nevada Avenue, Colorado Springs, CO 80903-1106
Reservations:719-540-2222
Easter Sunday Brunch April 12th!-
Book your reservations today for the 1st annual Easter Bruch! Visit our website for details.
Date: April 12, 2009
Cost: Visit our website
In celebration of winning the Top of the Best of The Rockies 2008-2009 Award by BedandBreakfast.com we are offering our 2 bedroom Apartment at the Government Employees and Contractor (per diem) rate of $88/person. Breakfast will be extra $10 pp. The accommodation will be a large bedroom with queen size 4 poster bed, a large office with desk, living room, fully equiped and functional kitchen and a bathroom with tub/shower. Separate private entry. Extended stays welcome!
Dates: Ongoing
Cost: $88 per person single occupancy

Manitou Springs, Colorado
Blue Skies Inn (Sally Thurston)
Email 402 Manitou Ave., Manitou Springs, CO 80829
Reservations: 800 398-7949 Local: 719 685-3899

Short and Sweet Wedding - Wrapped as a pretty wedding package,
imagine a marriage that is stress-free and beautiful. As an innkeeper who is also an artist and gardener, Sally uses her skills to create beautiful weddings. From arranging the floral bouquet to photography to seamlessly co-ordinating the wedding, every detail is treated as Art. That the wedding is gentle on the Planet and economical are just lovely bonuses. Located at the base of Pikes Peak, Blue Skies Inn hosts weddings any day of the year.

Dates: Year round
Cost: $1695 plus two nights' stay at the inn
Woodland Park, Colorado
Pikes Peak Resort (Jenn) Email 943 Painted Rocks Road, Woodland Park, CO 80863 Reservations: 888-687-9777 Local: 719-687-9777
Weekender-Mender! Stay Friday and Saturday Night through May 14, 2009 and choose from one of the following free gifts:
1. Two Pikes Peak Resort T-Shirts
2. Bottle of Champagne and Keepsake Flutes(cider available upon request)
3. Chocolate Covered Strawberries
4. Vase of fresh flowers
5. Spa soak set
Dates: through May 14th, 2009
Cost: Must stay Friday and Saturday night to redeem free gift. Must be redeemed at time of reservation.
North West Specials Packages
(Steamboat Springs, Grand Junction, Vail)
Check back next month for New Specials...
South West Special Packages
(Antonito, Gunnison, Ouray, Durango, Pagosa Springs, Paonia)
Antonito
River's Inn & Swiss Cottage B&B
(Ursula Armijo-Knobel)
Email
317 River Street, P.O. Box 457, Antonito 81120
Reservations:719-376-6029
Readings (Automatic Writing) from May through November
- In downtown Antonito, Colorado, very well known by train buffs from all over the world, coming to ride the Cumbres & Toltec train, by fishermen, artists, gourmets (5-course dinners upon request), now offers on-site readings. Call Ursula for more information. Reduced rates for readings apply when you stay 2 nights or longer.
Dates: May 1st through November 15th
Cost: Readings: $ 200 instead of $300 with 2 nights stay
Pagosa Springs, Colorado
Elkwood Manor Luxury Bed & Breakfast (Darlene Gonzales)
Email 85 Easy Street, Pagosa Springs CO 81147
Reservations: 970-264-9166
Lift Ticket & Lodging Discount - Why sacrifice the quality of your lodging
experience to get lift ticket discounts? Elkwood Manor is now offering lodging discounts to all skiers. Just show us your lift ticket receipt and Elkwood Manor will take 10% of your lift ticket costs off your entire stay up to $50.00 per visit. Then enjoy our complimentary wine & appetizers or a soak in the Hot Tub under the stars. 2 day minimum stay required.

Dates: Entire Ski Season (through April 2009)
Cost: 10% of your Lift Ticket Cost applied to reduce your lodging expense, based on 2 nights stay up to $50

Eastern Special Packages
(Limon, Burlington, Trinidad, Pueblo, Sterling, Hugo)
Check Back Next Month for New Specials....
*HAVE YOU OR YOUR BBIC MEMBER INN BEEN "INN THE NEWS OR RECEIVED A RECENT AWARD"? If you're a BBIC member and have recently been featured, send us an
Email
and let us know. Your inn will be mentioned in the next issue of Colorado Inn-Spirations enewsletter.
BBIC Member Inns - Send us your recipes and you can be featured here!
1 lb. sliced bacon, diced
1 med. Sweet onion
6 eggs, lightly beaten
4 c. frozen shredded hash brown potatoes
2 c. shredded mild cheddar cheese
1-1/2 c. small curd cottage cheese
1-1/4 c. shredded Swiss cheese
Directions:
In large skillet, cook bacon and onion until bacon is crisp, drain. Mix together the remaining ingredients, stir in bacon mixture. Transfer to a greased 9 x 13 pan.
Bake, uncovered at 350 degrees for 35-40 minutes or until eggs are set and bubbly. Let stand 10 minutes before serving.
Yields: Serves 8 - 10
Click Here for additional BBIC Member Inn recipes and watch soon for the new edition of our association cookbook.
Scenic Byway Feature-Grand Mesa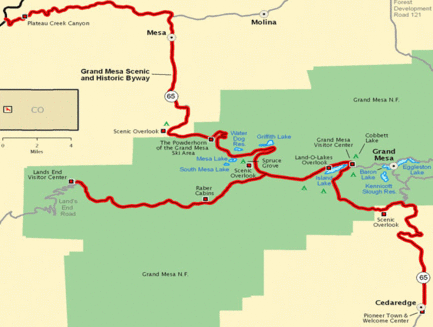 Travelers craving release from the momentum of mediocrity can truly transcend the world in the unusual beauty of the Grand Mesa. The 63-mile route rises through the narrow canyon of Plateau Creek to the cool evergreen forests of the mesa top, called Thunder Mountain by the Utes. Poised atop Land's End Overlook, you'll see the Grand Valley unfolding more than a mile below in splashes of golden rubble and vibrant foliage. Hike through dense alpine forests, ski spotless wintry slopes, or fish sparkling streams pouring into 300 lakes adjacent to the byway. Rise above the world and learn why the Grand Mesa Scenic and Historic Byway is called "the alpine oasis in the sapphire sky."
If you're frustrated by so-called "breathtaking vistas" that failed to strike and stun you, let the byway awe and astonish you. Follow the Lands End Road
along the rim of the world's largest flat top mountain and discover all 360-degrees of singular alpine skyline. High altitude and clear alpine air invite visitors to look westward to clarion views of the La Sal Mountains, 60 miles to the west in Utah. Sharp-eyed visitors frequently look southward to the peaks of the San Juan Mountains, 90 miles away. With grand views of the vibrant valley and the rustic mountain ranges gilding the horizon, the byway is waiting to leave you breathless and amazed.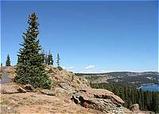 Every season has its own glory along the Grand Mesa Scenic and Historic Byway. Enjoy a roadside picnic with family or friends in cool spring fields alive with a full spectrum of wildflowers. Fall brings crimson splashes and splatters of saffron to the valleys and mountains, while the mild climate encourages a variety of wildlife to wander in the dense forests of the byway. Lose yourself in the nostalgia of summertime -- why not show your children the same kind of fishing, canoeing, hiking, and sport that you loved as a kid? Spend a week on the shores of the seven Grand Mesa Lakes, where flower-touched fields, waterside campgrounds, and shady trails await you. With over 400 trails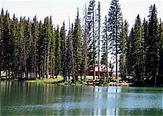 designed for snowmobiles, cross-country skiers, and snowboarders, the Grand Mesa is the winter wonderland of your dreams. Discover the grandeur of the Grand Mesa anytime of year, and you won't be disappointed.