---
Contents
---

---
Scotland Island Annual Motor Vehicle Registration


SATURDAY, JULY 7, 2012




SCOTLAND ISLAND FIRE STATION 9AM TO 2PM





BACKGROUND:

In 1995, SIRA arranged for the removal of 15 unregistered vehicles, plus 1 truck! There was significant concern amongst members of the community about the lack of third party liability cover for these vehicles. To assist vehicle owners with registering their vehicles SIRA negotiated and obtained permission for the Fireshed to become a registered inspection station. Pink slips are issued annually and are valid until the registration date within the year. Warriewood RTA is aware of this arrangement and renewals are accepted with these pink slips.

SIRA supports the registration of all motor vehicles on Scotland Island. Residents with unregistered vehicles in use are putting the community at risk through the lack of third party liability cover. Should an accident ever occur that results in injury to the driver, passengers or pedestrians, it would devastate our community.

PLEASE BE RESPONSIBLE AND MAKE YOUR VEHICLES AVAILABLE FOR REGISTRATION. If your vehicle does not pass registration or you are currently the user of an unregistered vehicle SIRA requests that it be removed from the Island.



INSPECTIONS: SATURDAY, JULY 7, 2012




SCOTLAND ISLAND FIRE STATION 9AM TO 2PM





BRING: REGO PAPERS PLUS MOTOR VEHICLE




COST: $60.00 PER VEHICLE $10.00 S.I.R.F.B. $70.00 TOTAL



PLEASE NOTE: THIS WILL BE A ONCE ONLY INSPECTION!!
PLEASE HAVE VEHICLES IN ROADWORTHY CONDITION

REJECTION SLIPS WILL BE ISSUED FOR VEHICLES NOT CONFORMING WITH R.T.A. REGULATIONS



---
Scotland Island Winter Fire Shed Dinner
Saturday July 7th, 7pm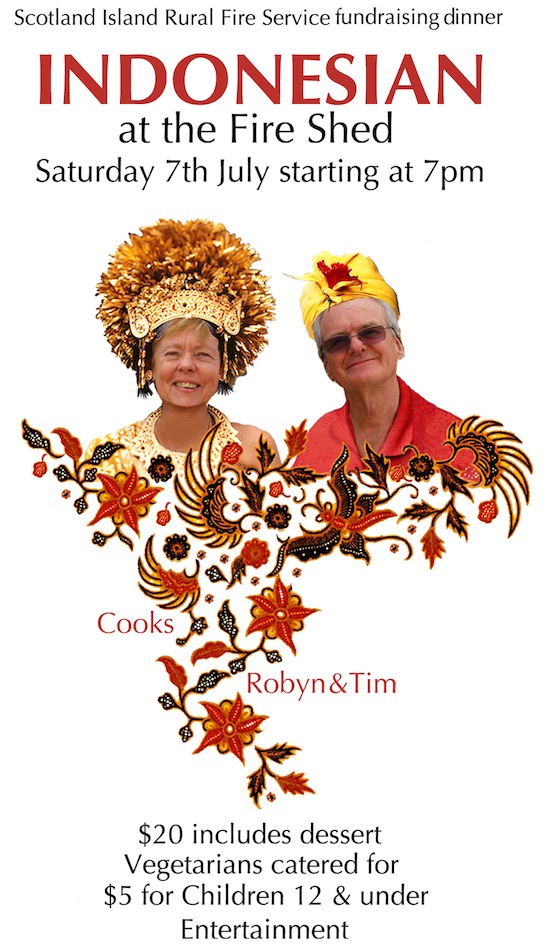 Indonesian Dinner by Robyn & Tim
Includes Dessert
Adults $20
Children under 12 $5

---
Pittwater Offshore Wine Syndicate
Wine Tasting Sunday 8th July 3-5pm



Greetings

Brrr...Winter Chills are best treated with a combination Paracetamol/Pseudoephedrine/Phenyephrine drug combination. What a load of rubbish!

Winter chills are best treated with one or two glasses of your favourite wine from the new tasting collection from the Wine Syndicate. You know that, I know that and so we are all keenly awaiting the latest collection.

The

next tasting is on Sunday 8th July 2012 from 3pm at the home of George and Deryn on beautiful Scotland Island

.

If you are new to the syndicate, download the tasting notes (see below), bring them with you as well as your tasting glass and a plate of nibbles to contribute to the afternoon, and have some fun.

Download Wine Tasting Notes HERE

Please enter this date in your diary this very minute.
See you there.



---
SCOTLAND ISLAND RURAL FIRE BRIGADE
Your Brigade
Fire Brigade Matters - WATER

Water is the main outside resource in the fighting of fires, although Pittwater is always at hand we are in most cases away from the waterfront going to be looking to use tank water. We carry some water on the two firetrucks for immediate use, but in an emergency we have the right to tap into private residents water tanks.

On arrival at a fire one of the crew is sent to 'find water' in nearby tanks whilst the fire is fought with the limited water on the trucks. For this reason we ask that residents keep their water tanks as full as possible at all times, especially in the fire season. It is in the fire season (the hotter months) when water usage may be highest so it is important to make regular checks of your tanks to ensure enough water is available for firebrigade use should the need arise.

We carry small portable pumps on the trucks, and can therefore pump from your tank, it is however possible and preferable to fit a

Stortz valve

on your tanks outlet to enable immediate firebrigade connection of our 38mm hose. They are easy to fit, I have one that I fitted myself, fitted in line (no need to empty the tank) just ahead of the water lines connection to the tank, and ahead of the tanks on-off valve. You will need a 38mm Stortz valve available from Waterworks in Narrabeen and elsewhere.

In a bushfire emergency the firebrigade will take control of the Islands' emergency water supply, we can then tap into any of the standpipes in the waterline around the Island. This however should not dissuade you from fitting a Stortz valve on your tank or from making sure your tank is kept as full as possible as private tanks would be first priority in our search for water as we need to work quickly for a house fire or bushfire.

We have had one or two new people come forward to apply for active membership, which is very good, if you think you can make the commitment to active membership please contact me (details below) or talk to any member of the brigade.

David Wardman
9999 5944
david@wardman.com.au
SIRFB



---
SIRA MEMBERSHIP RENEWALS NOW DUE!



Another year has flown by and SIRA membership for 2012 - 2013 is now due.



Please complete the form, all householders over 18 to sign, and return with $20.00 to:
SIRA, PO Box 70, Church Point.

click here to download membership form

New residents can find more information on SIRA activities and Island information on the website: www.scotlandisland.org.au

A new edition of the POD (Pittwater Offshore Directory) is planned for next year. More details will be forthcoming closer to the production date and advertising copy will be invited for inclusion in this 5th edition.



---
History Corner with Leicester Warburton

ANDREW THOMPSON'S LINK WITH THE ISLAND
When Andrew Thompson died on October 22, 1810, at the age of 37, Governor Macquarie attended his funeral as Chief Mourner. The rigidly conservative and influential preacher, the Reverend Samuel Marsden stayed on his plebe, the land attached to his parish church at Parramatta. Not even death could persuade him to give public recognition to "an evil-liver" for Marsden believed that his superiors in England would never approve of him associating with an ex-convict. He felt that this disapproval might not only besmirch his sacred character but also cause him to lose the respect of the people under his care. Such were the religious intolerances of the time.
A few days later, the Sydney Gazette, which was edited by an emancipist like Thompson, wrote of Thompson's success in accumulating considerable property after his early lapse of rectitude. Only just under 10 months earlier, on January 1 of the same year, Macquarie had rewarded Thompson for his many community services with the grant to him of Scotland Island for an annual rent of three shillings. (See attached historic draft of the official agreement. Note the Government's right to "make a public road"!)

At Thompson's funeral Macquarie paid generous tribute to Thompson saying "This most useful and valuable man closed his earthly career on the 22 day of October at Windsor of which he was the principal founder in the thirty-seventh year of his age with the hope of eternal life". In this way Thompson's death became the occasion for the first statement that the country belonged to deserving emancipists. At the same time Governor Macquarie identified himself more closely with their aspirations by earlier writing a tribute to Thompson in which he pointed out that "by persevering industry and a diligent attention to the command of his superiors he had raised himself to that state of respectability and affluence . His appointment as a JP also helped to restore him to that rank in society he had forfeited".

These words made a profound impression on the grateful Thompson that he bequeathed a quarter of his fortune of 36,000 pounds (the equivalent of millions today) to the governor. His estate had included 1585 acres of prime land. A distillation of Macquarie's words appeared on Thompson's headstone.

As for the Reverend Marsden, 20 years later, in the district where he had taken his unforgiving stand against Thompson's lapse from rectitude, he suffered a fatal heart attack.


Excerpt from Sydney Gazette - 1810




National Library of Australia - Trove





DIED.




At Hawkesbury, Green Hills, on Monday the




22d Instant, after a lingering and severe illness,




aged 37, ANDREW THOMPSON, Esq. Magistrate of that District. In retracing the last twenty years of the life of this exemplary and much lamented Character will not be held uncharitable to glance at the lapse from rectitude which in an early and inexperienced period of youth destined him to these shores, since it will stamp a more honourable Tribute to his Memory to have it recorded, that from his first arrival in this Country he uniformly conducted himself with that strict regard to morality and integrity, as to obtain and enjoy the countenance and protection of several succeeding Governors; active, intelligent and industrious, of manners mild and conciliatory,with a heart generous and humane, Mr. THOMPSON was enabled to accumulate considerable property; and what was more valuable to him, to possess the confidence and esteem of some of the most distinguished Characters in this Country; the consciousness of which surmounted the private solicitude of revisiting his native Country, and led him rather

to yield to the wish of passing the evening of his

life where his manhood had been meritoriously exerted, than of returning to the land which gave

him birth. Mr. THOMPSON's intrinsic good quali

ties were appreciated by His EXCELLENCY the

present GOVERNOR, who soon after his arrival here was pleased to appoint him a Magistrate, for which situation Mr. THOMPSON's natural good sense and a superior knowledge of the Laws of his Country peculiarly qualified him.





Nor can we close this Tribute to his Memory




without recurring to the important services Mr.




THOMPSON rendered this Colony, and many of hisfellow-creatures, during the heavy and public distresses which the floods at the Hawkesbury produced amongst the Settlers in that extensive District; Mr. THOMPSON's exertions were on a late occasion for two days and two nights unremittingly directed to the assistance of the sufferers, and we hasten to add, that in these offices of humanity, he not only exposed himself to personal danger, but

laid the foundation for that illness which has de- prived the World of a valuable Life.



During the unfortunate Disturbances which




lately disrupted this Colony, he, whose death we




now lament held on the even "Tenor of his Way," and acquitted himself with mildness, moderation and wisdom, and when the ruthless Hand of Death arrested his earthly career, he yielded with becoming fortitude, and left this World for a better,with humble and devout resignation, and anexemplary confidence in the Mercies of his GOD!




---
Margaret Molly 80 Birthday Celebration


Images by June Lahm



Full size images can be seen at the Offshore Photo Gallery HERE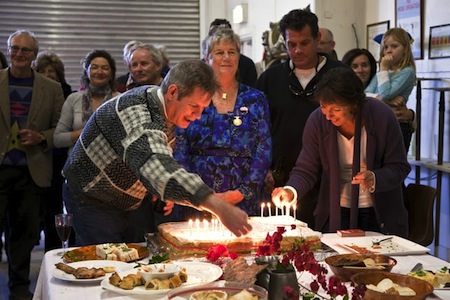 ---

AUTHOR TALK




Two Feet Forward




Authors Share the Adventures of a Lifetime -




Linda Benton and David Rule



Mona Vale Library will host co-authors Linda Benton and David Rule who share their amazing journey through 22 countries in their recently published adventure journal Two Feet Forward on Thursday 5 July.

Linda Benton and David Rule were both made redundant at the time of the Global Financial Crisis (GFC). Meeting through a mutual friend, they soon realised they had both shared a desire to travel and used the GFC as an opportunity to live their wildest dreams.

They took a leap of faith, packed up their lives and set off for a journey that covered 22 countries over nine months.

Events Librarian Catherine Buddin said their book is a visual adventure, taking the reader on a journey of fun and sharing a light-hearted love story in rare and picturesque locations.

"The book is beautifully presented and captures recipes, memories, budgeting tips and stunning photography," said Ms Buddin.

David Rule has a background in finance and has returned to his career managing sales, marketing and events for Two Feet Forward. Linda Benton has a background in graphic design which she has drawn on to produce this visually engaging book.

As well as being a travelogue, the book also provides inspiration on how to manage a dramatic shift in life plans such as the sudden redundancy experienced by the two authors.

The talk will be held on Thursday 5 July from 6.30pm to 8pm at Mona Vale Library.
Mona Vale Library is located at 1 Park Street, Mona Vale.

Bookings are essential; to book phone 9970 1600. Following the talk there will be book signings and light refreshments. Admission is $8 adult, $6 concession.

Learn more about Two Feet Forward at www.twofeetforward.com.au



---

Local Council Notices

NEW PROGRAM TO SUPPORT PITTWATER FAMILIES



Families in Pittwater now have access to a confidential referral service launched last week and provided by Relationships Australia through their 'Community Builders' program.

The program has been extended to Avalon, with a project worker from Relationships Australia located at the Avalon Early Childhood Centre every Friday from 9.30am to 2.30pm.

Pittwater Council's Mayor Cr Harvey Rose said the program, which was funded by the NSW Department of Family and Community Services, aimed to build stronger communities.

"The program provides a support worker to help individuals and community groups with referrals for services they may need," added Cr Rose.

Sue Johansson from Relationships Australia said the focus of the Community Builders program was to connect with families.

"Often many young families are faced with difficult decisions, and don't know where to turn for advice or support," she said.

"Our program offers a one-stop-shop service, where residents across Pittwater can seek free confidential advice on all matters affecting their families," said Ms Johansson.

To launch the program Relationships Australia will hold a 'Resilient Kids' workshop for parents of primary aged children at Avalon Recreation Centre. The workshop is on Wednesday 27 June at 7pm. Bookings are essential by calling 1300 734 120 or emailing cbpittwater@ransw.org.au

Residents are welcome to drop in for a chat each Friday at the Early Childhood Centre, located at 59 Old Barrenjoey Road. Residents can also call 1300 734 120 to make a confidential appointment regarding any issue.

To learn more about Relationships Australia and the Community Builder's program visit
www.nsw.relationships.com.au

Media contact:
Melinda Hewitt
Ph: 9970 1170


---
WEEDS IN THE SPOTLIGHT



Pittwater Council and the Pittwater Natural Heritage Association will hold a free workshop on Pittwater's weeds next month.

Residents can learn all about which weeds are native to the Pittwater area and how to deal with them on Saturday 21 July between 1pm and 3pm.

The workshop will be held at the Coastal Environment Centre, Lake Park Road Narrabeen, hosted by local experts.

Council's Natural Environment and Education Manager Mark Beharrell said the workshop was designed to help residents identify local weeds, particularly those likely to spread from their gardens.

"Our bushcare experts will explain what a noxious weed is and how to remove them, using tools to assist in the process. Residents will also get advice on the best natives to plant once the weeds have been removed."

Mr Beharrell residents were encouraged to bring along an example of a weed they are having trouble eliminating as well as any questions for our local experts.

"You'll have an opportunity to find out how to get involved in one of Council's many bushcare groups."

Attendance at the weed workshop is free and refreshments will be provided.

Bookings are essential and can be made online at www.pittwater.nsw.gov.au/cecbookings

Media contact:

Sonja Elwood, Pittwater Council Ph: 9970 1308



---
Bothams Beach Bush Regeneration





The Pittwater Environmental Foundation is committed to restoring the endangered Spotted Gum Forest on the foreshore at Bothams Beach at the entrance to McCarrs Creek, west of Holmeport.



Weeds are disappearing and native plants sprouting, transforming this lovely patch of Spotted Gum Forest into healthy bushland once more. But we need help with some extra weeding and planting of native plant tubestock.



WHO?


The Pittwater Environmental Foundation was set up by Council as an independent body to attract donations and seek other funding to support preserve and enhance our native bush. The restoration of the Spotted Gum Forest foreshore at Botham Beach is one of six projects currently funded by the Foundation




CAN YOU HELP?


We'll be there 8.30 to 11.30 on:

July: Thursday 5th and Tuesday 17th:
August: Thursday 2nd, Tuesday 14th
September: Thursday 6th, Tuesday 18th

Tools, training and morning tea provided. Even an hour or two will help the restoration of this site.



WHERE?


Entry is opposite 55 McCarrs Creek Rd. The track to the site starts near the green telecommunication kiosk.



OTHER SUPPORTERS


Funding from Hawkesbury Nepean Catchment Management Authority has enabled the Foundation to provide onsite management through Pittwater Council and heavy duty bush regeneration contract work through private contractor Big Picture Bush Regeneration.




STILL PUZZLED?


T: Lesley Stevens 9979 9477
E: contact@pittwaterenvironmentalfoundation.org.au
W: www.pittwaterenvironmentalfoundation.org.au



---
To Rent




Large Room..


Large Room to rent on Scotland Island Water front House 160pw
Female preferred avaliable @ the end of July
Phone 040 2583 230


---
Wanted


Water Tank



If anyone has one available.
Any size is acceptable just as long as it can collect water as a holding tank.
Thanks
Essie
0418253870.



---
For Sale


Leather Lounges


Leather lounges for sale.
Chocalate colored and in great nik.3 seater, 2.5 seater with matching arm chair and matching ottoman.pick up from Florence Terrace.
Very good condition. $680.00
Contact Essie 0418253870.



---
The Local Guide
Community Information
Scotland Island Web Site

www.scotlandisland.org.au

What's On in Pittwater - Self Editing Event Calendar

click to go to the Calendar

Scotland Island Community Vehicle -

0404 103 700
Number, Usage & Charges

Scotland Island Rural Fire Brigade -

9999 4404
http://www.sirfb.org.au

West Pittwater Rural Fire Brigade

- 9997-3795
www.westpittwater.rfsa.org.au

Offshore Photo Gallery

http://picasaweb.google.com/offshoregallery/
Scotland Island Residents Association (SIRA) Membership Application

- click here to download
West Pittwater Community Association (WPCA)

- http://www.wpca.org.au
Scotland Island Water


SI Emergency Water Contacts and Guidelines for water: click here for information and contacts
Scotland Island 'Water Agreement' - click here to download
Scotland Island Children's Centre

- (SIOCS - Scotland Island & Offshore Childrens Services)
Catherine Park (Long Day Care Service) 7.30am - 5.30pm (Tues, Weds, Thurs & Friday)
Other services include: School Holiday Programme / Facility & Equipment Hire
For information call 02 9979 7856 or email: siocs@comcen.com.au
Scotland Island Community Hall Bookings:

Kez on 9999 4092 or kezborthwickbolton@gmail.com
---

Transport
---
Real Estate
---
Services, Clubs & Accommodation
Scotland Island Traders - On-line shopping

from your computer, through your door on Scotland Island. Contact Graeme on 0419 460 331 or click here for full details
Justice of the Peace

- Bob Bolton - 9999 4092
Justice of the Peace

- Paul Purvis - 9979 9667
Justice of the Peace

- Paul Burchall - 0414 975 793
Justice of the Peace

- Bob Mitchell (Mackeral Beach) - 0419 745 628
Justice of the Peace -

Maureen Anderson - Morning Bay resident. - 02 9997-2659 or 0417-279-346
Pittwater Community Arts Inc.

- Enquiries Lorrie Morgan 9997 8079 lorriemay@bigpond.com
Peninsula Music Club

- enquiries Janice Tuynman - 99991937 - jt@swift dsl.com.au
Woody Point Yacht Club

- http://www.wpyc.com.au commodore@wpyc.com.au
Royal Prince Alfred Yacht Club

-

02 9997 1022

http://www.rpayc.com.au/
Royal Motor Yacht Club

- http://www.royalmotor.com.au/ 02 9997 5511
Scotland Island Lodge - Bed & Breakfast -

02 9979 3301 or http://www.scotlandislandlodge.com.au
Pittwater Youth Hostel

- 02 9999 5748 www.yha.com.au/hostels/details.cfm?hostelid=31
Nila Chambers - Celebrant (marriages, funerals etc)

Discount for all offshore residents. 9999 2445
Handy Service

- "No job too small" - Call Alan 0447 775 541
Electrician Wayne

on Scotland Island 0418 229 277 - offshore community sparky - www.sparky.com.au
---
Island Classes (Fitness, Dance, Art etc)
Pilates, Meditation and Group Fitness with Patrice

- 0406 483 036 patrice.corrie@gmail.com
Anusara Yoga

- Thursdays - 0421762236 dominiquemarill@gmail.com or floydcbg@ozemail.com.au
Art with Max

- Watercolour classes. Phone Max on 9997 4527
Art Classes

- drawing and painting in oils, acrylics and mixed media- Marion 9979 3993 or 0431 457 431
@ Nathalie's Table - Cooking Classes

- Mediterranean cooking fortnightly - Nathalie - 9999 4449
Dru Yoga

- Tuesday evenings - Phone Katya on 0414 187 916
---
Groups
Gurdjieff / The Forth Way

- Call John on 9979 5584, Marion on 9979 3993 or Anne on 9999 3478
Island Kinesiology Clinic

- Mondays on SI Phone Jen Cudmore 0425 212 849
Green Group For Catherine Park

- Run by SIOCS - Emmie Collins on 0405 330 781
WOW - Women on Water

- second Wednesday of the month - contact Nila on 9999 2445
Parents & Kids Groups Playgroup

- Run by SIOCS - email Emma trysemz@tpg.com.au
Scotland Island Players

- contact Bob or Kez on 9999 4092
Catherine Park Bush Care Group

, 2nd Sunday @ 9.30am, Sharon Kinnison @ 9997 6017
Elizabeth Park Bush Care Group

, 1st Saturday @ 9 am, Bob Bolton @ 9999 4092
Island Thinking Group -
Roy Baker, 9999 6891, roybaker99@yahoo.com
Offshore a capella choir

– Saturdays at 2:30 pm, SI Community Hall. Call Gordon on 9997 2035.
---
Government Organisations
---
Airlines, Buses and Railways
---
Weather
Scotland Island Tides, Moon phases, Sun rise & set
Local Weather Forecast

Radar weather for Sydney (128k circle)
---
Emergency Contact Numbers
ALL EMERGENCIES (Police - Fire - Ambulance)
000
Police Assistance Line & Information
13 1444 or 9281 0000
Broken Bay Water Police
9910 7899 or 0412 162 093
Marine Rescue Broken Bay - Weekend

(

02) 9999 3554 - (02) 8411 1121



Marine Rescue Broken Bay - VHF Radio channel

VHF Radio Channel:

VHF 16


27MHz Radio Channel:

86 or 88



Scotland Island Rural Fire Brigade
9999 4404
NSW Fire Service General Information 9265 2999
9265 2999
Rural Fire Service General information
9450 3000
State Emergency Service, Warringah/Pittwater SES
9486 3399
National Parks & Wildlife Service: 000, general information
9457 9322
Dept of Community Services: general information
9977 6011
Sydney Water
132 090
Energy Australia
131 388, (ah) 131 909

---
Join SIRA
You can now join the Scotland Island Residents Association by
clicking here.
Please print the page and return the completed form to SIRA at this address:
The Treasurer, SIRA, PO Box 70, Church Point 2105.
Please NO CASH.

Contact SIRA at
sirapittwater@gmail.com
Join WPCA

To join the Western Pittwater Community Association, contact Michael Wiener at
m2wiener@bigpond.net.au
---
Archived Newsletters


A complete set of past electronic newsletters since May 2000 can be found and read at https://ymlp.com/archive_gesgjgm.php or by clicking here or by visiting the Mona Vale Library.

The Island website is at www.scotlandisland.org.au


---
To Contribute


If you would like to contribute to this newsletter it's easy!. Send an e-mail to the editor (editor@scotlandisland.org.au) or by clicking here. Type your contribution (100 words or so would be fine) and assuming it is of general interest to the community, does not include matter of a political nature and is not offensive, it will appear next month.

Subscription Information


To get on and off this newsletter,

click here

or got to:

http://www.scotlandisland.org.au/signup .


To change your address, click the 'modify' link at the bottom of this newsletter or send an email to the

editor@scotlandisland.org.au


---
Follow the PON
---
The Online Local Contacts Guide
Click HERE to load
The views expressed in this newsletter are not necessarily the views of the Scotland Island Residents Association (SIRA), or the Western Pittwater Community Association (WPCA)

---