Death, taxes, and whooping Miami. Glad to see all is back to normal in the world. Great win last week vs our old rival, and speaking of old matchups, get ready to the obligatory Super Bowl XXV references this week. Let's hope they keep the video replays to a minimum. Though I saw this jersey at the Pats game at the Ralph, and had to share: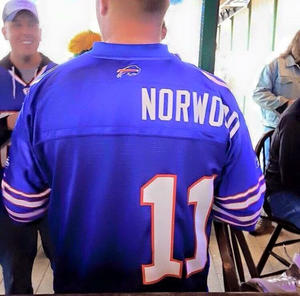 Onto the game:
Bills vs Giants
1pm Kickoff
Harp opens at 11am
SPECIAL THIS WEEK - Labatt Bills Jersey Giveaway!
Sammy Watkins may be inactive this week, but somebody is going home from the harp wearing his jersey:
Labatt will be back at the Harp this week, and they're stepping up with another Bills Jersey Giveaway! This week we'll be raffling off a SAMMY WATKINS JERSEY!!!
No purchase required, but Steve from Labatt will be handing out one raffle ticket to everyone in attendance. Thanks again to Labatt for stepping up with this awesome giveaway.
See the attached flyer with information on the ongoing raffle sales for the Eagles game package. Tickets will be on sale again this week! All proceeds go to our Charity Day donation.
We're sold out of small size ¾ length shirts, but we still have M-XXL sizes of the ¾ length t-shirt and all sizes available for the women's shirt.
Koozie Update:
All sold out! We can order more if there's demand. Tweet us (@BillsBackersBOS) or check our facebook wall for the discussion topic to let us know if you want them.
And not too look too far ahead, but get ready cause next week (10/11/15) is Mighty Taco Day!!
We'll be selling beef/cheese and bean/cheese burritos at the Harp. mmmm mighty.
Can't wait to see you all at the Harp on Sunday! GO BILLS!
-Bills Backers of Boston