Dear Plot Holders,
After two years of restrictions we are delighted to announce this year's AGM! We hope to see as many of you there as possible. Our theme is 'The future of our allotments'. We will be launching our specially commissioned report on the value of allotments (see below) and there will be a panel of Councillors and Council Officers who are responsible for allotments to give their insights and answer your questions.

We are keen to recruit new members so please consider joining the Committee to support and protect our allotments. For further information regarding nominations to the Committee, please see the end of this email.

Site Reps or plot holders: Please feel free to download and print this
What is the real value of allotments?
As plot holders we are all aware of how important allotments are not just in terms of producing locally grown food but also in terms of mental and physical wellbeing as well as the significant benefits to the wider environment. But a clear way of showing these benefits in value for money terms was lacking.

The BHAF Committee was also growing increasingly worried about a narrative from some areas of the Council which described allotments as a 'loss making service'. We were concerned that this narrative was slowly becoming accepted and that this might threaten allotments in these times of unprecedented cuts to public finances. 

We decided to commission a study to look at the wider benefits of allotments to the city and to try and put figures on the value of these benefits. 

The study was produced by two local experts in evaluation methodologies. It has established that even on conservative assumptions allotments make a significant contribution to the city's finances. Far from being a service which loses money allotments actually save the city £385,000 a year.

Needless to say we are very pleased with the conclusions of the report and would like it to be shared as far and wide as possible. The full report and an InfoGraphic can be downloaded from the links below.

The report will provide the main talking point of our AGM this year. We will have a panel of Councillors and Council Officers as well as the BHAF Committee to discuss the report and answer your questions on what it means for 'The Future of Allotments' in our City.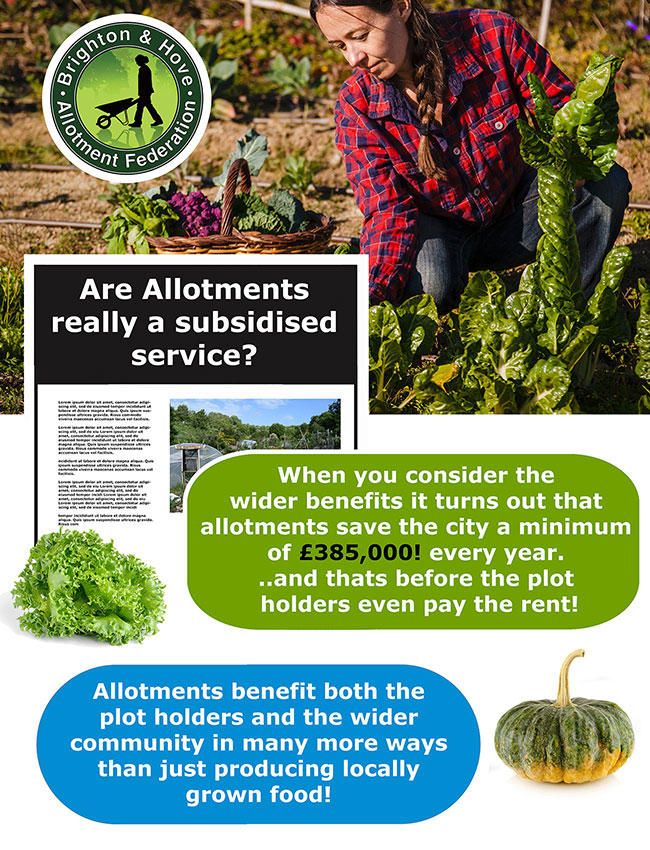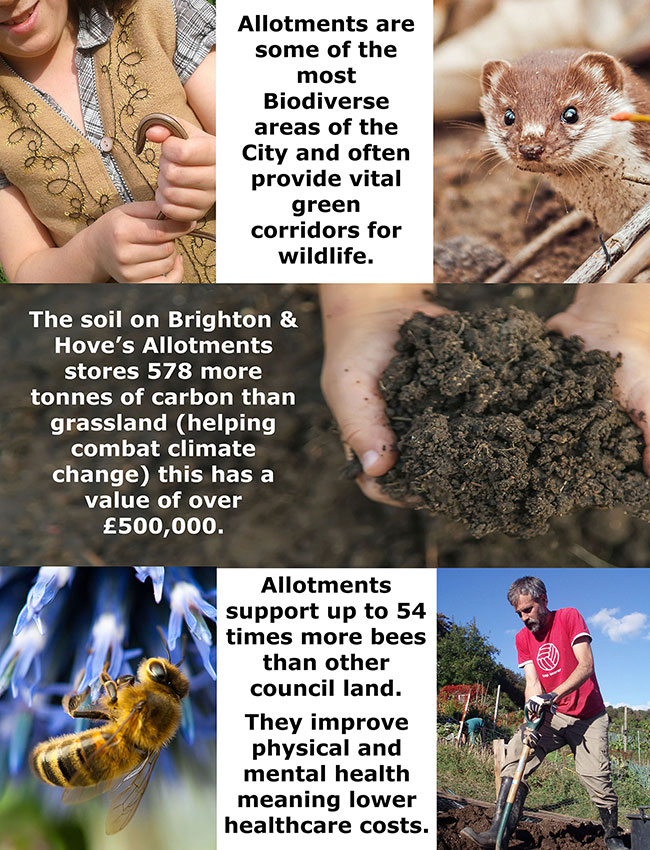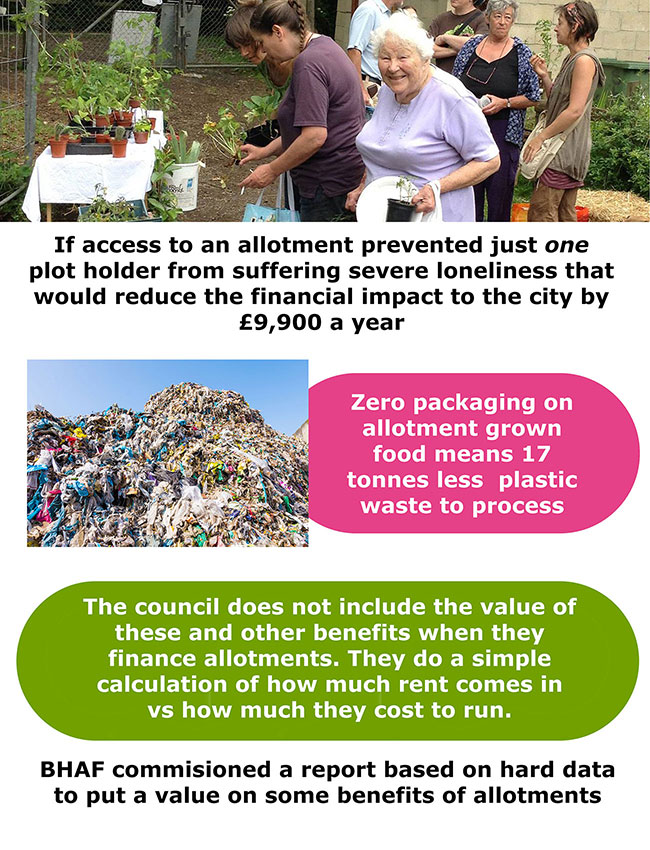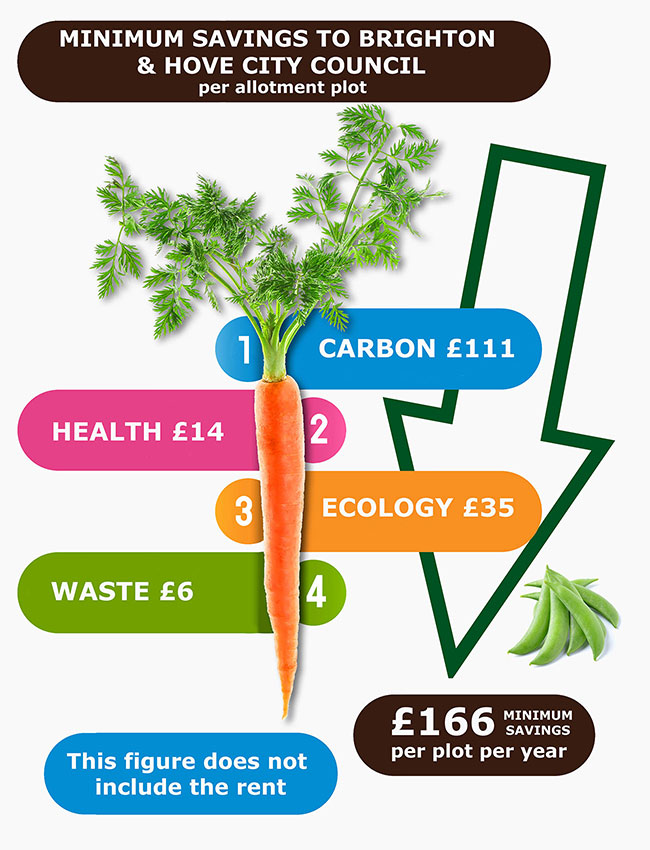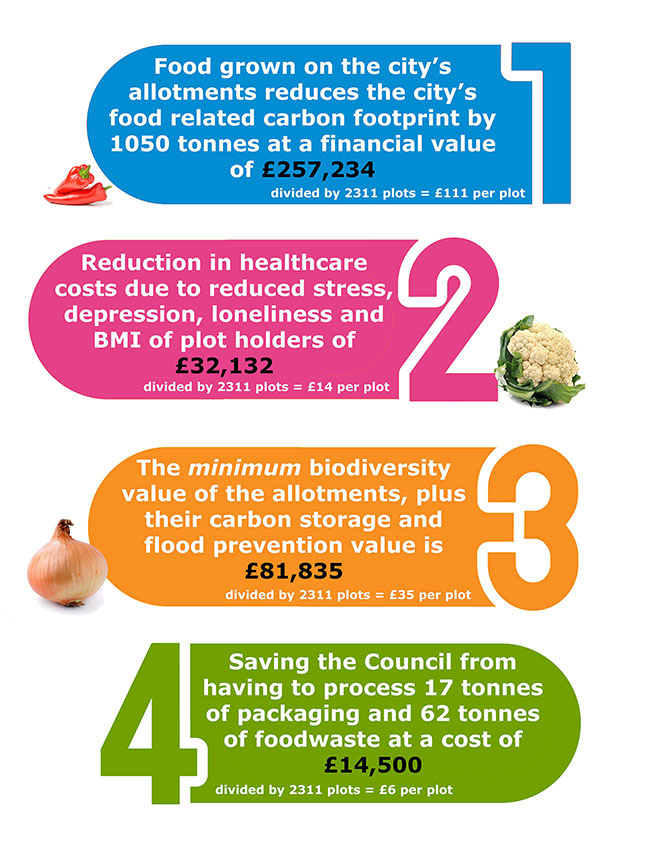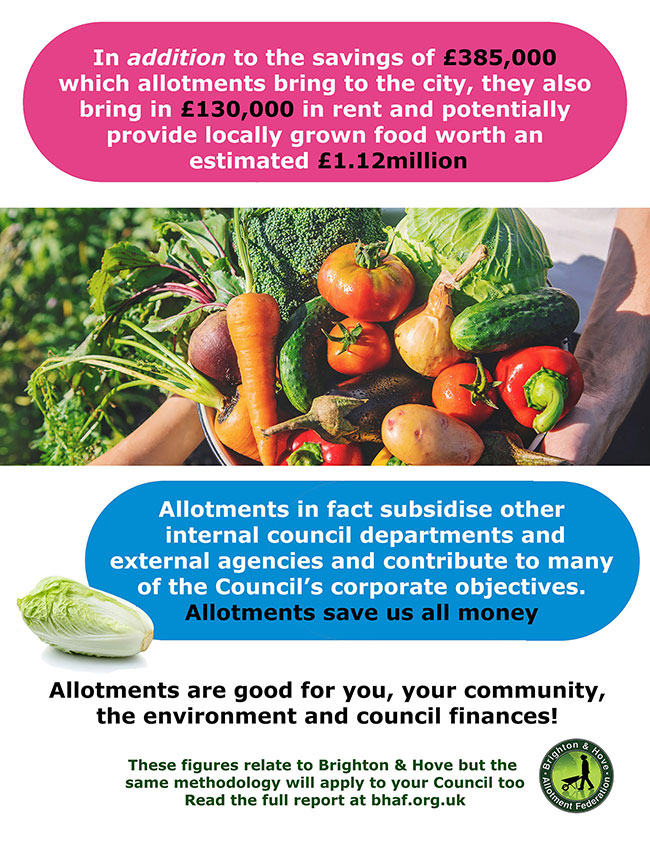 Join the BHAF Committee!  
Notice on BHAF Committee Elections/Re-elections
If you are considering joining the committee feel free to email us and we can arrange an informal chat over the phone to talk about it.

1. If you do wish to put yourself forward for election, please send the following information to bhaf.contact@gmail.com by Wednesday 23rd March
A. Your name and which site you are on
B. A short paragraph about yourself and the skills and interests you can offer
C. The names of a proposer and seconder
This information will be shared with BHAF members before the AGM, along with the bios of existing committee members who are standing for re-election.
2. The BHAF Committee is the voice of all plot holders in Brighton and Hove. It is funded from a levy on everyone's annual rent payments. BHAF works in partnership with the Council Allotment Service to deliver the Allotments Strategy, agreed with Brighton and Hove Council in 2014. It disburses development funds to sites, protects tenants' rights and works to ensure accountability to plot holders. It holds regular meetings and forums, manages a website and various forms of social media communications and provides advice and support on a wide range of issues. The committee also co-operates with other voluntary organisations and networks across the city on areas of mutual interest such as community outreach, food security and bio-diversity.
The committee meets several times a year, including BHAF forums (evenings only) on an as-needed basis. Committee members also communicate regularly through email. Members need to be able to commit to regular attendance. The committee operates a Code of Conduct which members must agree to before joining the committee. The Committee is GDPR compliant and new members will be briefed on these obligations.
All talents are very welcome. We would particularly appreciate new members with on-line
communication skills, interest in taking forward planned work on diversity and social inclusion and also members from smaller sites.