Hello CSA members,
This is just a reminder that today, Wednesday July 26th is a CSA share pick-up. Your share will be ready for you to pick up at your chosen pick-up location between 4-7 pm.  We are excited about this week's harvest.

We are looking forward to seeing you on the farm!
This week the "field" is going on display as farmers and ranchers from around the area gear up for the Boulder County Fair. Celebrating its 148
th
year in operation, the fair will be held July 28-August 6th at the Boulder County Fairgrounds in Longmont. It goes without saying that it is a blast for the whole family and a wonderful way to see country folk displaying their best in events like the tractor pull, rodeo, mutton bustin' (great for a laugh), livestock shows, and farm to table dinners. Check out
http://www.bouldercountyfair.org
to find event schedules, reserve tickets, buy a carnival wristband, and sign up for classes and demonstrations.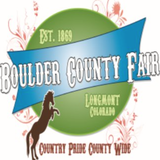 In fact, our very own Cooper, neighbor and this year's youngest summer-employed Cure farmer, will be there with 4-H showing his goats, steers, and rabbits (August 2nd and 4th). It isn't unusual for him to win Grand Prize either, you may even recall the prize winning goat meat and rabbit we had for sale in the store last year. Stay tuned for an update on Cooper's champion livestock! The competition isn't just for the animals either, if you look very carefully you may even spot one of our very own products on display, as Anne enters a crop or two into the "Open Class Crops" category each year. Maybe this year a giant beet or perfectly sweet carrot will add to our collection of ribbons. Who doesn't love a CSA share with some champion veggies?!! We hope to see you there, you can find us near the Dairy Bar slurping down one, or five, of those delicious Milkshakes, it does support local 4-H members for a good cause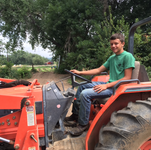 In other sweet news, it's sweet corn season which means you will be receiving some of that "can't-get-enough" Munson corn in your shares this week. The Munson's are a pillar of the Boulder farming community and have been growing delicious food here since the 1970's. We have a lot to be grateful for as the Munson's were founding members of the Boulder County Farmer's Market and have participated as a regular vendor, witnessing the changes over the years that have evolved it into the wonderful market it is today. Always supportive of local agriculture, the Munson's business is a family affair, with Marcy Munson and her sons, Mike and Chris at the helm, who have help from their children, to continue their rich family farming tradition. If the summer worth of sweet corn in your share isn't enough to satiate your appetite, stop across the street at their farm stand to fill-up on cases of corn!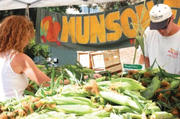 Pesto
1/4 cup raw pine nuts

2 cloves garlic

2 cups packed basil leaves

1/3 cup Parmesan cheese 

2 tablespoons olive oil

2 tablespoons lemon juice
Everything Else
1 tablespoon olive oil

3 cups potatoes, 1/4" slices

1/4 cup leeks

1-2 eggs

parmesan cheese for garnish
In a dry skillet, lightly toast pine nuts. Set aside and let cool slightly. In a food processor, pulse garlic. Add in basil, toasted pine nuts, parmesan cheese, olive oil, and lemon juice. Pulse until combined, adding more olive oil/lemon juice as needed.

In a sauce pan, bring water to a boil with a pinch of salt. Add sliced potatoes and cook until just tender but not overly soft, 3 to 5 minutes. Drain and set aside.

In an 8" or 10" skillet with a lid, heat olive oil over medium heat. Add in leeks and cook until softened, 3-4 minutes. Stir in sliced potatoes, reduce heat to medium low, and cook until browning, 6 to 8 minutes. Add in 1-4 -1/3 cup pesto, stirring until potatoes are covered.

Make well in the middle of cooked potatoes and crack desired amount of eggs, cover, and let cook until egg whites are set. Remove from heat, sprinkle with extra parmesan cheese, and serve.
Black Bean Tacos with Avocado-Sweet Corn Filling
Corn-Avocado Filling
1 cup cooked black beans (click link for yummy simple

recipe for spiced black beans

)

4 8" corn tortillas (store-bought or homemade)

Cotija cheese 

Hot Sauce, for topping
Carefully remove the kernels from the corn cob and place in a bowl. Save the corn cob for making stock if desired.

Cut the avocado in half, remove the pit, and scoop out the avocado onto a cutting board, cut side down. Dice the avocado into ¼" cubes and add to the bowl with sweet corn. 

Squeeze in the lime juice followed by the salt and cilantro. Toss until the corn and avocado are coated, set aside.

Heat the tortillas as desired. Assemble the tacos with a a few spoonfuls of the black beans followed by the avocado relish, cotija cheese, and a drizzle of hot sauce.
In your CSA share this week
Head Lettuce
Chard

Leeks

Sweet Corn
Zucchini or Yellow Summer Squash
Basil
Potatoes
Coming next week... sweet corn, carrots, head lettuce, kale, zucchini and more.
Fruit share - Peaches and Cherries
Flower share - Mixed bouqet
Egg share - pick up this week
Coffee share - pick up this week
Bread share -pick up this week
Wine & cheese - pick up this week
Detailed recipes are below
The perfect summer wine this week comes from Portland, Oregon. 
The Jezebel White Wine is a crisp, aromatic white wine with just a hint of sweetness. A blend of five white varietals, it includes 34% Gewürztraminer, 27% Riesling, 26% Pinot Gris, 10% Pinot Blanc and 3% Muscat. The Riesling, Gewürztraminer and Pinot Gris are co-fermented in a stainless steel tank and left on the lees for a gorgeous mouthfeel – and then the rest is added prior to bottling.
This juicy, white has wonderful floral, spicy aromatics and tropical fruit flavors. The Jezebel line is designed to drink right away – so open it up on a warm summer day or drink with spicy Asian food!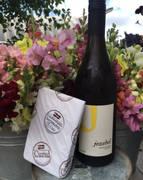 The cow's swiss cheese pairs perfecty with the summer wine. 
Güntensberg is the namesake cheese of the family behind the dairies of Bütschwil and Bodmen in the historic Toggenburg region of Northeast Switzerland. Third generation cheesemaker Reto Güntensperger makes this variation on Appenzeller using his own house made cultures & raw, whole milk.
Güntensberg's golden brown rind encases a densely creamy body that releases a bright lactic blast, warming into notes of buttered popcorn, cream & egg yolks. Enjoy as a snack with your vino or melt it into a fancy grilled cheese. 
Summer time = BBQ time!!!
As farmers it is imperative we know what is "in-season" it's how we keep the community fed well! According to expert opinion, BBQ is in season right now. Okay, sure it isn't being harvested from the field exactly, but now is the time to fire up the grill, grab a cold iced tea and make use of the backyard while summer is still here. The farm store is stocked full of pork and beef cuts perfect for making brats and burgers or for our more daring home cooks, steaks and ribs! Just save us a seat at the table, we love a backyard bbq!
(Farm store card members get 10% off purchase each time, including all meat cuts)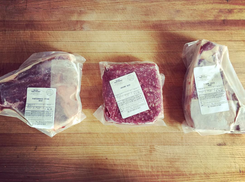 What you see depends on how you view the world. To most people this is just dirt. To a farmer it's potential. 
Doe Zantamata
2 cups all-purpose flour

1/2 cup cocoa powder

1 1/2 teaspoons baking soda

1 teaspoon salt

1/2 cup vegetable oil

1 1/2 cups sugar

2 teaspoons vanilla extract

2 cups shredded zucchini (1 large or 2 small zucchinis)

3-5 tablespoons water

1/2 cup chopped walnuts, optional
Frosting
3 tablespoons cocoa powder

1/4 cup butter, melted

2 cups powdered sugar

1/4 cup milk

1 tablespoon vanilla extract

Pinch of salt
Preheat oven to 350°F. Line a 9×13″ baking pan with foil and spray with cooking spray. Set aside.

In a medium bowl, whisk together flour, cocoa, baking soda, and salt. Set aside.

Using an electric mixer fitted with a paddle attachment, mix together the oil, sugar, and vanilla until well combined. Add the dry ingredients and stir. Fold in the zucchini. Let the mixture sit for a few minutes so the batter can absorb the moisture from the zucchini. 

Then, if your mixture is still very powdery, add up to 5 tablespoons water (start with 1 tablespoon and work up from there, stirring well after each addition -- thinner batter mean less gooey, more cakey brownies). The batter will be very thick but shouldn't be powdery. 

Spread in prepared pan.

Bake 25-30 minutes until the brownies spring back when gently touched.

To make the frosting: Whisk butter, cocoa, salt, and powdered sugar. Whisk in milk and vanilla. Spread over cooled brownies. Cut into squares and chill to semi-set. The frosting hardens slightly on the top but stays wet and gooey underneath.



Cure Organic Farm

7416 Valmont Rd.
Boulder, CO 80301
cureorganicfarm@yahoo.com
www.cureorganicfarm.com