DAN E-NEWSLETTER | NOV 2011
With the end of exam marking and report writing almost in sight, most of you will be looking towards a well earned holiday.  I did however, want to send a final e-newsletter for the year, with details of DAN's 2012 PD Workshops, along with some resource ideas to help with your planning for next year.  
Warm Yuletide thoughts from the DAN Team!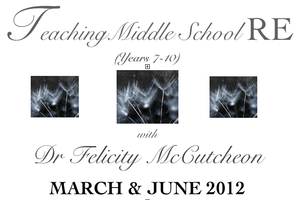 Overcoming the credibility gap is one of the biggest challenges facing Religious Education teachers today. Many of our students tend to be suspicious of religion, and think religious concepts, language and the claims made in religious texts are irrelevant to their lives. If we are to help our students encounter the deep truths that lie within religious traditions and texts, we need to meet these challenges head-on.
This full day workshop will explore ways of making religious concepts accessible and meaningful to students. It will model units of work that are academically rigorous and existentially relevant to the deep concerns of our students, and provide opportunities for participants to develop units of work together.
This is an important workshop for teachers, Chaplains and of particular relevance to those looking to develop interesting and rigorous RE programs for students in 
years 7-10
.
PRESENTER:
Dr Felicity McCutcheon 
is currently Head of Philosophy and Religious Studies at Melbourne Grammar School. She has a First Class degree in Religious Studies from London University and a PhD in Philosophy from University of New South Wales.  She has lectured in Philosophy at the major Sydney universities, spent a year in Oxford as a Visiting Fellow and is a published author.  Her love of teaching led Felicity into school education in 1997 where she has worked to develop a more rigorous approach to philosophy, ethics, religion and values education.  Felicity has been a keynote speaker at various national conferences, worked for 2 years across Australasia as a Religious and Values Education consultant, and for 5 years was course coordinator for the Charles Sturt Graduate Certificate in Religious and Values Education.
Monday 26 March – MELBOURNE (Melbourne Grammar School, 47 Domain Rd, Melbourne)
Tuesday 27 March – ADELAIDE (Lutheran Schools Association, 137 Archer St, North Adelaide)
Wednesday 28 March – SYDNEY (Newington College, 200 Stanmore Rd, Stanmore)
Friday 30 March – BRISBANE (St Francis College, 233 Milton Rd, Milton)
Tuesday 26 June – TASMANIA (St Michael's Collegiate, Sandy Bay)
Wednesday 27 June – CANBERRA (Canberra Grammar School, Monaro Crescent, Red Hill)
Friday 29 June – PERTH (St Mary's Anglican Girls School, Elliot Rd, Karrinyup)
TERM 1, 2013 – Possible workshops in New Zealand
(please contact the 
DAN EO
 if you are interested in attending an NZ workshop)
$140/person (incl GST) or $120/person 
 (for DAN Members and if 2 or more teachers from the same school attend)
Cost includes Workshop, Teaching Materials, Morning Tea & Lunch
November JOURNAL & 2012 RENEWALS
The 26th issue of Dialogue Australasia journal 

has been posted with 

2012 Renewal Invoices.  
If you did not receive your copy/invoice, please contact the DAN EO.
 

Transcendence and some Poems

 by Kevin Hart

What are they saying about the Pentateuch?

 by Gregory Jenks

Teaching Nietzsche, Dionysian Artist

 by Robert Miller

The Island Game - An Introduction to Judaism for Yrs

5-7

 

by Brian Poxon 

 

Two Letters – Three Generations – One Truth?

 by Nikolai Blaskow

 

Meaningful Teaching and the Restoration of Wonder

 by Felicity McCutcheon

Art as a Stimulus for Dialogue

 by Emmanuel Skoutas

 

God and Evolution

 by Brendan Sweetman

 

The Silence under the Sound

 by John Foulcher




 

 
1 MARCH 2012

 - CHANGE OF PASSWORD FOR DAN ONLINE TEACHING RESOURCES
 

Member

passwords

t

o access teaching resources on the DAN website

will change

on 1 March 2012. New passwords will be advised when your 2012 membership is renewed.  If you do not know your password, or encounter any difficulties accessing resources, please contact the DAN EO. 
Please note
:  There is no member section on the DAN website. However, when you try to access certain documents (most of which are filed under RESOURCES), you will be prompted for a password.
**

NEWLY POSTED
TEACHING RESOURCES ON DAN WEBSITE - November 2011 **

Many schools have recently ordered the fantastic, classroom ready resources from EthicsOnline, specifically designed to assist teachers in delivering dynamic lessons on contemporary key ethical issues.
A new series of films exploring the ethical, legal and religious dimensions of the abortion debate with accompanying teacher's notes was released in August 2011.
As with all the EthicsOnline films (Environmental Ethics, Sexual Ethics, War & Peace),            Australasian payment options and postage are available exclusively through DAN.
 

 

 

NEW

: ABORTION 

- $110

includes 

delivery

(3 Films, Teacher's Notes, Classroom Activities & Full Scripts)




1. Abortion: Ancient & Modern 1 - 

In ancient times the dangers of abortion for women were compared with the dangers of war for men and little changed for thousands of years. This film, explores legal and ethical attitudes to abortion through the ages, highlighting key ideas such as Animation, Ensoulment, Quickening and The Born Alive rule. 

(18 mins)
2.
Abortion: Ancient & Modern 2

While advances in medical technology have given us a window on the world of the womb as never before they also raise critical questions about personhood, viability, selective abortion and embryology. 
(15 mins) 

3. Abortion: Ancient & Modern 3

The abortion debate is nowhere more hotly disputed than within the Christian religion and this film explores attitudes to abortion from the Early Church to the modern day, highlighting key concepts such as the Sanctity of Life, Delayed Ensoulment and The Principle of Double Effect. 
(19 mins)
 

 

 

RESOURCES & WEBPAGES to check out...
Sense of Awe Project:  science, faith and wonder (Nov 2011)




A joint project between ABC National Radio, Religion & Ethics & Encounter, this website includes a transcript of the Sense of Awe Programme with luminaries such as John Lennox (Oxford mathematician and one who does public battle with the new atheists).




 
The Project's website also includes a Blog (with provocative awe-inspiring posts) and articles and interviews about all matters science, faith and wonder.
 

A new 

database

of useful websites for Secondary RE with accompanying activities for the classroom is a helpfull resource from the team at RE Today.
 

Arguing about God:  definitions, arguments, faith & science 

is a new multimedia resource for teaching secondary RS (linked to the UK GCSE curriculum, but widely useful).




The disc contains resources for 4 lessons covering:

 
•
Classical arguments for the existence of God
•
Contemporary version of the design argument from cosmic fine-tuning
•
Counter arguments used by atheists
The CD is produced by UK Focus and contributors include:
Revd Professor John Polkinghorne KBE FRS,

 former Professor of Mathematical Physics at the University of Cambridge

Revd Dr. David Wilkinson,

 Principal of St. John's College, University of Durham

Revd Dr. Rodney Holder,

 Course Director at the Faraday Institute, Cambridge
DOWNLOAD the free accompanying
Study Guide
.  For more information and to
ORDER...
| | | |
| --- | --- | --- |
| |   | If you are not familiar with the excellent FARADAYSCHOOLS website - then do yourself a favour and spend some time exploring it over the holidays.  The site is designed to support teachers working with students in Years 7-12 who are considering a range of relationships between science & religion. |
The site contains year group specific resources, videos, activities and 'quick reads' to bring you up to speed with latest developments in the science-religion debate.  
The Big Bang theory (both for a Science and for an RE classroom)

Evolution (both for a Science and for an RE classroom)

The Nature of Evidence

Miracles

Darwin, Galileo and whether scientists can believe in a Creator
| | | |
| --- | --- | --- |
| |   | Campfire Film Foundation is an innovative Australian foundation that provides schools access to an online library of high quality short films (and accompanying teacher's notes) that help introduce difficult topics and spark discussions about meaningful issues.  Curriculum themes include Aboriginal Perspectives, Media, Religion and Society.  Learn more... |
Holiday Reading perhaps....? 

 

Not for Profit by Martha Nussbaum (2010).  

In this short and powerful book, distinguished philosopher Martha Nussbaum offers a deeply meaningful vision of education.  She argues we must resist efforts to reduce education to a tool of the gross national product, but rather work to reconnect education to the humanities in order to give students the capacity to be true democratic citizens of their countries and the world.

 

 
Contact the DAN Executive Officer
T|  08 9367 8903
A|  34 Douglas Ave  SOUTH PERTH WA 6151