AMPS Newsletter March 2014
Welcome to the AMPS Newsletter
Slightly delayed to congratulate the 'inevitable' UK winners at the Oscars, but here we are again with a melting pot of AMPS news, tales and information.
The UK Excel at the Oscars!
Gravity took the awards for Best Sound Editing and Best Sound Mixing at the 86th Academy Awards. Congratulations to the teams in both categories - Glenn Freemantle, Skip Lievsay, Niv Adiri, Christopher Benstead and Chris Munro (AMPS).
AMPS members Chris Munro, Oliver Tarney and Chris Burdon were also nominated for their work on 'Captain Phillips'. A great year for the UK and AMPS!
Pictured above - some of the British Oscar nominees and nominees from UK films for 2014. This year, the UK earned 26 nominations across 18 categories.
Who's doing what, where and more interestingly… how?
Man of the industry Dennis Weinreich contributes this month and recalls his brush with Spooks (not the TV series) that occured 20 years ago at his post facility Videosonics.
"A few days later our facility was burgled - nothing of value was taken - but our very elaborate alarm system had been neutralised and every single Betacam and U-Matic tape had been disturbed."
We really, really want to hear the stories of how you overcame your problems on set or in the studio. Please email them to
newsletter@amps.net
Proposal that AMPS & JAMES tie the knot!
| | | |
| --- | --- | --- |
| In September 2013, AMPS held an open discussion day entitled 'The Future of AMPS'. One of the many topics discussed was that AMPS would like to become more involved with education and training and specifically in accreditation of courses teaching sound for film and broadcast. |   | |
It was proposed and approved in Council, that AMPS consider becoming involved with JAMES (Joint Audio Media Educational Support) -
www.jamesonline.org.uk
, the accreditation body established by the APRS (Association of Professional Recording Services) and MPG (Music Producers Guild).
The 2014 AMPS Annual General Meeting was held on 16 February at the National Film and Television School in Beaconsfield. Once again, a good selection of Membership turned out to digest the association's progress and evolution throughout the year alongside a number of Sustaining Members who displayed their products and were on-hand for technical discussion.

 

 
An Evening with Eddy Joseph & Graham Hartstone
Back on 29 January at the Dolby theatre in Soho, AMPS held 'An Evening with…' industry luminaries Eddy Joseph and Graham Hartstone.
AMPS Flies the Flag for Sound at BVE 2014
 

Peter Hodges tackled 'stand duty' on behalf of AMPS at BVE 2014 at ExCel London.

 

He commented, "Several AMPS members manned the stand at BVE which we shared with BKSTS and IPS to promote ourselves to the film making community. It gave us the opportunity to meet old friends and make some new ones. The show was fairly well attended but we would have liked to have seen more stands from the world of sound. Thanks to all the AMPS members to were able to help with the stand.

 

 
AMPS Continuing Support for BECTU History Project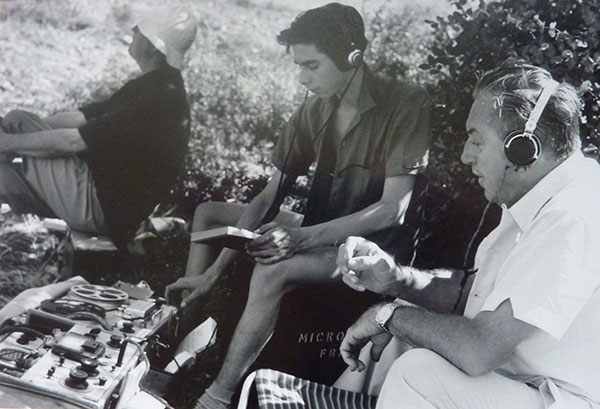 The BECTU History Project is a collection of oral history recordings made with practitioners in the film, television, radio and theatre worlds. By August 2008 there were nearly 600 interviews varying in length from 30 minutes to over 20 hours. In total there are over 4000 hours of material. Until recently overtaken by an American archive, it was the largest of its kind in the world.
AMPS shows its support by providing the transcriptions of recordings drawn from practitioners in the Film Sound category. To date, transcriptions of AMPS members, past and present have been contributed to the project whose archive is held by the BFI National Archive at their Berkhamsted facility - production mixer and first AMPS Fellow Bob Allen, production mixer Peter Handford, sound editor Jim Shields, re-recording mixers Gerry Humphreys, Graham Hartstone and Tony Anscombe. Further additions will be made in the coming months.
www.bectu.org.uk/advice-resources/history-project
Did you know that the Directory pages on the AMPS website are some of the most frequently visited?

 

Make sure that your profile is up to date - you never know where your next work enquiry will come from!

 

 
The AMPS cable clinic is up and running for a second time. Twelve sound professionals are learning essential cable making and soldering skills under the supervision of Jim McBride, who recently worked with Chris Munro on the BAFTA award winning 'Gravity'.

The four one day sessions will see the participants work with numerous cables and
connectors including XLRs, Hirose, Lemo, TA5 and TA3s. Once again the location has been provided by The National Film and Television School in Beaconsfield.

Starting on Saturday 22 February, the course runs until 15 March (every Saturday). We're hoping to run the clinic again in the future; we'll keep you informed.
Can we help with your Professional Development?
We're keen to hear from you with ideas for seminars and training sessions which would contribute towards Continuing Professional Development.
We're very aware that keeping up with techniques and updates can be a full time job in itself, so if there's any way that AMPS can contribute towards maintaining and developing your industry knowledge and skills, please get in touch.
Andy Nelson takes Career Achievement Award at CAS Awards
| | | |
| --- | --- | --- |
| |   | Held in the Millennium Biltmore Hotel's famed Crystal Ballroom, the Cinema Audio Society 50th Annual Awards celebrated the professional contributions of Re-recording Mixer Andy Nelson by honoring him with the CAS Career Achievement Award. A two-time CAS and Academy Award® winner for Les Misérables and Saving Private Ryan, Nelson was feted by Academy Award® winning composer John Williams.  "Receiving this award from the CAS is such an honour because it's from my peers…" said Nelson, "… people who love this craft as much as I do, and I am humbled by their generosity and commitment to excellence." |
Lucasfilm to open ILM outpost in London - good news!
Industrial Light and Magic, the visual effects division of Star Wars producer Lucasfilm, is to open a facility in London to work on the effects for the upcoming next instalment in the series.
AMPS Fellow Chris Roberts comments, "This is potentially great news for the UK post sound industry; if VFX is carried out here then it is more likely that the post sound will be done in the UK. Directors, producers and post supervisors like to keep things close together!"
Unfortunately, over the last few months we've lost two of our good friends and AMPS members, Lionel Selwyn and Derek Holding. Respectively, Peter Musgrave and Eddy Joseph have written a few words as they remember them.
Pinewood Theatre 7 Screenings

… and finally, on the first Tuesday of every month

Make sure that you attend the AMPS Social at the De Lane Lea bar in Dean Street - be social with your AMPS members! Next event Tuesday 4 March.
AMPS, 28 Knox Street, London, W1H 1FS
www.amps.net / +44 (0)20 7723 6727