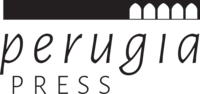 PUBLISHING NEW WOMEN POETS SINCE 1997
* Submissions open through November 15! *
The 2022 Perugia Press Prize contest 
for a first or second full-length book by a woman-identifying poet is open for submissions until 11/15/21.
Publication of the winning manuscript comes with
$1,000, author copies, and other support from the press.
* Through a Red Place book launch *
 TONIGHT, November 4 - 7:00-8:30pm EDT
This event will be held live on Zoom. It's free to attend,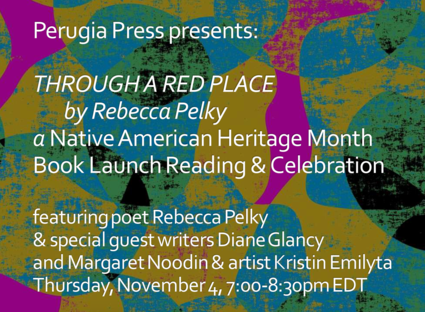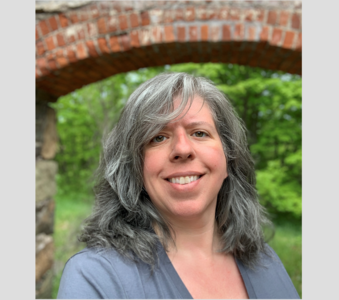 REBECCA PELKY is a member of the Brothertown Indian Nation of Wisconsin and a native of Michigan's Upper Peninsula. Her first poetry collection was 
Horizon of the Dog Woman 
(Saint Julian Press, 2020). Her second collection, 
Through a Red Place 
(Perugia Press, 2021), won the Perugia Press Prize. Pelky's co-authored hiking guide to Michigan's Upper Peninsula was published by FalconGuides in 2021. She holds a PhD from the University of Missouri, an MFA from Northern Michigan University, and is an Assistant Professor of Film Studies at Clarkson University in Upstate New York. Read more about 
Through a Red Place 
on 
Pelky's Perugia Press page
.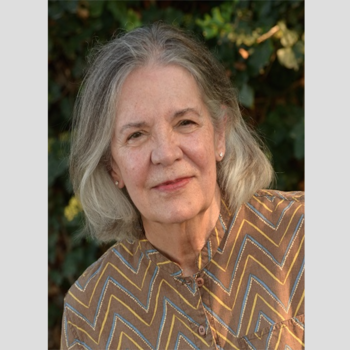 DIANE GLANCY is professor emerita at Macalester College in St. Paul, Minnesota. Currently she teaches in the low-residency MFA program at Carlow University in Pittsburgh. She also teaches Experimental Prose and Poetry at Pittsburgh Theological Seminary. Her latest books are 
Island of the Innocent, a Consideration of the Book of Job, 
Turtle Point Press, 2020, and 
A Line of Driftwood, the Ada Blackjack Story, 
2021, also Turtle Point. Forthcoming in 2022 is 
Home Is the Road, Driving the Wilderness, Shaping the Spirit, 
Broadleaf Books, Fortress Press. She has received a Minnesota Book Award, an American Book Award, and the 2014 Lifetime Achievement Award from the Wordcraft Circle of Native Writers. She is member #1255 on the First Families of the Cherokee Nation. For more, visit 
Glancy's website
.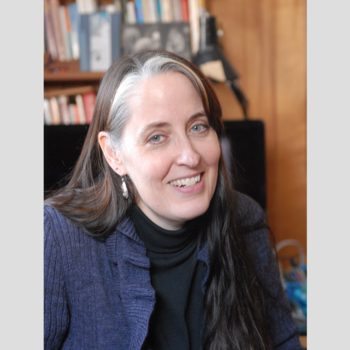 MARGARET NOODIN received an MFA in Creative Writing and a PhD in English and Linguistics from the University of Minnesota. She is Professor of English and American Indian studies at the University of Wisconsin–Milwaukee, where she also serves as the Associate Dean of the Humanities and Director of the Electa Quinney Institute for American Indian Education. She is the author of 
Bawaajimo: A Dialect of Dreams in Anishinaabe Language and Literature, Weweni 
and 
What the Chickadee Knows 
(Wayne State University Press) which are both bilingual collections of poetry in Anishinaabemowin and English. For more, visit 
ojibwe.net
.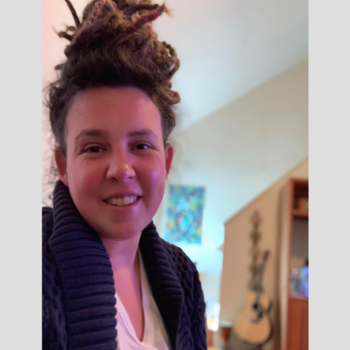 KRISTIN EMILYTA is a self-taught acrylic artist from Norwich CT. Her great-great-grandfather was the famed Mohegan Chief Matahga aka Burrill Fielding (1862-1952). Her grandmother was beloved Mohegan Elder Margaret LaVigne (1930-2010). Her mother, Laura LaVigne, spent her career working for the Mohegan Cultural & Community Programs Department. Kristin has been painting professionally for six years and shares her gift with her Mohegan community and the general public by teaching art classes. In 2019, her work was featured in an exhibition at the Mohegan Cultural Preservation Center. Most recently her work was on display at the Wadsworth Atheneum Museum Of Art in Hartford. Check out more of 
Emilyta's work on Etsy
.
Another way to celebrate is by donating to our nonprofit press. Please consider a $25 donation as an anniversary gift to support us as we move into our next decade. You can safely make 
Are you a Florence Bank customer? 
Florence Bank is donating $100,000 again this year to local non-profit organizations in their Annual Customers' Choice Community Grants Program, and account holders decide who gets the money! Please consider voting for Perugia Press this year. It takes just a moment to vote, and any nonprofit that gets at least 50 votes gets a share.
PO Box 60364, Florence, MA  01062