PALESTINE'S AFRICAN COMMUNITY

The very first female Palestinian political prisoner was Fatima Barnawi, a Palestinian of Nigerian descent, who served 10 years in Israeli prisons and was released in 1977. Over the years there has been an active participation of the African-Palestinian community in the Palestinian struggle for liberation. An African-Palestinian community member based in Jerusalem, Mahmoud Jiddah, has stated: "We face a two-fold oppression by the Israeli occupation: first because we are Palestinian; and second because we are black". Click here to learn more of the plight of African-Palestinians under Israeli Apartheid.
AFRO-PALESTINE GRAFFITI AT WITS UNIVERSITY

A stunning graffiti titled "Afro-Palestinian Solidarity" was recently painted by Project Hoopoe at Wits University in Johannesburg. Click here for a larger photo.
1000 BLACK ARTISTS, ACTIVISTS & OTHERS PLEDGE SUPPORT FOR BDS

Over 1000 USA-based Black activists, artists, scholars, students and organizations published a statement late last year in Ebony Magazine affirming their solidarity with the Palestinian struggle and commitment to the BDS boycott against Israel. 
The list of signatories include Angela Davis and Cornel West, Mumia Abu-Jamal, Sundiata Acoli, rappers Talib Kweli, Boots Riley and Jasiri X as well as Black Lives Matter co-founder Patrisse Cullors. Forty organizations signed, including the Florida-based Dream Defenders, St. Louis-based Hands Up United and the 35-year-old Organization for Black Struggle in St. Louis. Click here for more info.
AFRICA DAY: INTERNATIONAL SOLIDARITY OVER THE YEARS

As we celebrate and mark Africa Day we are reminded of the long standing and consistent solidarity offered (and sacrifice made) by our African people and countries against colonialism and apartheid - on the African continent and beyond.
In 2013 Palestine was invited to join the AU with observer status, while Israel has repeatedly failed in its attempts to join the African Union with many state boycotting Israel since 1973.

In 2014, the African Union condemned: "The continued [Israeli] occupation of Palestinian lands and the Judaization campaign aimed at changing all Islamic and Christian features of the Holy City". The AU also subsequently called on member states to boycott
 Israeli settlement
goods and products.
ISRAELI RACISM AGAINST AFRICANS ON THE INCREASE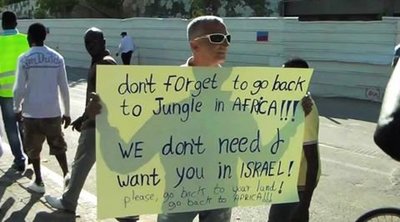 Beyond racism by Israeli citizens against Africans, there is also an increase in racism by state officials against Africans.
In 2012, Israel's former Deputy Prime Minister, Eli Yishai (in)famously lamented that African asylum-seekers didn't understand that "this country belongs to us, to the white man," and in August of that year he said: "until I can deport them I'll lock them up to make their lives miserable."
Israeli member of parliament, Miri Regev, has labelled African migrants "a cancer in the body". A later poll found 52% of Israelis agreeing with Regev's comparison of Africans and a cancer.
In 2013 Israel admitted to having injected African women with birth control shots (without their consent), effectively amounting to forced sterilization. 


JOIN BDS SOUTH AFRICA'S
EMAIL MAILING LIST
To join BDS South Africa's email mailing list (& receive these newsletters) send a blank email message to alerts@bdssouthafrica.com
DONATE TO BDS SOUTH AFRICA
BANK: First National Bank
NAME: BDS South Africa
NUMBER: 62273997943
BRANCH NAME: Rosebank
BRANCH CODE: 253305
SWIFT CODE: FIRNZAJJ 

BDS SA, is a registered Public Benefit Organisation (PBO) with Section 18A tax-deductible status. This means that any donations made to us can be used to apply for tax exemptions. Kindly send copy of proof of payment to finance@bdssouthafrica.com for receipt.