---
Scotland Island Road Closure - Update



Council will return next Thursday, weather permitting, to continue maintenance works on Richard Road, between Cargo and Bell. Half the road is currently closed off due to unstable surface.



THIS SECTION OF ROAD WILL BE CLOSED THURSDAY, FEBRUARY 16 TO CARRY OUT THIS WORK.



Please be supportive of Council's road crew as they are doing their best to complete these maintenance works. It is not a permanent solution and any queries or frustrations you may have about our roads and drainage should be directed to Senior Council staff. The crew would appreciate some positive feedback for the work they are carrying out under the current maintenance budget.



---
Island Vegetation Collection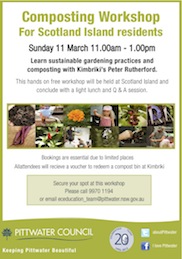 MONDAY, FEBRUARY 20



Please put your material out as described below, in attached brochure and the Pittwater Offshore Directory



BY SUNDAY, FEBRUARY 19



A maximum of 2 cubic metres of vegetation for each household
Leaf litter, grass clippings and prunings TO BE PLACED IN HARD SIDED CONTAINERS
Branches to be no longer than 1.2m and BUNDLED AND TIED TOGETHER WITH TWINE
No plastic, hessian or nylon bags
No cardboard, foam or polystyrene boxes
No soil or untied bundles
Any material not complying with collection guidelines will be left on the road side for residents to arrange private collection.
click the image to load the flyer
---
Scotland Island Players




A `Shop' on the Island ?



Scotland Island Players are meeting on Friday 24th February, 8 pm, at Liz Brand`s, 10 Florence Terrace to read a play, and maybe send it on it's way to production later in the year.

The story involves a group of women, who decide to re-furbish a derelict house on the Island, for a commercial enterprise. Some others are not too happy about such, and have other plans. The women have grown up here, all gone to Pittwater High, had romances, husbands, etc., and now want to do something different with their lives. The plot tangles, and untangles, mysterious relics appear, and everyone has a lot of fun.

If you are interested and would like to be involved, come along. If you need directions, or can join us later in the process, then call Bob, on 0414 994 092, or 9999 4092 in the evenings or weekends, or Kez ( & the answering machine) on 9999 40902



---
International Women's Day Breakfast




THURSDAY 8th March 2012



Hosted by the OFFSHORE GRAMEEN GROUP
ELVINA BAY FIRE SHED - 7:30 AM
$20 includes full breakfast & lucky door prize

The talk will be given by Nila Chambers. The subject is Microfinance...... Empowering women to escape poverty through small business loans.


Gill Croft
PO Box 181
CHURCH POINT, NSW 2105
hellocroftlovettbay@bigpond.com
99994232
0405 085 686 686

Amber Ellis
PO Box 201
CHURCH POINT, NSW 2105 amberellis@bigpond.com
9997 3078
0457 277 222


Bookings essential for catering purposes.



---
Countdown to Clean Up Australia Day 2012
Clean Up Australia Day - Sunday 4 March 2012
Click Image to go to the Clean Up Australia Web Site
---
Anusara Yoga Classes




Yoga has been Dominique's passion for 22 years


Her classes offer: -

fun
lightness of spirit
and precision …. which will bring a sense of aliveness, calm & centeredness
Classes are suitable for all levels/ages and those dealing with physical pain/challenges can be offered effective poses for healing and relief.

For 10 weeks: Every Thursday 2nd Feb to 5th April

$23 casual per class (mats, blankets etc provided)
$20 per class if 5 or more prepaid 7.00 pm to 8.30 pm

In the Community Hall on Scotland Island

Need more information?
Come along to a class or contact:
Dominique Marill on 0421 762236



---
For Sale




Two Person Ocean Going Kayak


Including paddles and clip in seats.
$900 ONO
Phone: Nila 99992445


---
Polycraft
4.1m Polycraft Challenger "Open Boat" - $4,200

Very stable and safe commuter/fishing boat.
Complete set-up for low maintenance, low cost commuting.
25hp Tohatsu motor
White
Automatic/manual bilge pump operation
Lights
Life Jackets
Stern and bow anchors with ample chain
Very effective, well constructed 'engine protector'
Security cable and line
Registered to November 2012
Fuel tank and 10 litre spare fuel container
Currently moored next to Cargo wharf – in one of the best protected positions around the Island

Phone: 9979 9376 or 0403 193 511



---
Follow the PON
---



Missed out on a Newsletter?




Go to the archives to download previous notices



A complete set of past electronic newsletters since May 2000 can be found and read at https://ymlp.com/archive_gesgjgm.php


---
The Online Local Contact Guide

Click HERE to load
The views expressed in this newsletter are not necessarily the views of the Scotland Island Residents Association (SIRA), or the Western Pittwater Community Association (WPCA)
---