PRESS STATEMENT: S.Africa's ruling party affirms support for boycott of Israeli-linked companies and solidarity with Palestinian struggle for "liberation"
11 October 2015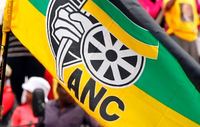 South Africa's ruling party, the ANC, has concluded its National General Council (NGC) and adopted strong recommendations on Palestine solidarity, including a strengthening of previous resolutions on the isolation of Israel and Israeli-linked companies.
BDS South Africa as well as the Palestinian political party Fatah had made certain inputs in the build up to the NGC (
click here for Fateh message of support to the ANC
). We are glad that these inputs were discussed and that the final NGC recommendations included many of the inputs by BDS South Africa, Fatah and the larger BDS and Palestinian solidarity movement.

Most notably the ANC's NGC recommended that:
"The ANC pursue peace and democracy in the Middle East, including the liberation of the people of Palestine. In this regard, we must continually review South Africa's relations with the State of Israel…[and] encourage disengagement on programmes and activities that may impact on our solidarity with the people of Palestine. Travel to Israel will be discouraged, and we shall make a concerted effort to conscientise our young people, leaders and public representatives, unless it [the trip] promotes solidarity and assists in resolving the conflict."
In recent months the Israeli lobby in South Africa has attempted to initiate propaganda and boycott-busting programmes and activities including various fully-funded business, media and so called "fact-finding" trips to Israel.

The human rights and Palestine solidarity organisation BDS South Africa welcomes this important NGC recommendation to disengage from such activities that impact and hamper our long-standing solidarity with the Palestinian people. The recent so-called fact-finding trips are nothing more than propaganda exercises by the Israeli government and lobby trying to counter the growing isolation and boycott of Israel.

The ANC also resolved:
"[T]o support the isolation of the UN List of businesses that operate in the [Israeli] occupied territories in Palestine."
This again is a concrete extension of a previous ANC NEC resolution that listed G4S Security, Caterpillar and Cape Gate as companies to be excluded from South African Government contracts and tenders due to their involvement in Israel (
click here
). The UN list of businenesses to be boycotted include: The Dexia Group; Ahava; the Volvo Group; the Riwal Holding Group; Elbit Systems; Hewlett Packard; Mehadrin ; Motorola; Assa Abloy; and Cemex. These 13 companies were listed by the United Nations Special Rapporteur on Human Rights as some of the entities to be boycotted due to their involvement in the illegal Israeli settlement enterprise.
A boycott and discouraging of relations with Israel and Israeli-linked companies should, must and will lead to an increase of jobs and local economic activity. A boycott of G4S Security (that runs Israeli prisons) will open opportunities for local black-owned security companies. Israeli software firms contracted by some South African companies can be replaced with local youth owned South African IT companies. A boycott of Caterpillar (that is complicit in the illegal Israeli house demolitions and settlement industry) can open opportunities for Bell Equipment, a local South African manufacturer of heavy duty construction vehicles.

Finally, BDS South Africa would like to acknowledge the strong support for the boycott of Israel and BDS movement expressed by Ministers, Deputy Ministers and Government officials who were at the ANC NGC in their capacity as NEC members. BDS South Africa also acknowledges the overwhelming support for the boycott of Apartheid Israel from the rank and file of ANC members during the ANC NGC and in particular the ANC NGC International Relations Commission.
As the Palestine solidarity movement, we look forward to the speedy implementation of these ANC policies into South African Government practice.

ISSUED BY KWARA KEKANA ON BEHALF OF BDS SOUTH AFRICA
BOYCOTT, DIVESTMENT AND SANCTIONS AGAINST ISRAEL IN SOUTH AFRICA (BDS SOUTH AFRICA)
11 Floor | 23 Jorisson Street | Braamfontein Centre | Braamfontein | Johannesburg
PO Box 2318 | Houghton | 2041 | Johannesburg
T: +27 (0) 11 403 2097 | M: +27 (0) 74 054 3826 | F: +27 (0) 86 650 4836
BDS South Africa is a registered Non-Profit Organization. NPO NUMBER: 084 306 NPO
BDS South Africa is a registered Public Benefit Organisation with Section 18A status. PBO NUMBER: 930 037 446