---
---
A celebration of the life of

Michael Edols
Sunday 29th from 2:15 at
Café Racer Co

1 Park St, Mona Vale NSW 2103


Dear All, We have a private funeral on Friday 13th and will be raising a glass and sharing our stories of Michael's wonderful life on 29th July.

Celebrate the wonderful life of Michael at the Cafe Racer  Mona Vale on Sunday 29th from 2:15.

Guest are asked to make a contribution of $20.00 at the door, and that after the first glass of wine they can buy drinks at the bar.

Please indicate if you are coming. Marion on her facebook page.

if you are interested in Michael's extraordinary production works, then head over to his website  http://www.edols.com.au



---
Safe Winter Fireplace Practices
West Pittwater Rural Fire Brigade


There have been several fire incidents in the Bays over the last few months concerning house and property fires as a result of smoldering ashes/embers that were cleaned out of the fireplace and taken to the back part of the house hours before the fire started.

Ashes can contain embers that are hot enough to ignite combustibles

days even weeks

after having a fire and ignite other trash you throw out with them.

Do not bury the fire with the dirt, but move the dirt/sand through the embers. A buried fire can smoulder, and then re-ignite. A buried fire with sand/dirt, can retain heat at 100 degrees, eight hours after being covered with sand

Smoldering embers have burned through plastic buckets igniting numerous house fires. Also, carrying an open container through the home has also caused hot embers/sparks to leap out of the bucket and ignite inside the home.

Garbage cans, garbage trucks, garages, homes and grass fires are just some of the situations in which hot embers have ignited and caused massive damage. Here are some tips for dealing with hot ashes/embers:

Ashes/embers can stay hot for days after a fire.
When disposing of ashes outside, dont dump them on a combustible surface.
Use water to wet the ashes/embers to make sure they are completely out.
Only use an approved metal ash bucket. It should have a tight fitting metal lid and a double-bottom.
Don't dump ashes outside on a windy day. The wind can whip up what may have seemed cool embers, making them fiery hot and sending them traveling to ignite nearby combustibles.
Never burn garbage, wrapping paper, plastic, cardboard or anything not specifically approved for use in a fireplace. These items can lead to a chimney fire, can cause large embers to exit the flue igniting nearby combustibles and the ashes/embers can be unpredictable.
NEVER dump ashes into a plastic container, cardboard box, bag, or place anything where combustible fluids of fumes are present.
Do not bury embers or any fire with dirt, but move the dirt/sand through the embers.   A buried fire can smoulder, and then re-ignite.  A buried fire with sand/dirt, can retain heat at 100 degrees, eight hours after being covered with sand.
Enjoy your fireplace or woodstove but always dispose of the ashes wisely.


Andrew Cutler - Captain
West Pittwater Rural Fire Brigade


For more information contact:
West Pittwater Rural Fire Brigade 
02 9997 3795‬




---
HOW I MET MY MOTHER
"A Fascinating Tale of Secrets and Lies"
by Lovett Bay resident Brenda Gottsche
From Friday 20 July to Saturday 4 August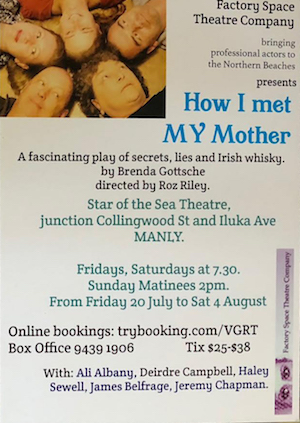 "You had a funeral for your mother 20 years ago. Then you accidentally discover that she didn't die but took off for an "extended vacation" in Ireland. You're angry at your father for "killing her off" but excited to find this long lost mother you've been dreaming of! The woman you do find has a different name, is an eccentric artist with an Irish accent and an additional husband. Now you think maybe the fake funeral was a good idea after all!"



WHERE:


The Star of the Sea Theatre- located at Stella Maris College, 52 Eurobin Avenue Manly



WHEN:


Friday, Saturdays at 7.30
Sunday Matinees 2pm



HOW:


Online bookings trybooking.com/VGRT
Booking office 9439 1906


---
SIRA

NEWS
SCOTLAND ISLAND WATER AND WASTEWATER COMMERCIAL FEASIBILITY STUDY 2018
Northern Beaches Council has received State Government funding through the Stronger Communities Fund to conduct an independent investigation into the commercial feasibility of the supply of water and wastewater services to Scotland Island. This project will be delivered through a transparent and participative process, including establishing a project working group made up of residents and stakeholder representatives of Scotland Island.

The working group for the commercial feasibility study has been selected. Thank you to all those who nominated. The working group selection process is detailed in a document in the Document Library at yoursay.northernbeaches.nsw.gov.au/scotlandislandwater. The selection was carried out by Council officers not involved with the management of the project.

Our working group members are:

Colin Haskell (SIRA - also accommodation provider)
Peter Heffernan (SIPCO - a private consortium that have their own water supply)
Jenny Cullen (Environment)
John Cave (Accommodation provider)
Cameron Nicol (Business operated from the island)
Graeme Crayford (Rural Fire Service)
Cass Gye (Resident)
Fabienne d'Hautefeuille (Resident)
Steve Yorke (Resident - also Rural Fire Service)
Steve Blackwood (Resident - also Business operated from the island)
Residents are encouraged to speak to the members above to discuss aspects of the project relevant to the community. More technical questions or comments about this project should be directed to Ruby Ardren, Northern Beaches Council

after Wednesday, 15th August

- Phone 9970 1311 or email ruby.ardren@northernbeaches.nsw.gov.au.

The working group met for the first time on 1st July, 2018. The meeting was very productive and members agreed to the project scope to be included in tender documents. A record of the meeting is contained in the Document Library.

Due to commercial risks associated with the tender process, the scope for the study cannot be released until the tender is publicly exhibited in a few weeks. When the tender is released, the scope will be added to the " Your Say" project website, which contains further information about the project.

Adrian Turnbull
Manager Coast & Catchments
 t 02 9942 2911    m 0409 455 935

adrian.turnbull@northernbeaches.nsw.gov.au



---
House Wanted Short Term
Retired couple seek furnished house in the Bays or Scotland Island for August-September.



At least 2 bedrooms, ideally sunny waterfront with jetty (we have a tinny).

Excellent references.

Cash or exchange for waterfront flat in Nice, France.

Contact Chris 0432 978981 / christine.wild@me.com



---
Item for Sale

COFFEE TABLE - $50

Beautiful wooden coffee table with glass top. Length 150cm, depth 60cm, height 40cm.

Available near Bells.

Sharon 0410 439 052






---
---
---
A complete set of past electronic newsletters since May 2000 can be found and read at https://ymlp.com/archive_gesgjgm.php  or by clicking here or by visiting the Mona Vale Library.

The Island website is at www.scotlandisland.org.au



---
To Contribute
If you would like to contribute to this newsletter it's easy!. Send an e-mail to the editor (editor@scotlandisland.org.au) or by clicking here. Type your contribution (100 words or so would be fine) and assuming it is of general interest to the community, does not include matter of a political nature and is not offensive, it will appear next month.
Subscription Information
To get on and off this newsletter,

click here

or got to:

http://www.scotlandisland.org.au/signup .


To change your address, click the 'modify' link at the bottom of this newsletter or send an email to the

editor@scotlandisland.org.au


---
Follow the PON
---
The Online Local Contacts Guide
Click HERE to load
---
T

he

Editor

and the publisher disclaim responsibility for any injury to persons or property resulting from any ideas, articles or products referred to in this publication. Further, t
he views expressed in this newsletter are not necessarily the views of the Scotland Island Residents Association (SIRA), or the Western Pittwater Community Association (WPCA)
---
---