Advertise in this newsletter and reach thousands!

List your property or activity!
Add your Event to our Calendar
From your "Colorado's Best Deals" Email Announcements subscription.
With spring on the horizon locals and visitors are enjoying warm weather skiing with the constant reminder that winter isn't over yet. Most days it is warm enough to bike, hike, or fish in the valley while the high mountains and local ski resorts still have enough snow for great skiing, snowboarding, and snowmobiling. Just another reason to love late winter and early spring in Fourteener Country!
Here are a few of the things coming up in March.

Chaffee County is home to many talented luthiers, and these expert makers of stringed instruments will be on hand to share their knowledge, love, and instruments. Bring an instrument to sell or trade. Custom and vintage; acoustic and electric – all styles of stringed instruments will be represented and welcomed.
The Expos is FREE from noon-5pm. Several evening performances are sure to leave you itching to go home and pick up your guitar.
Date: March 1, 2015
Time: Evening performances 5:30-8:30pm. $12
Location: Salida Steamplant Theater
Leadville Skijoring & the Crystal Carnival

This annual event is a unique tribute to the rich and colorful history of Leadville, CO. Started in 1949, downtown Leadville is transformed into a winter carnival with Skijoring as the main event. Combining the skills of horse riding and skiing, skiers are pulled at high speed over a series of jumps while attempting to hook as many rings on their arm as possible.
Harrison Avenue closes at 4am on March 6th to prepare the ski joring course.  Skijoring for kids starts at 10:30am on Saturday, March 7th with equine skijoring in the afternoon.  Sunday starts at 10:00am with Broomball on Harrison Avenue and equine skijoring will continue in the afternoon.
Expect cold weather and a fired up crowd. This is an event not to be missed!
Date: March 7-8
Location: Downtown Leadville 

The Leadville Winter Fatbike Race Series gets more popular each year and with every event. The Mineral Belt Trail is a popular training ground for fatbikes, and the MBT is host to this month's race. Starting and ending on Harrison Ave during Leadville's Skijoring and Crystal Carnival, the course follow the MTB for 11 miles of fatbike fun.
Date: March 8
Register/Check In 4pm at Cycles of Life, 309 Harrison Ave.
Walden concert to feature Dallas Symphony musicians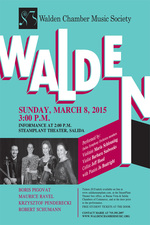 The Walden Chamber Music Society welcomes three Dallas Symphony Orchestra musicians: Maria Schleuning, violin; Barbara Sudweeks, Associate Principal viola; and for the first time Jeff Hood, 'cello, who will perform with pianist Jo Boatright.

The concert opens with the Western United States premiere of the lyrical "Sonata for viola and piano" (2012) by Israeli composer Boris Pigovat. The second piece is the virtuosic, gypsy­-flavored "Tzigane, Rhapsodie de Concert" (1924) by French composer Maurice Ravel. The second part of the concert opens with the « String Trio » (1990­1991) by Polish composer Krzysztof Penderecki, and concludes with the deeply romantic "Piano Quartet in E flat Major, Op. 47" by Robert Schumann. Prior to the 3:00pm concert, Ms. Boatright will conduct a thirty-­minute performance at 2:00 pm, during which she will explain and give a short musical demonstration of the music to be performed.
Tickets are $15/adult available online at
waldenchambermusic.org
, or at the SteamPlant Theater box office, the Salida and Buena Vista Chambers of Commerce, or at the door prior to the concert. Limited free students, tickets are also available at the door.
Date: March 8
Time: 3pm
Location: Salida SteamPlant Theater
Celebrate St. Patrick's Day with the Salida Circus
The Salida Circus is Colorado's most unique circus troupe! They might be a small crew, but they're big on fun. This evening of circus acts, music, and storytelling will be fun for the whole family. All proceeds from the evening, including an auction, will benefit the Belfast Circus 30th anniversary trip to Salida this July. 
Location: Salida Community Center
Whitewater Winter Music Series presents The Congress
The Congress is equal parts rock & roll, old-school soul music, and outlaw country. Their brand of Rock & Roll is neither nostalgic nor progressive. It occupies the space between vintage sounds and the hyperbolic cynicism of our post-modern world. $10 suggested donation at the door to benefit the Buena Vista Whitewater Park!
Date: March 28
Time: 8pm-11pm
Location: Eddyline Restaurant at South Main.

Check out our Facebook page for the latest special offers, amazing pictures, and upcoming event information.