Having trouble reading this newsletter? Visit https://www.ymlp.com/pubarchive.php?sira
---
Farewell Richard and Michele



A small get-together was had last weekend to say farewell to Richard and Michelle Blundstone.
Many would know Michele from her cooking days in Michele & Nathalie's Kitchen classes on the island, and Richard with his involvement in local sailing.

We wish them all the best in their new venture down south.




---
Women's Health Talk
Wednesday 22 September at 9.30am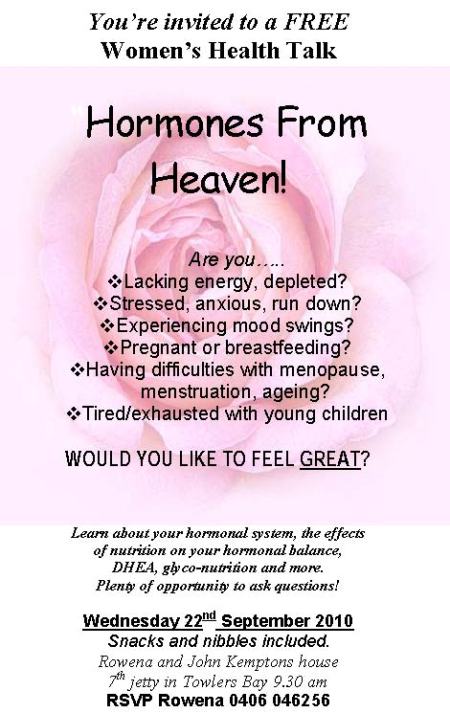 ---
Containers Ready for Collection




Scotland Island Kindy



The kindy has lots of plastic containers for collection belonging to those who donated cakes to the cake stall on festival weekend.

Please come and collect your containers from the Kindy Office Tues, Wed or Thursday before 5.30pm.



---




COMMUNITY SURVEY RESULTS RELEASED



Pittwater Council has released the findings of its first ever Pittwater-wide customer satisfaction survey.

The survey was conducted during July through a telephone interview with 400 residents. The 400 residents were randomly selected and represented the current demographic of Pittwater based on the 2006 Census.

The results of the survey, by the Micromex Research Group, showed that residents were 'moderately' or 'highly' satisfied with the Council's performance in 29 our of 33 service areas.

The 400 participants were asked to rate their satisfaction with Council services ranging from the quality of development in Pittwater, the standard of roads and domestic waste collections through to the level of support for local businesses, community involvement in decision-making and environmental initiatives.

The main findings of the survey were:

• 65% of residents were satisfied with the Council's overall performance;
• 10% were dissatisfied, mainly with services linked to development and roads
• 96% of residents felt a sense of belonging in Pittwater
• 92% felt safe in their community
• 71% of residents felt the Council was ethical, open and transparent in its dealings
• 99% of residents regularly recycle waste
• 63% of residents feel that Pittwater's land use reflects their wishes.

When asked what they believe were the major issues confronting Pittwater in the next five years, 62% of residents nominated development, 14% a lack of facilities, 12% the state of local roads and 8% traffic.

Mayor Harvey Rose said that the survey overall provided very positive feedback on Council's performance while pinpointing areas which needed improving.

"The survey is part of an ongoing process to enable the Council to improve performance and services."

General Manager Mark Ferguson said the results were generally pleasing for the Council, but that further work was required on those services that residents were not satisfied with. "For example, maintaining local roads, availability of car parking in village centres and community involvement in decision making," he said.
"Where there are gaps in our service delivery improvements can be made."

Mr Ferguson said a series of community workshops with survey respondents would be held in October to identify how to respond to the findings on service gaps.

To view the full results of the customer satisfaction survey visit www.pittwater.nsw.gov.au/consultation

Media contact: Jane Mulroney, Pittwater Council Ph: 9970 1108


---
Free




Cedar Windows


Set of 2 cedar windows for free to be given away.
They are in good nick with sliding glass, about 1.5mts square.
Contact Rowena Kempton on 0406 046 256



---

---
The Local Guide - Community Information
Click HERE to load
---