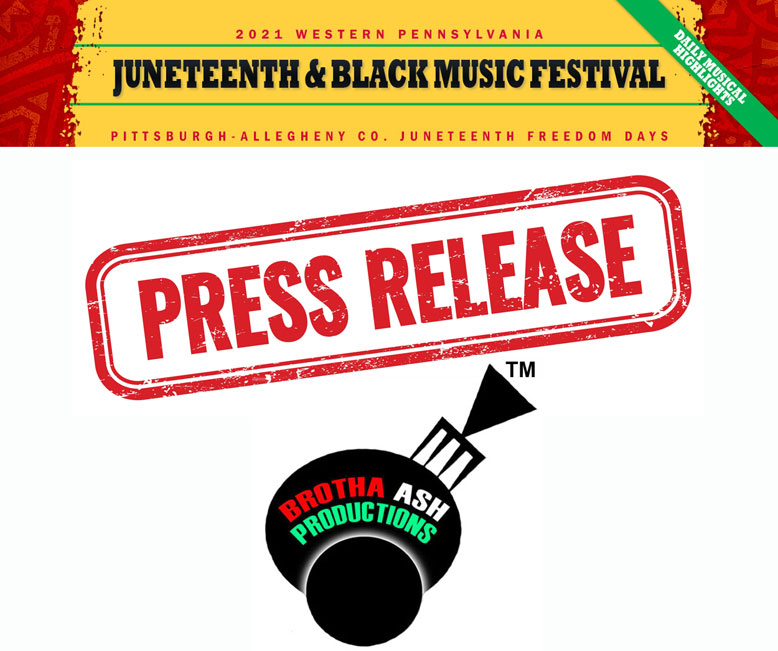 BROTHA ASH PRODUCTIONS MEDIA IS PROUD TO BE AN OFFICIAL MEDIA SPONSOR FOR THE WPA JUNETEENTH BLACK MUSIC FESTIVAL. THANK YOU B. MARSHALL PRODUCTIONS FOR HAVING MY COMPANY BE A PART OF HISTORY AND A GREAT CELEBRATION OF OUR PEOPLE!
This year Juneteenth became a Federal holiday in America.
We were honored to host the 2021 WPA Juneteenth Freedom Days, June 18 thru June 20 at Point State Park. We were also honored to host the 2021 WPA Juneteenth Youth Fest, June 18 thru June 20 at Mellon Park.
We are also honored to host Pittsburgh's Black Music Fest from June 24 thru June 27 at Point State Park.
And on Saturday June 26th, starting at 11am, we will host the Juneteenth-Jubilee Voting Rights Parade through Downtown Pittsburgh on to Point State Park ending with a Voting Rights Forum and the R&B Day Celebration at the Point.
None of these activities would be possible with out the many Supporters, Sponsors and Partners who made these events a really. Please salute the groups who made these Programs happen.

2021 WPA YOUTH FEST
Organizers: Stop the Violence Pittsburgh, SAVE A LIFE TODAY, I Love Life, Pittsburgh NFL Flag Football, Pittsburgh Yellow Jackets, Pittsburgh Parks Conservatory, Work Hard Inc and Grandma & Grandpa Carnival
Partners: American Eagle Outfitters Foundation, Pittsburgh Steelers, The Ellis School, CMU, Pittsburgh Penguins, Chatham University, The Hillman Foundation, Dick's Sporting Goods, Pittsburgh Pirates, First National Bank and Councilwoman Erika Strassburger

2021 WPA JUNETEENTH FREEDOM DAYS
Organizer: Stop the Violence Pittsburgh
Partners: The Heinz Endowments, UPMC, The Meadows Casino, Gateway Health, Solevo Wellness, PA Lottery, Afro American Music Institute, Highmark/AHN, The POISE Foundation, Macedonia Baptist Church-Pittsburgh, PNC Bank, Black McDonald Owners/Operators, Visit PITTSBURGH, The Pittsburgh Foundation, KeyBank, Target, Port Authority, Pittsburgh Ballet Theatre, The Hertz Group and A For The People Insurance Inc.

2021 JUNETEENTH MINORITY VENDOR PLAZA
Organizer: Stop the Violence Pittsburgh
Partners: Dollar Bank, URA and Bridgeway Capital

2021 JUNETEENTH-JUBILEE PARADE
Organizer: Stop the Violence Pittsburgh
Partners: Pittsburgh Steelers, UPMC, Pittsburgh Pirates, Pittsburgh Penguins, AAA East Central. Riverview Auto Group and Gateway Health

COVID VACCINATION PARTNERS: UPMC, Gateway Health and Highmark/AHN

PITTSBURGH BLACK MUSIC FEST
Organizer: Stop the Violence Pittsburgh
Partners: The Heinz Endowments, RIVERS Casino, Gateway Health

2021 WPA JUNETEENTH & BLACK MUSIC FEST MEDIA SPONSORS
PG, WZUM, The New Pittsburgh Courier, The Soul Pitt, Brotha Ash Productions