Forget about S-curves,
'sailing by the lee'
and block to block.
During the last 5 weeks with four (4) back to back clinics, we realized that some sailors are so preoccupied with sailing "correctly" that they forget about the most important factor in racing, which is sailing fast.
In some cases we had to even change our vocabulary to make sure the message is clear.
* We no longer use the term S-curves or Snake when talking about downwind speed techniques. Instead, the term you will here when coming to train with us is: Connecting. Connect from one wave to another by making up-turns and down-turns. Some sailors see the 'S' of the S-carving, as a symmetric symbol, thus thinking that if they sailed 10 meters to the left, now it is time to turn and sail 10 meters to the right.
Surfing down waves is the most important ingredient of downwind speed. Once planning, stay on that wave as long as you can, and alter course the shortest distance possible to connect to the next wave. Downwind speed is all about connecting as many waves as possible, using the gap between waves to alter course and find the next best wave to surf.
In flat water downwind, especially in light winds when surfing is not possible, connect puff to puff.
Downwind sailing on a Laser is time to be active and pass other boats. If you need to rest do it upwind, when boat speed is usually quite similar in the different result layers.
* In a class about downwind surfing a sailor asked: How do I know that I am really sailing by the lee? My answer was : Why do you need to know?
Sailing by the lee is not an objective, it is what can happen during a down-turn when heading up to the wind leech-first and not luff- first. All one should care about is keeping the Laser flat and in the direction of the wave for maximum speed and surf. The sail should offer maximum power forward. If that happens to be by sailing-by-the lee, so be it.
* Block to block upwind is also a not a goal but just a
reference
point.
As instructors in beginner classes we find ourselves having to remind sailors to sail block to block to help them find the true close-hauled course.
When racing, it is very rare to see a top sailor sailing block to block an entire section of the upwind leg. To be efficient upwind one needs to adjust the sail to fit the changing boat speed when facing chop or swell, and to adjust to a new bearing dictated by boats to leeward or windward.
Sheeting in and out is a constant action when racing upwind. To know how much to sheet in/out, and how often, brings one back to the secret PPP formula , (Practice, Practice, Practice).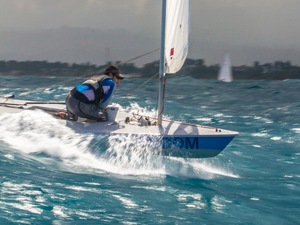 In the picture above, Olympian Raul Aguayo DOM,

demonstrates

that the surfing stance on a Laser is no different than on a surf board. It is all about weight distribution while on the feet, steering by changing the angle of the surfboard (oops I meant- Laser) in the water.
---
13th Caribbean Laser Midwinter Regatta, Cabarete, January 15-18, 2015.
60% of the participants were scored DNF after making a mistake in the course of the first race.
Does this qualify this regatta for
Guinness
World Record for most DNF when sailing conditions were perfect? When
disappointed
sailors who followed sailor/race organizer Ari Barshi DOM,
why he did not know the course his answer was: "I wrote the SI, but did not have a chance to read it yet".
Shifty winds, blowing 4-8 knots, and only one discard in 10 races added extra
suspense
. Winners in the Radial fleet are:
1st. Peter Seidenberg USA, followed by Henk Wittenberg NED, and Jim Johnston USA. Guillermo Flaquer DOM who later qualified the DR to the Pan-Am games, at the Miami OCR was first in the Standard class, followed by Ari Barshi DOM, and Mike Matan USA. Mika Teshirogi JPN, was first lady. See more on the event
photo album
.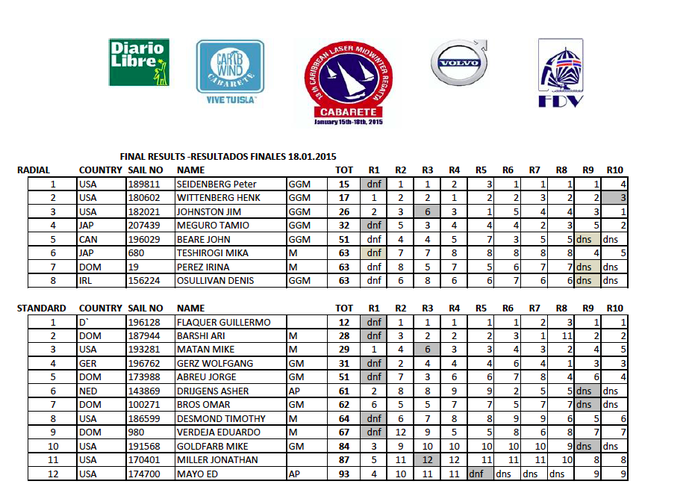 ---
Valuable additional information: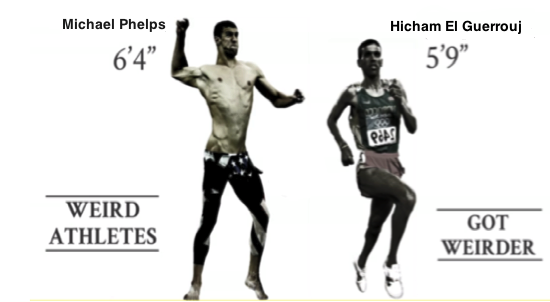 What should a Laser Freak look like?

In his TED Talk called "
Are Athletes Really Getting Faster, Better, Stronger
? investigative reporter David Epstein, claims that many world records being broken in various sports are related to the development of new technologies, and the fact that athletes with supernatural abilities whom he refers to as "Freaks", are now selected to perform in a sport that suits their body type. Laser sailors who feel they don't have the perfect body type for the boat may be encouraged by the final conclusion though.
Watch the the 15'
video here
.
Coach dependency.
A coach has to "criticize" the sailor on the points that hold back the sailor from reaching their goals. A good coach does that while implementing confidence in the athlete to allow them to make the right decisions in a race. For more on coach/
athlete
relations read
Athletics weekly
.
More from our clinics.
This newsletter is written by Ari Barshi and coach Judith Krimski. For more on race tactics and things we learn while coaching read Judith's blog
Center of Effort
.
---
Master Worlds confrence. April 13-18. (discounts for the stars)
Feel like practicing, having marks set up, starts to be given, but don't want to sit in a class and watch videos before or after sailing? Than this conference is for you.
Come with your Laser buddies create your own schedule, just like you guys do back home. At 2:00PM every day we will set marks and give starts for five short races. Fees: Laser charter and course setting $590.00.
If you finished in the top 3 spots in 5 recent Master worlds deduct 50% off these fees. If you finished in the top 10 spots in 5 recent Master worlds deduct 30% off these fees. This is expected to be to be a major tune up for the Masters worlds in July.
For more information on all our clinics for February and March got to our calendar.