Heading home.
Departure day is always hard…. we're excited about going home to see family and friends, but saddened to leave behind our other family and friends here in Afghanistan. Very little is scheduled for departure day so it's a good chance to share stories and reminisce a bit about the all-too brief time on the ground.
This was an unusual week in that the Loya Jirga, previously scheduled for the week before, caused us to completely revise our schedule and reprioritize our activities. We had to play the entire week by ear adjusting to ever-changing road closures and security concerns, eagerly waiting to see what God had in store for us next, and capitalize on every opportunity as it came our way. It turned out to be an epic week of project development and deep relational growth.
This morning we had a short briefing after breakfast then finished packing for the trip home. We then sorted and prepared a couple dozen Christmas gift bags we'd brought from Colorado to give to the staff here in Kabul.
Then we shared our last lunch together before Team Flatulence headed to the airport for the long flights back to Denver. Yep... I've held off as long as I could, but that's the official nickname for this team… one they earned not long after arriving at the guest house. And they wore that title like a badge of honor. I don't know if it was all the lamb kebobs, hard boiled eggs, or what… but they truly elevated crop dusting to new heights, taking it from frat boy recreation to a highly stylized art form.
I'm actually staying on in Kabul for a couple days of meetings so, like the rest of the team, my feelings are bitter-sweet… I hate watching my team leave for home without me, but happy that I won't be cooped up in the same airtight aircraft cabin with them for the next 36 hours. Seriously... I'm delighted that I get to spend two more days with my Afghan family and I'm excited to see the kids in school tomorrow.
So as I write this the team is in the air on their way to Dubai and will arrive back in Denver just before noon on Monday. I'll write you as soon as I have word that they're on Colorado soil. I will arrive in Denver around noon on Wednesday and will let you know when I touch down, too.
I know I sound like a broken record when I say "Thank You" for your prayers, good thoughts, and words of encouragement while we were/are over here.
--Bob
PS. Michael and Domi, we missed you this week. Hopefully you can join us next time!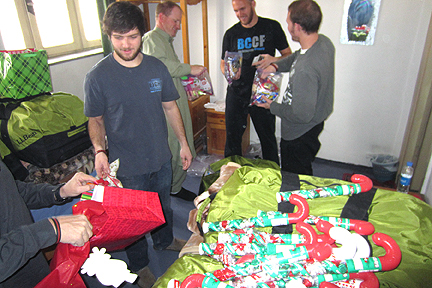 Preparing some Christmas gifts for our Afghan family.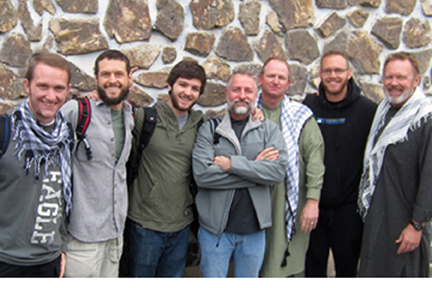 Jim, Brad, Jake, Dan, Zeke, David, and Bob ready to head for home.