INVITATION
OPENING OCTOBER 18 at 18:00

CLIMATE AS ARTIFACT
KLIMAAT ALS MENSENWERK

January 2006 artists collective Satellietgroep kicked off with the question To whom belongs the sea?
Since then, 12 years of pioneering and preparing for an unforeseen and challenging future has led us to the next question Who is nature? We have tested & experimented with ongoing artistic fieldwork, involving experts and audiences, to develop new insights and pose different questions.
With many thanks to Dirk Sijmons and Valentijn Byvanck for assisting us to find an untrodden pathway, our
partners Nest, Border Sessions, We Are Public,
Centre for Global Heritage and Environment & CLUE+ Research Centre VU
, TU Delft & all involved in the pre-program since January 2018, and with gratitude for the support by
Mondriaan Fonds, Stimuleringsfonds Creatieve Industrie, BankGiro Loterij Fonds, Feest aan Zee & Gemeente Den Haag.
Satellietgroep is very proud to
warmly invite you to the exhibition / program / festival / collective / this work in progress:
CLIMATE AS ARTIFACT - KLIMAAT ALS MENSENWERK
18.10 - 18.11.2018

With Berndnaut Smilde, Sachi Miyachi, Nishiko, Esther Kokmeijer, Maurice Bogaert, Aliki van der Kruijs, Jos Klarenbeek, Maurice Meewisse, Lotte Geeven, Theun Karelse, Thijs Ebbe Fokkens, Giuseppe Licari, Onkruidenier, Josje Hattink, Masha Ru & more!
Convinced that the arts can create an other
'Golden Spike'
by posing different questions, Satellietgroep challenged the participating artists and designers to step out of their comfort zones. We warmly invite our guests and visitors to join in this venture. Faced with current and future challenges, the time-depht of landscapes and of ourselves, we need a new visual idiom, other collaborations and multi-facetted perspectives.
Climate as Artifact is an exhibition program that targets at how redefining climate as a cultural artifact through artistic practice helps us to break free from conventional attitudes in order to establish new and essential perspectives. Climate as Artifact brings together artists, designers, scientists and society to rethink our perceptions of culture and nature.

During the exhibition program, artists work on site and visitors can gain insight in the artistic work process. Through the arts visitors
get access to other domains of knowlegde.
JOIN TO MEET THE ARTISTS ON THURSDAY OCTOBER 18 14:00-18:00
Explore the works and meet the artists while roaming through Electriciteitsfabriek, to discover the landscape and climate of this unique art venue. Press is invited to join.
Free admission for all on October 18.
OPENING THURSDAY OCTOBER 18 AT 18:00
With the Dutch premiere 'Sun Following Prism' by Berndnaut Smilde and

special guests Dirk Sijmons, Valentijn Byvanck,

Ruben Jacobs.
Dutch artist
Berndnaut Smilde
became world famous with the creation of Nimbus, socalled 'indoor clouds'. During the opening he will test his 'Sun Following Prism'.
The work will be controlled by sunlight through a mechanism that is following the ideal angle of the sun. When the weather allows, a colorspectrum will appear. This work is non predictable. Even though always aiming for the perfect conditions, an appearance might be encountered, depending on being at the right place and time.
Dirk Sijmons
is an eminent Dutch landscape architect and emeritus professor Landscape Architecture at TU Delft (and co-inventor of the Zandmotor). Dirk is

also co-creator of the title 'Climate as Artifact', as he

wondered whether by now the climate might be our biggest artifact.

Valentijn Byvanck is

director of Marres, Centre for Contemporary Culture in Maastricht,

a critic, curator, museum innovator and television presenter. Over the years he developed Training the Senses, that explores the ways we recognize and use our senses and, through training, also make sense of the world around us.
Ruben Jacobs is a cultural sociologist, writer and teaches at Hogeschool voor de Kunsten Utrecht. Ruben has recently published 'Artonauten. Op expeditie in het Antropoceen' (V2_).
Berndnaut and Ruben will engage in a short dialogue about the intriguing relationship of mankind, technology and nature.
EXHIBITION PROGRAM
CLIMATE AS ARTIFACT - KLIMAAT ALS MENSENWERK
18.10.2018 - 18.11.2018

Open for public: Thursday & Friday 14:00 - 20:00, Saturday & Sunday 14:00 - 18:00

Admission:

Free for children up to 13 years if accompanied by an adult
€ 5,- for students, CJP, Ooievaarspas and 65+ p.p.

€ 7,- Day Ticket p.p.

€ 50,- Passe-Partout p.p. that allows you to (re)visit during all events

Please contact us if you are interested in a special visit and/or contribution to this event: climate.as.artifact@gmail.com
Satellietgroep invited artists and designers, who were previous artist-in-residence in the Netherlands and/or abroad, to share their current fascinations and jointly develop a special exhibition program.
While artistic development is at the core of Satellietgroep, we are honored that all participants decided to develop new works, and will continue to develop and share their work and fascinations during the program.
Following the practise of Satellietgroep as alternative academy and appreciating the coasts as vital learning school of time and space, our visitors will have the opportunity to connect and contribute to the ongoing process of artistic research, share their thoughts and insights, and discover through the arts a multitude of fields of knowledge.
During five weeks, every week we shift the focus within the whole exhibition process, with a program of talks, workshops, seminars and guided tours.

Satellietgroep & participants will build a Landscape Library during Climate as Artifact and you can contribute to the growing collection with samples, tips for books, films, engaging networks ect.!
At the finissage on Sunday November 18, we will reflect together on the exhibition program and you are most welcome to join.
The A0 poster (limited edition!) can be purchased during the program.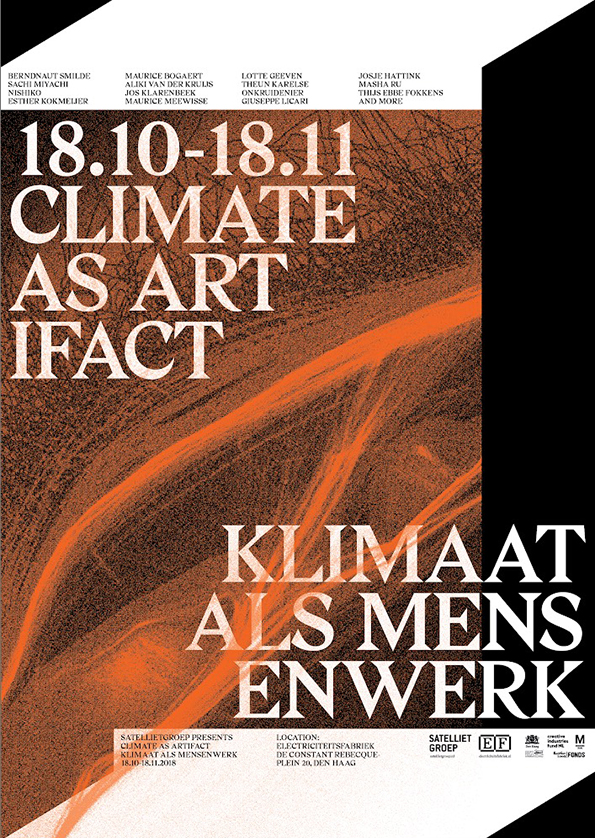 You can also contribute to the activities of Satellietgroep! Spread the word or invite us for a presentation, research, collaboration or exchange project. Satellietgroep works also on commissions. Feel free to contact us at
satellietgroep@gmail.com
or browse our website
www.satellietgroep.nl
for ideas. 
Looking forward to meet you!
The team

of Satellietgroep

Jacqueline Heerema,
Francois Lombarts & Lotte Bosman.

Artists collective Satellietgroep (The Hague, 2006) explores through arts the social and ecological impact of the sea and coastal transitions on cities, people, communities and environments, and vice versa the influence of mankind on coastal transitions and climate change in The Netherlands and abroad. Our aim is to enhance public and professional awareness. Satellietgroep hosts artists in residents for artistic fieldwork, collaborate with locals and experts and develop new concepts and works that reflect the resilience of coexistence of man and water, in past, present and future.
Long term projects are 'Badgast' - artist in residency program at The Hague/Scheveningen (2009 - 2014), 'Now Wakes The Sea', the international exchange residency program in collaboration with international cultural partners (since 2012). Since 2014 Satellietgroep develops the first artistic research on the Zandmotor, the newest innovation on coastal protection, called Building with Nature. In these programs artist in residencies are used as a research method to enable artists, designers, students and scientists to do fieldwork and to work on site with local partners, coastal communities and experts in order to map out and research the current status of coastal transitions and to generate new narratives and perspectives. The programs function as an alternative source for collecting. New concepts and works are developed that we connect and contextualize with reference works for public events like expeditions, exhibitions, workshops and presentations at expert conferences, often outside the artistic domain. Artist in residents are invited to critically explore and visualize the zones of coexistence of man and water and reveal different perspectives. By interconnecting coastal communities, arts and science we share local knowledge on global level to gain sustainable insights on coastal transitions that transcend local and national issues.