---
Contents
---
Gwyn's

Illustration 'same old jokes'

To download a full version of this months image ready for printing, just click on the image.










You can contact Gwyn Perkins by email at g.perkins@gwyn.com.au





---





PITTWATER RESIDENTS HAVE THEIR SAY

Local residents attending a community meeting last night organised by the Council reaffirmed their opposition to amalgamating Pittwater with Warringah and Manly councils.

The idea is being proposed by an independent panel engaged by the NSW government to recommend reform of local councils.

Around 200 residents packed into Mona Vale Memorial Hall last night to hear Councillors and senior staff outline what the proposal would mean for the local area.

Pittwater has been earmarked for absorption into a northern beaches council area of over 250,000 residents.

Mayor Jacqui Townsend said residents had fought hard 21 years ago to establish their own council and 'their sense of self-determination.'

"We want to keep the natural environment and local character that makes Pittwater what it is today. We want certainty in our planning laws so we know what our neighbour is going to build."

Residents attending the meeting heard a presentation by the Council's Director of Planning Steve Evans on the changes to NSW planning law due to come into effect by the end of this year.

If adopted by the government, the planning changes would mean automatic approval for 80% of developments without notifying neighbours.

Mayor Townsend said the new planning laws would put development ahead of the environment and the character of neighbourhoods.

She said that the planning changes coupled with the proposed amalgamation represented the 'greatest threat to Pittwater since the council was created in 1992.'

Residents at last night's meeting passed two unanimous motions rejecting outright the move to amalgamate Manly, Pittwater and Warringah Councils and 'any changes to planning laws to expedite development applications without detailed and extensive consultation with residents'.

To make a comment on the planning laws visit www.planning.nsw.gov.au

To comment on the proposed amalgamation visit www.localgovernmentreview.nsw.gov.au

Mayor Jacqui Townsend, Pittwater Council Ph: 9970 1104
29 May 2013


---

INDEPENDENT LOCAL GOVERNMENT REVIEW PANEL HEARING



Tuesday, June 3 – 5pm to 7pm


Warringah Council Chambers, 725 Pittwater Road Dee Why

Note - You must pre-register online if you wish to speak at the meeting at

www.localgovernmentreview.nsw.gov.au

(see below leaflet)

Pittwater Council is providing buses for residents wishing to attend.



BUS WILL BE AT CHURCH POINT CAR PARK ON TUESDAY AT 3.45PM FOR DEPARTURE AT 4PM PROMPTLY.




RETURN BUS WILL BRING PEOPLE HOME AT CONCLUSION OF COMMUNITY HEARING.



If you wish to take this bus to attend the meeting, please email sirac@sira.org.au with "YES" in the subject line to register your interest and to gauge numbers.





---
Friends of Currawong



Dear Friends

The current proposal to amalgamate Pittwater Council with Warringah will have a significant impact on Currawong. It is very unlikely that an amalgamated council will have the same care and stewardship that Pittwater Council is providing. Warringah Council will have other priorities and the Currawong that we all fought for will be neglected.

For the sake of Currawong it is vital that Pittwater remains an independent Council. To support this there are some actions where you can personally contribute.



Attend the Tuesday 4 June 2013 Public Hearing



The Independent Local Government Review Panel is holding a Public Hearing between 5pm and 7pm at Warringah Council Chambers, 725 Pittwater Road Dee Why.

You must pre-register to speak at this meeting. If you wish to address the Panel for 5 minutes complete this form through the following link www.localgovernmentreview.nsw.gov.au and email to info@localgovernmentreview.nsw.gov.au You can attend the meeting but not speak without pre-registering.



Pittwater Council is arranging buses to assist members of the public to attend the public hearing.



Buses will depart at 4pm on Tuesday 4 June from Warriewood Valley Sports ground, Jacksons Road opposite Warriewood Square Shopping Centre.

To show our opposition, we encourage supporters to gather outside the Council on arrival.

Yours sincerely

Shane Withington
Acting President
Friends of Currawong

Friends of Currawong
PO Box 31
Newport, NSW 2106
Australia



---
Email Scam Alert

Yesterday I was the victim of a scam, because I received a 'supposed Yahoo email' asking me to update my Yahoo Mail, by entering my user name and password, which unhappily I did.

Apparently these 'corporate' emails are circulating and one of the things to look for is the fact that they say Dear Customer instead of your name. I have since found out that at least 4 of our friends were ready to transfer the $2000 requested. The email sounded feasible. There is also apparently a similar scam to access people's Paypal account and I know of 1 person, who yesterday saw that money had been withdrawn from her account to pay for something she did not purchase.

Because they stole my 'contacts list', I am now concerned that other people in the community with Yahoo accounts (can be Yahoo groups) are now also getting these scam emails.

Today there is one going out supposedly from Lisa MacDonald.

Please be wary of any email asking you to enter your user name and password.

If anyone has any other useful information or advice, please share it.

Ed: Suggest you close the email account and open a new one - probably best to use another email provider too - and change your password !



---
Scotland Island Motor Vehicle Registration Day
Hours are 9am to 3pm on Saturday, July 6th, 2013

I will be attending Scotland Island Rural Fire Station to examine all registered motor vehicles. As usual, my mate Bruce Healey should be there depending on how well he is.

As I have done this since 1995-96, with the help of Bruce Healey and Cass Gye as well as Graeme Richmond, I thought it only fair to notify you well in advance.

For further information, please contact Cass BUT....make sure you car looks at least presentable for the occasion because if it looks like junk, it will be treated as such.

Proceeds go to the Rural Fire Service on the Island.



BRING: REGO PAPERS PLUS MOTOR VEHICLE




COST: $60.00 PER VEHICLE $10.00 S.I.R.F.B. $70.00 TOTAL



Regards,
Brian "Friendly" Friend



---
WOW Lunch




Wed. 5th June, 12 noon at Margaret Molloy's -"Nunyara", Lovett Bay.



A very special opportunity to honour our own 'living treasure' Margaret Molloy OAM, who has kindly offered her home "Nunyara" at Lovett Bay as the venue for our June get-together.

Margaret has graciously agreed to recount her speech delivered as Guest Speaker for the National Council of Women for Australia at Parliament House, Sydney for Australia Day 2013. Times may change, but resourcefulness, resilience and generosity of deed and spirit are never outdated-a wonderful opportunity for discussion.

On this occasion everyone is kindly asked to bring a generous lunch to share, drink of choice (bubbles very much welcomed) and a portable chair. The ferry will stop at "Nunyara" at around 11.45am for a 12 noon start.

This will be a popular event and space is limited, so RSVP to my email jenny_frazer@hotmail.com would be appreciated ASAP (if you wouldn't mind, please don't RSVP directly to Margaret).

Cheers,
Jenny :)
Ph: 99994460
Mob: 0410533728



---





Greetings Wine Lovers



Brrr... Winter is nearly upon us and in Pittwater that means roaring log fires, mulled wine, heavy overcoats, snow-shoes, the bark of the husky... Or perhaps not.

What it does mean is that there will be plenty of opportunity for friends to gather around the BBQ to enjoy a lamb chop and a glass or two of quality Wine Syndicate wine. I for one would like to see a fine Rioja Tempranillo, but I suspect that will not be among the wines selected. One thing I do know is that those who choose our wine do so with great care and with considerable thought given to value and quality.

It was only yesterday it would seem that we gathered to choose our autumn selection.s tell you of our next tasting - rather earlier than usual. Please diarise (not a nice word)

June 30th at 3pm.





Where:




Peter and Debbie Crookes.




121 Richard Road.





If coming by road and heading south past cargo wharf. its about 80 meters past the intersection down to the wharf. look for a big sparkling sign with "121" on it. Walk down the path to the house and follow the path to the right of the house heading for the water.





If coming by road and heading north, keep an eye out for the sign - it does face north partly hidden by a bush but you should be able to see it. If you get to cargo wharf intersection. turn around and follow above instructions.





By Boat. First boat house south of cargo wharf. High gable grey roof with white windows / doors.



If you are new to our totally not-for-profit wind syndicate it is lots of fun. Not only a chance to have a taste of fine wines but also the opportunity to meet your neighbours.

As to the notes and prices: Still coming. We will let you have them as soon as they come to hand

Date: June 30th 2013 from 3pm.
More news as it comes to a hand.

Friends signup http://pittwaterwine.net46.net



---

Local Council Notices

Businesses can Connect at Jobshed





Pittwater and Warringah Councils are inviting local businesses to be part of a new jobs and careers event known as JOBShed.





JOBShed will be held at Mona Vale Memorial Hall from 9am – 4pm on Saturday 20 July.



Businesses are invited to showcase their strengths to young people and parents, first-time job seekers or career changers who are exploring and discussing local job and training/ apprenticeship opportunities.

Regional Economic Development Coordinator Paul William-Smith said this is the first time the two councils were offering local businesses the chance to showcase their career and training opportunities across the northern beaches.

"Businesses will be able to target young people who are considering local job options after high school".

"While many young people attend university following high school, that pathway is not for everyone," said Mr William-Smith.

"The JOBShed event will give businesses the chance to promote real jobs, both skilled and unskilled positions, as well as apprenticeship and training opportunities."

Mr William-Smith said that the economic development plans for the area highlighted the need to develop a strong local economy, building on a locally-based skilled workforce which will help to reduce the 'brain drain' from our region.

"This will be the first time that local job seekers and employers can come together at one location," added Mr William-Smith.

There is no cost to business exhibitors, with refreshments available to all attendees and an iPad door prize to be won.

Mona Vale Memorial Hall is located at 1606 Pittwater Road, Mona Vale.

For more information or to book a space go to www.pittwater.nsw.gov.au/jobshed or call 9942 2233.

ends

Media contact: Paul William-Smith, Regional Economic Development Coordinator, Warringah & Pittwater Councils Ph: 9942 2233


---
Celebrate World Environment Day





Pittwater Council is inviting residents to celebrate World Environment Day with a sustainable food workshop on Wednesday 5 June.



The session at the Coastal Environment Centre, North Narrabeen will provide practical and inspirational ideas for reducing the environmental impact of the food we buy, cook, eat and throw away every day.

Natural Environment & Education Manager Mark Beharrell said that food production and waste is estimated to make up almost 35 per cent of Australia's ecological footprint.

"The session will provide residents with tips on choosing food that has less packaging, has not travelled vast distances and has been produced in a more sustainable way," said Mr Beharrell.

"All of these suggestions will not only help residents to reduce their 'food footprint' but could also save money on their grocery bills."

"Growing more of our own food locally is one of the most important ways to reduce our 'food miles'. We have therefore invited special guests Matt and Lil Wilson who will showcase their edible landscaping project. Their permaculture garden has been in development over the past year with amazing results!

After the presentations, participants will be invited to share some refreshments and join a discussion about practical ideas to reduce their food footprint.

"The evening will provide participants with ideas and inspiration and an opportunity to connect with others in the community who are interested in learning to live more sustainably', added Mr Beharrell.

For bookings visit www.pittwater.nsw.gov.au/cecbookings For more information about the workshop call Joanne on 9970 1339.

Media contact: Joanne Tulau, Pittwater Council 9970 1339



---
Single Parent Training Course
Are you a Single Parent currently in receipt of a parenting payment and will be affected by the current Centrelink changes?
We have a short course (4 weeks in school time) specially planned for you to look at your opportunities for a small business in your home or office!
The course will also look at
Presentation such as make-up and grooming
Parenting – issues for single parents returning to the workforce
Juggling work and home successfully
Finding childcare support
Managing stress
Support available
When: 9.30am – 12.30pm Tuesday 4th, 11th, 18th and 25th June 2013
Where: Manly Warringah Pittwater Community Aid, 3 Gondola Road, North Narrabeen
How: RSVP's essential: Sue Johansson on 0435 835 963 or email: suej@ransw.org.au
Please note: No childcare is available.
Course is free.

---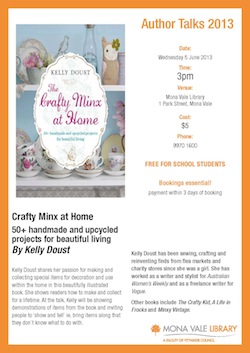 AUTHOR TALKS



The Crafty Minx at Home
Kelly Doust



Mona Vale Library will host author and passionate craft creator Kelly Doust on Wednesday 5 June at 3pm.



Kelly has produced a practical guide to creating original, handmade and vintage items for the home with her book

The Crafty Minx at Home

.

The book shows how to make gorgeous things from pre-loved, remnant and vintage items. It is written especially for non-crafters who are desperate to be more creative but don't know how.

Kelly shows readers how to make and collect for a lifetime and longer, creating the treasured family heirlooms of tomorrow.

Crafty Minx features over 50 immediately do-able craft projects and a wealth of advice on how to source beautiful vintage items and materials in flea markets, charity shops and auction houses, plus tips on how to display and use them in your home.

Kelly shares the delicious rewards of living with and giving away beautiful handmade objects - from brightly patterned summer beach bags and cotton apron tops to cosy lambs' wool throws and cashmere-covered hot water bottles, or a soft toy for a friend's new baby.

The book is broken down into different areas of the home for easy inspiration. Kelly suggests that 'No matter where you live or what your circumstances, discover just how easy it is to be a crafty minx'!

Kelly Doust has been making and reinventing things in her own trial-and-error way since she was a girl, scouring flea markets and charity stores for vintage fashion and home wares to upcycle.

Other books by Kelly include The Crafty Kid, which shows just how easy it is to make irresistible items for and with children, A Life in Frocks, a best selling memoir about the 'divine obsession' women have for clothes and Minxy Vintage: how to customise & wear vintage clothing.

In addition to her published works, Kelly has also appeared on Sunrise, The Morning Show and 9am with David & Kim, in segments presenting her work with craft and reinvented vintage fashion. She is a freelance contributor to the Australian Women's Weekly and Vogue.



The talk will begin at 3pm at Mona Vale Library, 1 Park Street, Mona Vale.




Bookings are essential; to book phone 9970 1600.



Following the talk there will be book signings and light refreshments.
Admission is $5.



---
Moving Sale - Saturday 1st June



Mad Parrot Studio - 82 Richard Road



On our top deck Saturday 1st June 10-4pm - between Bell and Cargo
On the high side, clearly marked on the day



ARTWORKS FOR SALE at moving prices





JAN MELVILLE


hand made prints
small ceramics



DAVID WARDMAN


watercolours (mostly of Pittwater)


Also some household items

Bring your cash or cheque book!



---
For Sale
Commuter Boat



QUINTREX HULL 4.75m (aluminium)

JOHNSON outboard 50HP approx 1200hrs

Registered for 1 year, motor serviced 22nd May 2013
Hull cleaned 22nd May

Canopy, Radio, life jackets, swim ladder, anchor
Excellent commuter boat and fishing boat
Seats 4, good storage

$4950.00

HIN AUWWA087030B50

Contact
David Wardman
999 5944
david@wardman.com.au





---
---
The Local Guide
Community Information
Scotland Island Web Site

www.scotlandisland.org.au

What's On in Pittwater - Self Editing Event Calendar

click to go to the Calendar

Scotland Island Community Vehicle -

0404 103 700
Number, Usage & Charges

Scotland Island Rural Fire Brigade -

9999 4404
http://www.sirfb.org.au

West Pittwater Rural Fire Brigade

- 9997-3795
www.westpittwater.rfsa.org.au

Offshore Photo Gallery

offshore gallery
Scotland Island Residents Association (SIRA) Membership Application

- click here to download
West Pittwater Community Association (WPCA)

- http://www.wpca.org.au
Scotland Island Water


SI Emergency Water Contacts and Guidelines for water: click here for information and contacts
Scotland Island 'Water Agreement' - click here to download
Scotland Island Children's Centre

- (SIOCS - Scotland Island & Offshore Childrens Services)
Catherine Park (Long Day Care Service) 7.30am - 5.30pm (Tues, Weds, Thurs & Friday)
Other services include: School Holiday Programme / Facility & Equipment Hire
For information call 02 9979 7856 or email: siocs@comcen.com.au
Scotland Island Community Hall Bookings:

Kez on 9999 4092 or kezborthwickbolton@gmail.com
---

Transport
---
Real Estate
---
Services, Clubs & Accommodation
---
Island Classes (Fitness, Dance, Art etc)
Pilates, Meditation and Group Fitness with Patrice

- 0406 483 036 patrice.corrie@gmail.com
Art with Max

- Watercolour classes. Phone Max on 9997 4527
Art Classes

- drawing and painting in oils, acrylics and mixed media- Marion 9979 3993 or 0431 457 431
@ Nathalie's Table - Cooking Classes

- Mediterranean cooking - Nathalie - 9999 4449
Dru Yoga

- Tuesday 9.00 to 10.30 Tuesday morning - Phone Katya on 0414 187 916
Dynamic Yoga

- Saturdays from 9am - 10.30am 0402 752465 nadineomara@gmail.com

---
Groups
Gurdjieff / The Forth Way

- Call John on 9979 5584, Marion on 9979 3993 or Anne on 9999 3478
Green Group For Catherine Park

- Run by SIOCS - Emmie Collins on 0405 330 781
WOW - Women on Water

- meets 4 times a year - Jenny Frazer 0410533728 / 99994460.
Parents & Kids Groups Playgroup

- Run by SIOCS - email Emma trysemz@tpg.com.au
Scotland Island Players

- contact Bob or Kez on 9999 4092
Catherine Park Bush Care Group

, 2nd Sunday @ 9.30am, Sharon Kinnison @ 9997 6017
Elizabeth Park Bush Care Group

, 1st Saturday @ 9 am, Bob Bolton @ 9999 4092
Island Thinking Group -
Roy Baker, 9999 6891, roybaker99@yahoo.com
Offshore a capella choir

– Saturdays at 2:30 pm, SI Community Hall. Call CB on 9997 2035.
---
Government Organisations
---
Airlines, Buses and Railways
---
Weather
Scotland Island Tides, Moon phases, Sun rise & set
Local Weather Forecast

Radar weather for Sydney (128k circle)
---
Emergency Contact Numbers
ALL EMERGENCIES (Police - Fire - Ambulance)
000
Police Assistance Line & Information
13 1444 or 9281 0000
Broken Bay Water Police
9910 7899 or 0412 162 093
Marine Rescue Broken Bay - Weekend

(

02) 9999 3554 - (02) 8411 1121



Marine Rescue Broken Bay - VHF Radio channel

VHF Radio Channel:

VHF 16


27MHz Radio Channel:

86 or 88



Scotland Island Rural Fire Brigade
9999 4404
NSW Fire Service General Information 9265 2999
9265 2999
Rural Fire Service General information
9450 3000
State Emergency Service, Warringah/Pittwater SES
9486 3399
National Parks & Wildlife Service: 000, general information
9457 9322
Dept of Community Services: general information
9977 6011
Sydney Water
132 090
Energy Australia
131 388, (ah) 131 909

---
Join SIRA
You can now join the Scotland Island Residents Association by
clicking here.
Please print the page and return the completed form to SIRA at this address:
The Treasurer, SIRA, PO Box 70, Church Point 2105.
Please NO CASH.

Contact SIRA at
sirapittwater@gmail.com
Join WPCA

To join the Western Pittwater Community Association, contact Michael Wiener at
m2wiener@bigpond.net.au
---
Archived Newsletters


A complete set of past electronic newsletters since May 2000 can be found and read at https://ymlp.com/archive_gesgjgm.php or by clicking here or by visiting the Mona Vale Library.

The Island website is at www.scotlandisland.org.au


---
To Contribute


If you would like to contribute to this newsletter it's easy!. Send an e-mail to the editor (editor@scotlandisland.org.au) or by clicking here. Type your contribution (100 words or so would be fine) and assuming it is of general interest to the community, does not include matter of a political nature and is not offensive, it will appear next month.

Subscription Information


To get on and off this newsletter,

click here

or got to:

http://www.scotlandisland.org.au/signup .


To change your address, click the 'modify' link at the bottom of this newsletter or send an email to the

editor@scotlandisland.org.au


---
Follow the PON
---
The Online Local Contacts Guide
Click HERE to load
The views expressed in this newsletter are not necessarily the views of the Scotland Island Residents Association (SIRA), or the Western Pittwater Community Association (WPCA)

---