Mundelein Community Connection (MCC) is a not for profit organization dedicated to the economic development, historic preservation and healthy community spirit of Mundelein's central business district. Working together we provide an atmosphere where new and established businesses can grow and where families find the hometown they always wanted.
A Message from the Executive Director
Our summer events are off to a GREAT start!  The May
Park-on-Park
attracted over 200 cars on a beautiful, rain-free night.  Sadly, the June event was washed out due to rain; but the three best months are still ahead—July 13th, August 10
th
and September 14th.  Join us on the 2
nd
Wednesday of the month from 4 pm to 8 pm, dine and relax in downtown Mundelein; and please support any of our terrific sponsors: 
Park on Park Cruise Night
.
The first
Mundelein Craft Beer Festival
since 2019 was held June 11
th
to rave reviews by participants, vendors and sponsors.  42 Illinois craft brewers participated, 11 businesses sponsored, and nearly 1,500 people enjoyed a great day of beer-tasting, food, music and more.  Special Thanks to: 
Tighthead Brewery;
Mundelein Community Bank
;
Brewers Supply Group
;
Oak Trail Spirits
;
Oak Trails Tap Room
;
Rustik Tattoo Studio
,
Perfect Brewing Supply,
T
he Bike Attic
, and
Calderwood All State Agency
for supporting Beerfest.
The
Farmers Market
(Fridays 3 pm to 7 pm) has added a number of new vendors, plus food trucks, food demonstrations, special events and kids' activities.  Every week will be a little different.  Come to the Market, Stay for Open Mic Night, dine inside or outside, or hang out in the new public plaza at 22 East Park Street, next to Area Coffee.  Farmers Market Sponsors include
Kristan Funeral Home
,
Mundelein Community Bank
,
Devoted Health Care
,
Rise Dispensary
,
Allstate Calderwood Agency
,
Crack Master Chicago Inc.
,
County Treasurer Holly Kim
,
Luke's of Mundelein
,
Mouse in the House Interiors
,
Mundelein Automotive
,
Mundelein LGBT Alliance
,
Park Street Restaurant
,
TieMart Inc.
,
Tina G's Café
, and T
he UPS Store of Libertyville
.
New Downtown Gathering Spot – 22 E. Park Street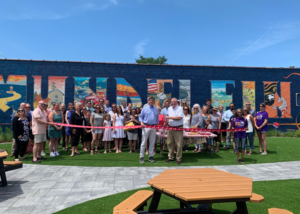 On Thursday, June 30th, Mayor Steve Lentz, along with U. S. Brad Schneider cut the ribbon to officially open a new public gathering place at 22 East Park Street in Downtown.  The beautiful "pocket park" does not yet have a name, which will come later following a naming contest.  Currently referred to as the "East Park Street Gathering Area, it is tastefully appointed with picnic tables, Adirondack chairs, a gas fire place, Food Truck parking, artificial turf,  and beautiful landscaping.  Amenities awaiting installation include overhead lighting and play equipment.

The project, Mayor Lentz explained, was made possible by a Federal Grant which Representative Schneider helped the Village secure.  At the north end of the gathering area, Mayor Lentz and Representative Schneider unveiled a park bench dedicated to former Village Trustee, Bill Rekus.  

The additions, Mayor Lentz added, will enhance the Park Street outdoor dining area, compliment downtown events like Park-on-Park, the Farmers Market, and Open Mic Nights, and promote growth and new investment in the community.


Tighthead/Mundelein Grand Prix
The second annual Mundelein Grand Prix bike race, part of the Intelligentsia Cup bicycle race series, will be held on Monday, July 25th on Village streets in Downtown.  There are race categories for men and women, of varying experience from citizen riders to professionals.  The Mundelein race will use the same circular street-course as last year's event.  This year Tighthead Brewery has stepped up to be the "naming sponsor" for the Mundelein event.   

There will be nonstop racing from 10AM to 8PM. With tight turns and fast straight-aways, races are always a thrilling spectacle! But this day is more than just about bike races: a beer garden (hosted by MCC), children's games, a community ride, live music, art activities, and more will make the Mundelein Grand Prix an event the whole community can enjoy.
Bingo at the Brewery is Getting Popular

MCC and the GLMV Chamber of Commerce have combined to host Bingo at Tighthead Brewery on the 4th Monday of each month thru October 2022.  Attendance is rising, the pots are growing.  Summer attendance is approaching 60 players; and sessions have been extended until 8 pm.  The next bingo night is July 18th at Tighthead from 5:30 pm until 8:00 pm.  Circle the date; call your friends; bring snacks or order a pizza from Mamma Mia's wood-fired oven; enjoy a great Tighthead beer; and join the fun.
Mundelein Fine Arts Festival
The 11th Mundelein Arts Festival, a juried Fine Arts and Crafts Festival, will be held on the weekend of Sept 10-11, 2022 in Kracklauer Park, 100 N. Seymour Ave., Mundelein IL. Forty-five original art and fine crafts have been accepted for this juried show.

The Mundelein Fine Arts Festival is more than just an arts festival! In addition to show casing high quality art and arties, this event is focused on promoting and expanding art-awareness, encouraging interactions between high school artists and established artists; and by providing scholarships to high school students that are pursuing the arts in college. By helping our youth pursue the arts we keep the arts strong and alive for the future.

Judges and jury are Chicago-area professional artists and art educators. Cash awards and ribbons will be given to honor:  Best of Show; Best of Category in 6 Disciplines; Emerging Artist Award, Village of Mundelein $500 Purchase Award and Purchase Awards from Local Businesses.  

There will be live musical entertainment throughout the two-day event.  Food will be available for purchase from festival food vendors as well as area restaurants.
To Sponsor this great event, or to provide a purchase award for your business contact:  Terry Skriba, Mundelein Community Connection, 171 North Archer Street, Mundelein, IL 60060; email
mundeleincc@gmail.com
or
847-970-9235
.
Support Downtown Mundelein by Becoming an MCC Member
There are a variety of ways you can support MCC and help promote our goal to make Downtown Mundelein a great destination for fun, family-focused community events.  An easy way is to become an MCC member.  Annual memberships are available for businesses ($200); individuals/families ($45); and not-for-profit organizations ($35).  MCC currently has 25 business members, 10 non-profit members and individual members.  Membership in MCC shows a support for keeping downtown Mundelein a focal point of our community.
Downtown Events: July - September
Park-on-Park: Seymour and Park Streets, July 13th, August 10th, September 14th, 4 - 8 pm
Open Mic Nights at AREA Coffee: Park Street, Fridays, 5 pm to 9 pm
Tighthead/Mundelein Grand Prix Bike Race – Downtown, Monday July 25th, Noon to 8 pm
Concerts in the Park: Kracklauer Park Gazebo, Sundays, 5-6:30 pm
     July 10th – Guitarra Azul
     July 17th – Anderlik and Church
     July 24th – Kaleidoscope Eyes
     July 31st – Judson Brown
     August 7th – Grupo Zubia
     August 10th – Real Time Noise
     August 17th -- Mellencougar
Farmers Market: Park Street, Fridays, 3-7 pm
Bingo at the Brewery: July 18th, August 22nd, September 26th, 5:30 - 8:00 pm.
Fine Arts Festival: September 10th & September 11th